St. Louis Cardinals News: Yadier Molina expected to re-sign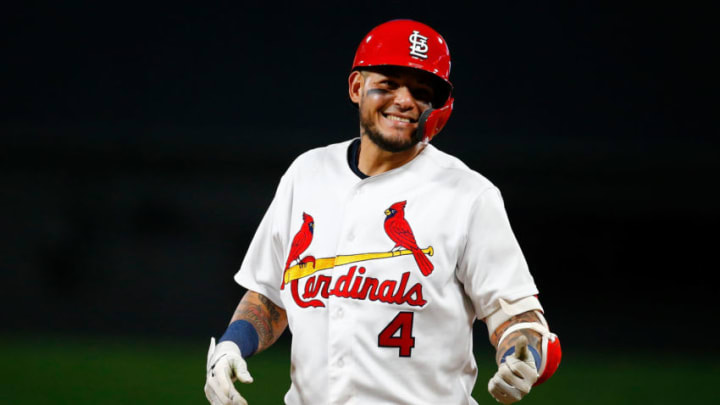 Yadier Molina #4 of the St. Louis Cardinals acknowledges teammates in the dugout after hitting an RBI single against the Milwaukee Brewers in the seventh inning at Busch Stadium on April 22, 2019 in St. Louis, Missouri. (Photo by Dilip Vishwanat/Getty Images) /
After radio silence all winter, things have picked up in a big way in the past 48 hours for the St. Louis Cardinals. All winter, the team's first priority has been deciding the future of franchise icons Yadier Molina and Adam Wainwright.
On Thursday night, news broke that Adam Wainwright would be returning to the team on a one-year, $8M deal for what could be his final season. This deal made perfect sense and the question was just about how it would influence the market of Yadi.
Molina has been through all the emotions possible this winter. First, he was all about coming back to the Cardinals. Then, he expressed his willingness to leave if he didn't get an offer that he felt was respectful. After that, he said he was willing to retire if he didn't get the offer he wanted (nobody bought this). Most recently, Molina has been playing and even pitching in winter leagues to stay fresh.
While he has always expressed a desire for a two-year deal, recent movement in the catcher market had taken away most of Molina's options. As a result, it has been reported by Jon Morosi that Molina is expected to sign with the Cardinals in the relatively near future.
With this news occurring right after Wainwright's deal and right in the middle of a sudden explosion of Nolan Arenado rumors, it seems that Molina lowered his ask to come back. Molina and Wainwright have both said they want to finish their careers together, even if it wasn't in St. Louis.
Now, it seems that the storybook ending the fans and players want is happening, and for just one year apiece.
More from St Louis Cardinals News
The exact salary and details of Molina's deal aren't yet known as he hasn't actually signed, but just knowing he's going to be back is enough to calm the minds of many fans. In an ideal world, Molina can begin passing the reigns over to Andrew Knizner in 2021, even if he plays the majority of the time.
There is much more comfort in bringing Molina back on a one-year deal, and it fits the old adage, "there is no such thing as a bad one-year deal." Now, the focus will return to the wild Arenado rumors that plague the team seemingly every year. This time may be different though.
Molina may not be done after 2021, but getting at least one more year of him and Waino is enough. The Cardinals' front office asked for patience, now that patience seems to be paying off.