St. Louis Cardinals: Redbird Rants 2020 MLB Mock Draft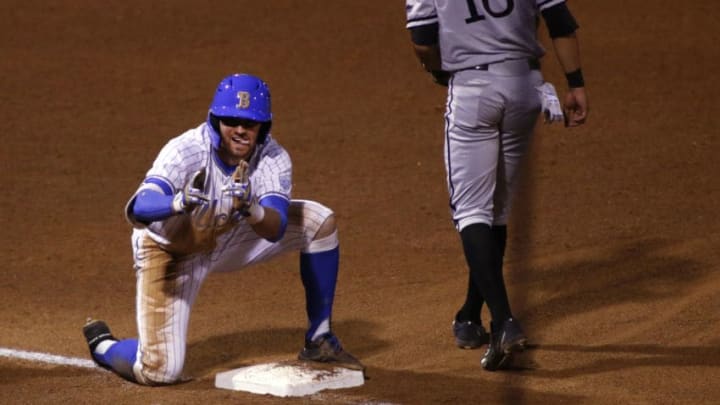 LOS ANGELES, CALIFORNIA - MAY 07: Garrett Mitchell #5 of UCLA gestures toward the dugout after hitting a triple during a baseball game against Long Beach State at Jackie Robinson Stadium on May 07, 2019 in Los Angeles, California. (Photo by Katharine Lotze/Getty Images) /
The MLB Draft is on June 10th and it is coming QUICKLY. The St. Louis Cardinals have the 21st overall pick.
With the MLB Draft coming up fast, St. Louis Cardinals fans are starved for baseball content that doesn't revolve around the ongoing negotiations between the MLB and the MLBPA.
Redbird Rants has been trying to fill the void with draft coverage to keep St. Louis Cardinals fans in the loop, and we even dropped a Draft Guide of prospects that the Cardinals could very likely draft.
So, where are the top players going? Obviously, there isn't much clarity on who teams will pick because of the lack of evaluation due to the COVID-19 Pandemic and given the way the MLB draft usually goes. So, it's basically a secret until Jeff Passan decides to leak the picks five minutes before the pick gets actually announced.
I decided to predict where each of the prospects is going in this year's MLB Draft, with all 29 (Yes, 29; blame the Astros for that one) teams and the selections in the first round. So, here it goes.
1. Detroit Tigers: Spencer Torkelson, 1B, Arizona State 
With the first pick, the Tigers get a player who, in my opinion, is the best player in this class. They need prospects in the position player department badly, and Spencer Torkelson is a fine replacement for Miguel Cabrera, whose playing days are numbered as he is getting older. Torkelson is a monster hitter with crazy power and very solid discipline at the plate. He has shown tons of improvement in the field and could be an everyday first baseman at the next level.
2. Baltimore Orioles: Asa Lacy, LHP, Texas A&M
Asa Lacy has been perceived as the top college LHP in this year's draft for about a year now. Honestly, though, the Orioles have needs in just about every position. They could draft Lacy who has a 97 MPH fastball with improving secondary stuff and a 6'4′ 225 lb. frame. If the Orioles draft the potential frontline starter they could make their future rotation a problem with All-Star John Means and top prospect Grayson Rodriguez.
3. Miami Marlins: Austin Martin, 3B, Vanderbilt
Martin is a strong candidate to go to the Orioles at #2 but if Baltimore gets Lacy, this pick is a no-brainer. Martin is by far the best pure hitter in this class (and the bat drag when he walks up to the plate is the coolest thing ever). He has a plus-glove at third base but has the ability to play all over the diamond. This could potentially pair him with top prospect Jazz Chisholm and create the infield of the future for Miami.
4. Kansas City Royals: Emerson Hancock, RHP, Georgia
The Royals already have three very solid pitchers in their farm with Jackson Kowar, Brady Singer, and Daniel Lynch. They need corner infielders, but the best one available is Jordan Walker which would be a massive reach.
Why not make their future rotation even more powerful by adding arguably the best pitcher in this draft in Hancock? Hancock has one of the most electric arms in this class with a 99 MPH fastball with movement and a very deep repertoire with a plus slider and changeup. I believe that Hancock will be a frontline starter in the Majors for years to come.
5. Toronto Blue Jays: Zac Veen, OF, Spruce Creek HS (FL)
The Blue Jays have a ton of young talent with studs like Vladmir Guerrerro Jr., Bo Bichette, Nate Pearson, and more. What they do need though is outfield help in the farm, as the top outfield prospect in the farm system is ranked 14th.
Veen is a solid hitter with a fluid swing and loud pop in his bat. He will obviously need to improve his frame but Veen is easily the best prep hitter in this class. With a stud like Veen and his abilities as a hitter, it could help make Toronto a future powerhouse in the MLB.
6. Seattle Mariners: Nick Gonzalez, SS/2B, New Mexico State
Beefing up Mariners OF system is not a big need but they could benefit from getting a starting pitcher here. Gonzalez is the obvious "Best Player Available" and could be a huge factor in the Mariners rebuild. Gonzalez is not very athletic or powerful but his pure-hitting ability makes him worth an early draft pick alone. He's a very solid fielder but will likely play second base at the professional level.
7. Pittsburgh Pirates: Heston Kjerstad, OF, Arkansas
Honestly, the 2019 Pittsburgh Pirates season was a total disaster. Coming into the season, they were tabbed as dark-horse playoff candidates with one of the better rotations in baseball; but the wheels fell off quickly. After the season, they did a complete overhaul of the front office staff and brought in Blue Jays Vice President of Baseball Operations Ben Cherington to hopefully turn things around.
With Kjerstad, they get one of the best lefty bats in this class with a ton of power and bat speed. He was off to an insane start on the 2020 season before it abruptly ended due to COVID-19.
8. San Diego Padres: Max Meyer, RHP, Minnesota
The Padres could be very good soon, with one of the best farm systems in all of baseball and some young talent in the Major Leagues already in place. Meyer is a reliever-turned-starter but has the repertoire to be a nasty pitcher at the next level, including a filthy slider which could be huge for him.
His velocity is through the roof and though he needs more development, I believe Meyer is a future ace in the MLB. Adding him with MacKenzie Gore and Chris Paddack could be a deadly 1-2-3 punch.
9. Colorado Rockies: Reid Detmers, LHP, Louisville
The Rockies desperately need pitching but they could also get OF depth here as well. Getting Detmers, who is arguably the best college lefty in this class not named Asa Lacy, would be HUGE. The production over the past two seasons at Louisville has been outstanding.
Detmers is not much of a gas-thrower but has a very well-rounded game nonetheless. His breaking stuff is very solid and he has a ridiculous curveball. His frame has been compared to Brendan McKay's and he has the potential to be a solid mid-rotation starter in the Majors.
10.) Los Angeles Angels: Jared Kelley, RHP, Refugio HS (TX)
The Angels have been known as the team who heavily lacks pitching for a while now. Getting Kelly, who one could argue is the best high school arm in this class, could be a step in the right direction. Kelley has legitimate ace potential, throwing 93-96 while being able to hit 98 with movement. Scouts say he has the stuff to be a top-of-the-rotation arm in the Majors and soon. His game is very well-rounded but he could use another pitch in his arsenal.
11.) Chicago White Sox, Garrett Crochet, LHP, Tennessee
This might be a slight reach, but the White Sox do not have a single LHP in their Top 20 prospects.  Crochet is a 6-6 lefty with a high-voltage fastball as well as a filthy power-slider. From 2019 spring to 2019 fall his fastball went up from 91-95 to 96-100. He did take on a swingman role in 2019 but is expected to be a starter at the next level. Scouts feel that his command needs improvement but is a very solid pitcher overall.
12.) Cincinnati Reds, Garrett Mitchell, OF, UCLA
The Reds get an absolute STEAL here with Garrett Mitchell out of California. The UCLA superstar is a 5-tool player with elite speed on the diamond. He's got a very solid hit tool with plus power and has a good knack for finding balls in the field with a pretty big arm. Mitchell will likely stay in center field as well. I think Mitchell has the potential to be an elite CF in the game if developed correctly and going to a Cincinnati Reds team that could potentially contend in the future could be perfect for him.
13.) San Francisco Giants, Mick Abel, RHP, Jesuit HS (OR)
San Francisco also gets a steal here with Oregon State signee Mick Abel. Abel has a live arm with a fastball that can hit 100 MPH and some growth projection still to go. Already 6'5, Abel has a downhill throwing motion which could be scary for hitters. He already has three plus pitches, boasting a solid curveball, a plus slider, and a changeup that has the potential to be a plus-pitch with further development.
14.) Texas Rangers, Robert Hassell, OF, Independence HS (TN)
Out of all the prep bats in the 2020 Draft class, Hassell is the best pure-hitter. There are concerns about him trying too hard to hit for power, but he showed a ton of production at showcase events last summer, including the U18 World Cup in Seoul, Korea. He has a very nice left-handed swing with little inconsistencies to it. Currently committed to Vanderbilt, he could be a very solid Major Leaguer; but the power-consciousness worries me a little bit.
15.) Philadelphia Phillies, Austin Hendrick, OF, West Allegheny HS (PA)
The Phillies don't need to look too far to find the first-round pick in Hendrick. The Mississippi State Bulldog commit has a very loud bat but needs to shake out some inconsistencies with his swing. A phenomenal athlete with very quick hands and bat speed, he can do work in the field as well. Hendrick has similarities to the Cardinals' 2019 second-round pick Trejyn Fletcher in terms of raw ability.
16.) Chicago Cubs, Patrick Bailey, C, North Carolina State
Yes, even the bad guys get to get draft picks as well. The Cubs take Bailey, who is arguably the best defensive catcher in this class with raw power as a switch-hitter. Bailey will stay behind the plate more than likely, so this could move Willson Contreras to DH (Yes, the DH in the NL is inevitable folks) in the future if that's how things work out. The Cubs have been linked to many catchers and could look for a plus-defender; Bailey is 100% that guy.
17.) Boston Red Sox, Nick Bitsko, RHP, Central Bucks East (PA)
The Red Sox get arguably the biggest steal so far this draft in Nick Bitsko. Per Jim Callis, the Red Sox have been heavily eying high-schoolers, and with Bitsko's upside, this pick should be a no-brainer. Bitsko was originally a Class of 2021 arm but announced his reclassification just recently. Bitsko throws around 98 MPH consistently with an elite curveball and great control. He is also only 17 years old.
18.) Arizona Diamondbacks, Cade Cavalli, RHP, Oklahoma
The Sooners ace has come a long way since being recruited as an OF in high school, making the switch to the mound AFTER his freshman year at Oklahoma. Cavalli has a great frame with a live arm as well as a plus slider and a high-potential curveball. His control needs work if he wants to be successful at the next level, but I am a huge fan of his upside.
19.) New York Mets, Pete Crow-Armstrong, OF, Harvard-Westlake (CA)
Pete Crow-Armstrong hopes to be the next Harvard-Westlake alum to make it to the Major Leagues, following White Sox stud Lucas Giolito and the Cardinals own Jack Flaherty. Crow-Armstrong has seen a little bit of a dip in his draft stock but is a hit-first guy with plus speed and fielding ability, with his power showing improvement during the spring. Currently, it's the lowest graded facet of his game and it could have been a reason why his stock has taken a tumble; as he was a potential Top-5 pick back in the Winter.
20.) Milwaukee Brewers, Tyler Soderstrom, C, Turlock (CA)
The Brewers get the best prep hitting catcher in this class in Soderstrom at 20. His presence behind the plate needs serious work if he wants to stay at catcher at the next level though. The lefty boasts a ton of athleticism with plus hitting ability and power potential. Could move to corner infielder in the long run if he doesn't work out behind the dish.
21.) St. Louis Cardinals, Bryce Jarvis, RHP, Duke
Here is the one you all have been waiting for (or just scrolled down to, that's fine as well). The Cardinals need RHP depth in the farm system badly and getting Bryce Jarvis would be one heck of a pick for Randy Flores. He has a fastball that hovers around 95 mph with a pair of effective sliders in his arsenal. Also possesses a nice changeup and curveball. He's got four plus pitches and solid control to go with that as well. I am surprised he has not been getting as much love on draft boards because I am a huge fan of his game.
22.) Washington Nationals, Cole Wilcox, RHP, Georgia
The reigning World Series Champions snag a very solid pitcher out of Georgia. Even though he wasn't the ace of the Bulldogs stat since that honor belonged to Emerson Hancock, he is still very effective.
Wilcox is a big-bodied right-hander who stands at 6-5 and weighs about 235 lbs with a filthy two-seam fastball that averages out at about 95 mph, a nasty power slider, and an effective changeup. Wilcox could be a very solid starter in the MLB and be part of the new rotation after the Strausburg and Scherzer days are over in Washington.
23.) Cleveland Indians, Ed Howard, SS, Mt. Carmel HS (IL)
Howard takes a slight fall due to shoulder concerns, but the Indians commit highway robbery by snagging him here to potentially be the guy at shortstop after superstar Francisco Lindor leaves, which is inevitable at this point. Howard was a part of the infamous Jackie Robinson Elite Little League team that made an unprecedented run in the Little League World Series back in 2014. He is a plus-fielder with exceptional athleticism and the potential to be a very solid hitter. It would be a crime if he actually fell this far but it's currently looking to be the case.
24.) Tampa Bay Rays, Dillon Dingler, C, Ohio State
Dillon Dingler could rise through the Rays system quickly in this scenario. Dingler is a very solid catcher who is a great athlete and has shown improvement in his game every single year. He has a cannon for an arm behind the plate and I believe he will be able to stay behind the plate at the next level. He can also play CF as well and he did with Ohio State. He has a lot of raw power that could be tapped by a team with one of the best analytical foundations in baseball. This would be a perfect situation for Dingler.
25.) Atlanta Braves, Tanner Burns, RHP, Auburn
The Braves bolster their pitching with one of my favorite pitchers in this class. He might not have the upside that scouts drool over, but he nonetheless a very solid pitcher with a high floor. He throws strikes at an efficient rate and possesses multiple plus-pitches, one is a slider with a slurve-vibe to it. Burns draws comparisons to All-Star Sonny Gray with his height as well as his mechanics.
26.) Oakland Athletics, Justin Foscue, 2B, Mississippi State
Foscue has potential to go in the teens but takes a slight fall to the Athletics. Foscue has flown up draft boards throughout the draft process and has solidified himself as a first-rounder. Foscue has a lot of raw power but isn't much of a pure-hitter. Limited speed on the basepaths and in the field will hamstring him to 2B, but he's a solid fielder regardless, he can make plays. Foscue might not have a very high ceiling but he seems like a safe bet.
More from St Louis Cardinals News
27.) Minnesota Twins, Carmen Mlodzinski, RHP, South Carolina
If you read my two latest draft articles, you would know that I have a draft crush on Mlodzinski. He showed struggles in his last two full seasons at South Carolina but really turned the corner in the Cape Cod League and put together a dominant fall ball campaign. He has first-round stuff with a solid fastball that usually hits 95 but can go higher when needed. His mechanics were very inconsistent but that fall at the Cape played a big role in straightening things out and his control issues minimized because of it as well. Big fan of his upside and the Twins get an absolute stud here.
28.) New York Yankees, Bobby Miller, RHP, Louisville
The Yankees are a difficult team to mock for since they don't really have any true tendencies or too many needs, but Bobby Miller is a can't-miss pick for the Yankees here at 28. Miller has a 99 MPH fastball with a power slider that can reach 90. Miller has a very strong frame and can go late into games with little trouble. Control is a weakness at the moment but he did show improvement from 2019 to 2020 in that department. I'm a big fan of Miller and is one of "My Guys."
29.) Los Angeles Dodgers, Casey Martin, SS, Arkansas
With the last pick of the actual first round, I have the Dodgers taking the high-upside SS Casey Martin out of Arkansas. Martin has electric tools with insane raw power and hitting ability that could put him in the top half of the first round, but his swing-and-miss tendencies could scare teams away. The Dodgers have done an amazing job of developing hitters and their farm is top-notch despite rarely picking at the top of the MLB Draft. Martin is one of my favorite players and could thrive in LA with his tools.
If you read this article and got here, thank you for sticking with me! If there are any thoughts, questions, or concerns; be sure to hit me up on Twitter @JMageeSports and I would love to discuss it with you!