If St. Louis Cardinals' colleges had gone hoop dancing
In a coronavirus-free world, this would've been Selection Sunday, a day when St. Louis Cardinals president John Mozeliak might have tweeted (if we could find his account) trash talk to center fielder Harrison Bader about a first-round March Madness matchup between Mo's Colorado Buffaloes and Bader's Florida Gators, as projected by ESPN bracketologist Joe Lunardi.
Tommy Edman (Stanford) and Andrew Knizner (North Carolina State) could have sweated out the selection show, hoping their alma maters made the cut while some of us (i.e., me) pulled for Bob Gibson's old school (Creighton) to receive a No. 2 seed and a favorable bracket.
Granted, most of you have your own college connections and preferred basketball programs, but some of us (i.e., me) attended a college (Oregon State) that had no chance, outside of a conference-tournament miracle, to make the Big Dance. With no organic rooting interest, I would have gladly pulled for the most Cardinals-connected colleges to make a deep run.
Here are some prime Redbird-feeder schools, and what could (should?) have happened (all seeds based on Lunardi's projections):
1 SEED GONZAGA BULLDOGS
There are two ex-Zags who became Cardinals, Bo Hart and Marco Gonzales, which is a lot considering this Roman Catholic college in eastern Washington doesn't churn out a lot of major leaguers.
Hart played just two years (2003-04) in St. Louis but has been labeled a cult hero — he's scheduled to have a bobblehead day on July 21. Gonzales was a first-round Cardinals pick in 2013 and played three seasons in St. Louis before a 2017 trade to Seattle. As a No. 1 seed, the Zags would make the Final Four by beating a series of lower seeds. Two wins later, they're champs. How hard would that be? (Answer: extremely hard).
2 SEED CREIGHTON BLUEJAYS
Gibson was a basketball stud at Creighton, averaging 20.2 points over 63 games. He later played with the legendary Meadowlark Lemon on the Harlem Globetrotters, who said, "I thought Bob was a better basketball player than a baseball player. I think Bob could have played with any NBA team. He was that good."
Gibby isn't the only Bluejay-turned-Cardinal: Alan Benes was a six-year Redbird pitcher (1995-01 minus '98, when he was injured), and Dave McKay coached for the Cards throughout the Tony La Russa years (1996-2011). In a topsy-turvy basketball year, it would be fitting that a non-Power 6 school that rhymes with "straighten" — Creighton or No. 1-seed Dayton — won it all.
2 SEED FLORIDA STATE SEMINOLES
Speaking of La Russa, the Cardinals' winningest manager received his law degree from this Tallahassee institution in 1978. The Redbirds have drafted six(!) Seminoles in the first round: catcher Terry Kennedy (1977), infielder Luis Alicea (1986), outfielder J.D. Drew (1998), pitcher Nick Stocks (1999), outfielder James Ramsey (2012) and pitcher Luke Weaver (2014).
The last time Florida State made the Final Four, they lost to an undefeated (30-0) juggernaut UCLA team 81-76 in the 1972 final. There were no super-teams this year, so if the Seminoles had advanced that far (a big if), they wouldn't have faced an unbeatable team.
3 SEED DUKE BLUE DEVILS
Even more than Gibson, his 1963-65 Cardinals teammate, Duke's Dick Groat dominated the hardwood. "I was a better basketball player than I ever was a baseball player," Groat told Durham's (N.C.) News & Observer in 2018. As a six-foot senior guard in 1951-52, he led the nation in scoring (26.0) and assists (7.6) and won National Player of the Year honors.
With Groat, Gibson, 6-4 outfielder George Altman (a scholarship hoopster at Tennessee State) and Ray Washburn (a basketball standout at Whitworth College), the '63 Cards surely had the best basketball nucleus in the MLB.
Groat enjoyed his finest season that year, batting .319 with career highs in hits (201), doubles (43) and OPS (.827) and finishing runner-up (to Sandy Koufax) in NL MVP voting. Outfielder-pinch hitter and Duke alum Ron Northey averaged 99 games and 274 at-bats for St. Louis from 1947-'49, hitting .291 with an excellent .873 OPS. Could this year's Duke team have won the tournament? Of course. They're Duke. They've done it before.
5 SEED MICHIGAN WOLVERINES
Wolverine-Cardinal ties go all the way back to Branch Rickey, who received his law degree from Michigan in 1911 and coached the school's baseball team from 1910 to 1913. As a Cardinals executive from 1919 to 1942, Rickey helped introduce the farm system and presided over four World Championships (1926, '31, '34 and '42).
One of Rickey's charges during his Michigan coaching days was a tiny (5-8, 151-pound) shortstop named John "Doc" Lavan; he played for the Wolverines from 1908-11 and for the Cardinals from 1919 to 1924. In the '70s, a pair of Teds from the U of M — Sizemore and Simmons — started for the Cardinals. Simmons took classes during the off-season and after his playing career and received a Michigan degree in 1996.
Yet another catcher, Mike Matheny, was a Wolverine from 1989-91, a Cardinal player from 2000-04, and a Cardinal manager from 2012-18. The 2020 Michigan basketball team lost three of its last four but beat a lot of good teams, including Gonzaga and Creighton, early in the year. Like a lot of teams, they could've gone out early, and they could've made a run.
6 SEED VIRGINIA CAVALIERS
Fox Sports Midwest's Rick Horton was definitely not the big man on Virginia's campus in 1980 — that honor belonged to 7-foot-4-inch Ralph Sampson, the Cavaliers center who would win three National Player of the Year awards.
Horton went 25-16 with a 3.44 ERA in six St. Louis seasons. Another Virginia alum, Mark Reynolds, lasted just one year with the Cardinals, hitting .230 with 13 homers in 2015. While not as strong as last year's championship squad, the 2020 Cavs' tenacious D could have made them a threat. And don't sweat that No. 6 seed — the post-Sampson 1984 team made the Final Four as a seven seed.
7 SEED ARIZONA WILDCATS
Ex-Wildcat third baseman Milt Stock played for the Cards a century ago, batting .305 over five seasons (1919-23). A communication major at Arizona, Joe Magrane, a Cardinal from 1987-'92, was a talkative media favorite and a darn good pitcher till an elbow injury derailed his career.
Current Cardinal pitcher Daniel Ponce de Leon, who also attended the University of Houston, might have had a hard time choosing his favorite tournament team. The Cougars would have received a No. 8 seed, according to Lunardi's projections.
9 SEED OKLAHOMA SOONERS
Before his eight-year (1955-62) run with the Cardinals, pitcher Lindy McDaniel attended the University of Oklahoma — on a basketball scholarship. McDaniel was at his best, by far, as a 24-year-old in 1960, going 12-4 with a 2.09 ERA, a league-leading 27 saves, and a 105-to-24 strikeout-to-walk ratio.
The reliever finished third in major league Cy Young voting (there was only one winner for the two leagues at the time) and fifth in NL MVP voting. When it came to former OU athletes, the Redbirds would sooner have Sooner pitchers than hitters. Left-fielder Buster Mills played 29 games for St. Louis in 1934, while a variety of hurlers — Eddie Fisher (1973), Bob Shirley (1981), Danny Jackson (1995-97), Bobby Witt (1998) — pitched for St Louis.
9 SEED FLORIDA GATORS
Cardinals fans will always appreciate ex-Gator David Eckstein, a little guy (5-6, 170) shortstop who was the 2006 World Series MVP and hit .297 during his Redbird stint (2005-07). Ex-Gator and current Cardinal center fielder Harrison Bader is an excellent fielder who could use a boost with the bat (.236 BA, .713 OPS). Lefty reliever and Florida alum Rob Murphy had a flabby 4.46 ERA over two St. Louis seasons (1993-94).
11 SEED NORTH CAROLINA STATE WOLFPACK
Long before Spud Webb (5-6, 133) played for the Wolfpack, the school recruited Jimmy Brown (5-8, 165) to play basketball and baseball. SABR.org's Warren Corbett wrote that Brown was "in and out of school, possibly because of lack of money," before signing with the Cardinals, where he played various infield positions from 1937-43 while batting in the leadoff and No. 2 spots.
A fine player, Brown finished sixth in MVP voting in 1939 and fourth in 1941. Wolfpack alum Roger Craig must have cherished his single-season (1964) in St. Louis. The previous two years, he'd lost an astounding 46 games pitching for the woeful New York Mets; then, in '64, he played on a World Series-winning Cardinals team. Current backup catcher Andrew Knizner is another N.C. State alum.
Other could-have-been tournament teams have multiple Cardinals connections, including USC (Mark McGwire, 1997-01, Randy Flores, 2004-08 and Anthony Reyes, 2005-08, among others); Illinois (Fred Beebe 1907-09, Ed Spiezio, 1964-68, Scott Spiezio, 2006-07); and West Virginia (Steve Kline, 2001-04, Jedd Gyorko, 2016-19).
In other cases, one player's link to a school stands out. Seton Hall's Matt Morris, a Cardinal from 1997-2005, is the finest MLB pitcher produced by that institution. Richmond's Brian Jordan, A Cardinal from 1992-98, ranks with long-time Reds first baseman Sean Casey and long-time Brave (and two-year Cardinal) pitcher Lew Burdette as the best ex-Spiders in the majors.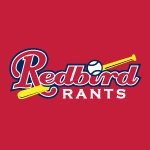 Want your voice heard? Join the Redbird Rants team!
Write for us!
What would have happened if the games had been played? While we'll never know, it's pleasant to think that our favorite schools would have won it all. Or one of our favorite Cardinals' favorite schools.