St. Louis Cardinals: The long-awaited but final rise of Patrick Wisdom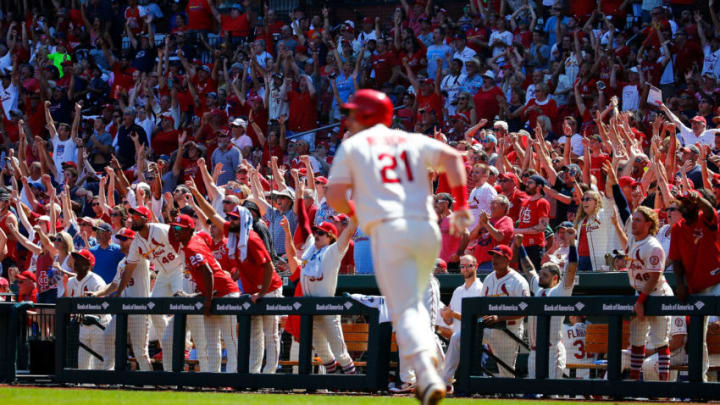 ST. LOUIS, MO - SEPTEMBER 15: Patrick Wisdom #21 of the St. Louis Cardinals hits a grand slam against the Los Angeles Dodgers in the fourth inning at Busch Stadium on September 15, 2018 in St. Louis, Missouri. (Photo by Dilip Vishwanat/Getty Images) /
The St. Louis Cardinals have finally welcomed their long-time minor league third baseman and he is showing flashes of brilliance.
After many years of playing for the St. Louis Cardinals minor league teams, the MLB club has welcomed Patrick Wisdom to the folds in St. Louis. Wisdom- who at one time cleared waivers- is now witnessing the realization of his dreams.
Wisdom amassed a seven-year minor league career before his MLB debut in August of this season. Seven years. Can you imagine working so hard for something for seven years and still suffering through the trials?
I have the utmost of respect for Patrick and his tenacity; I'm not sure I would have had the intestinal fortitude to complete the drive.
In his seven-year MiLB career, Wisdom batted .225/.285/.385 in AA and .288/.327/.466 in AAA. Even better, in his final year in Memphis- 2018- Patrick slashed .288/.363/.480 with 61 RBI and 15 home runs. This made the St. Louis Cardinals call Patrick's phone.
His greatest batting average of his seven-year MiLB occurred in 2018 for Memphis at .256. Next-best was early in his career for low-A ball in 2012 at .282. Wisdom batted .243 for Memphis in 2017– his third best batting average.
Turning attention to him even stronger, Wisdom slammed 31 home runs in 2017. When the opportunity presented itself in 2018, the St. Louis Cardinals were fully prepared to welcome Wisdom on the I-55 shuttle up to the Arch City.
Patrick has appeared in 24 games since his call-up and debut. In this time he has managed nine hits, four home runs, 10 RBI, and eight runs scored himself. He has stolen two bases and walked five times. His slash line on 2018 is sitting at .231/.333/.538.
If you are keeping score at home, since joining the St. Louis Cardinals, Wisdom's home runs account for half of his hit counts. Half. Who else can say that on the St. Louis Cardinals?
More from Redbird Rants
Not only has Wisdom's rise been long in coming, but it has arrived at the precise right time for the St. Louis Cardinals. As the club had moved on from the miserable Mike Matheny, and once the club had started stalling from their explosive rise, Wisdom arrived to provide a punch in the arm. He dramatically helped the club to their powerful August.
Let's not forget, however, the power that Wisdom provided to the Memphis Redbirds in 2017 AND in 2018 as the Memphis club went beak-to-beak as PCL Champs (I cannot take credit for the pun; this is the work of the Memphis Redbirds marketing team). Without Wisdom on the squad for Memphis, the road to their championships might have been more difficult.
To me, Wisdom's rise is long overdue. He is a player that I have watched for several seasons in Memphis and have admired his approach. In seasons past, however, Wisdom never seemed able to convert his AAA prowess into MLB success during Spring Training enough to allow the club to keep him on the MLB roster breaking from camp.
Finally, seven years in the making, Patrick Wisdom broke through the ceiling that seemingly had him trapped in AAA. Let's see just how long he can stay with the big club, but I am nevertheless glad that he is getting to fulfill his dreams.
What do you think? Has Patrick been a great addition or are the St. Louis Cardinals shopping his abilities? Would either be a bad option?