St. Louis Cardinals: Eric Hosmer is the best Matt Carpenter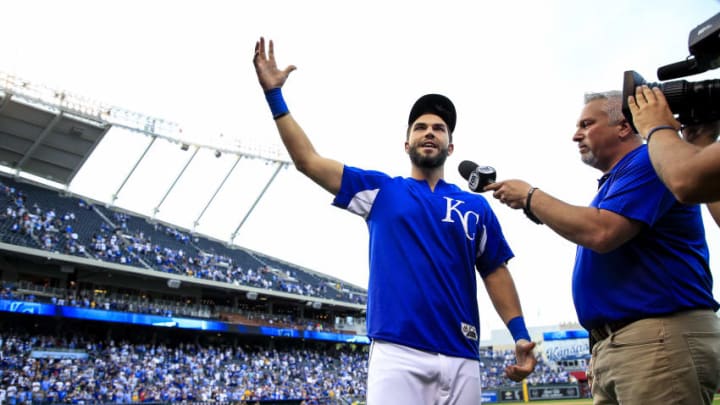 KANSAS CITY, MO - OCTOBER 01: Eric Hosmer #35 of the Kansas City Royals thanks the fans after the last game of the season against the Arizona Diamondbacks at Kauffman Stadium on October 1, 2017 in Kansas City, Missouri. The Royals were defeated by the Diamondbacks 14-2. (Photo by Brian Davidson/Getty Images) /
The St. Louis Cardinals have been rumored to be linked to the former first baseman for the Kansas City Royals and this is something that I can endorse.
The St. Louis Cardinals have many decisions to make this offseason and one such could and should involve Matt Carpenter. I am not alone in suggesting that Carp end up on a different team as Tito and I have both written about Carpenter going elsewhere previously this season.
With the recent rumors that the St. Louis Cardinals could be interested in Eric Hosmer, the topic of Matt Carpenter again becomes topic number one. The Hosmer rumor had me wondering if he would be an upgrade to Carpenter and if the St. Louis Cardinals even need him.
Let me tell you why I believe they do need him and why he is the equivalent to the best Matt Carpenter that ever existed (and, in fact, exceeds these numbers).
First, let's take a look at the "best Matt Carpenter." Carpenter's best year came in 2013 when he recorded 199 hits, scored 126 runs, and he posted a batting line that season of .318/.392/.481. Again, these came in 2013. It is now 2017 and Carpenter posted a batting line of .241/.384/.451.
Defensively, the "best Matt Carpenter" appears at first base where he owns a .993 fielding percentage across five seasons. By the way, Carpenter owns fielding percentages of .980 and .955 at second and third respectively. Those numbers will come into play a little later…
To Hosmer, Eric's best season arguably was in 2017 when he appeared in 162 games posting a batting slash line of .318/.385/.498. Wow, right? He will certainly have many clubs clamoring for his services. Having said that, do you see the similarities to the "best Matt Carpenter?"
Defensively, Hosmer is a seven-year veteran at first base. In 2016 and 2017 he appeared restrictively at first base and DH but before that time he appeared at positions in the outfield too. At first, to compare him to Carpenter, Hosmer has a .995 fielding percentage across seven seasons.
In terms of RF/G, Hosmer has a 8.66 at first base in his career while Carpenter owns a 7.67.
So, if we believe that the Cardinals have real interest in Hosmer, and they should, then we must admit that Hosmer is a definite upgrade to Carpenter.
In addition, Hosmer would spell the impact bat that the Cardinals are reportedly seeking. In the past three seasons, Hosmer has hit (in reverse order) 25, 25, and 18 home runs. In the past three seasons, Carpenter has hit (in reverse order) 23, 21, 28.
Here's the rub, then: if the St. Louis Cardinals land Hosmer, who stays and who goes? If the St. Louis Cardinals keep Carpenter, should he move to second or third? If he moves to second, this displaces Kolten Wong. If he moves to third, he displaces Jedd Gyorko.
More from St Louis Cardinals Rumors
Looking at the numbers earlier in this post, it could be argued that Carpenter should- if he stays- move back to second base, but that doesn't stand up to the numbers defensively from Wong. Wong's five seasons at second base have netted him a fielding percentage of .978 (just .002 points less than that of Carpenter). Wong's 5-season RF/G is 4.53 whereas Carpenter is noted as 4.12 at second.
But wait, doesn't Hosmer have a negative dWAR? Yes, yes he does. His defensive wins above replacement based on his position (primarily first base) is negative 8.0 (-8.0). Ouch. In his defense, Carpenter's dWAR is -2.8.
Here's the deal (to me at least): I am actually not interested in the St. Louis Cardinals picking up Hosmer. Instead, I posit that the St. Louis Cardinals still offload Carpenter, move DeJong to third base and first and have him platoon there with Gyorko instead of grabbing Hosmer.
This would leave short stop open and here I believe the Cardinals can make the most impact on the team. In this regard, then, I would recommend the Cardinals grab Andrelton Simmons. More on that in a post later today.
What do you think? Would you take a rider on Hosmer? Would you offload Carpenter? Let me know on Twitter and thanks for reading.