St. Louis Cardinals: Carlos Martinez's big California night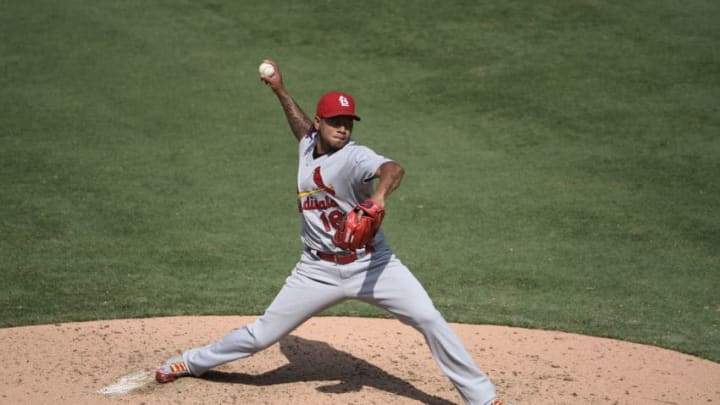 SAN DIEGO, CA - SEPTEMBER 4: Carlos Martinez #18 of the St. Louis Cardinals pitches during the fifth inning of a baseball game against the San Diego Padres at PETCO Park on September 4, 2017 in San Diego, California. (Photo by Denis Poroy/Getty Images) /
The St. Louis Cardinals and their fans got a wonderful reminder last night that one of the most electrifying pitchers in the league is at the top of their rotation.
Last night, St. Louis Cardinals fans got a real treat. Not only did they see their team put up another all-important W, but they also saw the Mastery of Carlos Martinez. Yesterday, Martinez went the distance against the San Diego Padres, his second shutout of the season. Through all the ups and downs of the season, last night showed why Carlos Martinez is this team's ace, now and of the future.
Carlos tossed a 109-pitch shutout, compiling ten strikeouts and shutting the door in the ninth with his fastest pitches of the entire game (98.8). That is the Carlos Martinez that everyone has hoped to see and has gotten many glimpses of in the past.
Expectations have been placed upon Martinez from the beginning of the year. This was the season that Carlos would take the reins of the rotation and become the number one pitcher everyone had expected.
Unfortunately for Carlos, it hasn't been that easy. This season has had ups and downs. At times Carlos looks like the most dominant pitcher in the league. Other times he looks like he is easily shaken and just another run-of-the-mill pitcher. Monday afternoon, that was the real Carlos Martinez.
More from Redbird Rants
Facing a poor lineup like the Padres is exactly the type of game that could have been a trap for a pitcher like Carlos. He could have gone into the game yesterday expecting to be dominant. He easily could have expected to breeze through a hodge-podge of unknown names. But he didn't; he came in with intensity and a desire to dominate.
One of the reasons Carlos was so dominant was the way he was able to mix his pitches. Between his slider, change-up, and fastball there was no weak pitch. The one pitch that stuck out though, was his slider. Of his 10 strikeouts yesterday, the slider was responsible for 5. The movement on his slider yesterday buckled hitters on more than one occasion. Combine that with his ability to mix in a mid-to-high 90s fastball and then slow things down with a change-up. Those are the pitches of an ace.
Carlos Martinez is still only 25 years old, a child compared to a good portion of the league's pitchers. He will only improve, through command of a game, maturity and his undeniable ferocity on the mound. Even after the struggles that have been seen and will continue to pop up, the St. Louis Cardinals have their ace, and his name is Tsunamy.