St. Louis Cardinals news: Johan Oviedo impresses in debut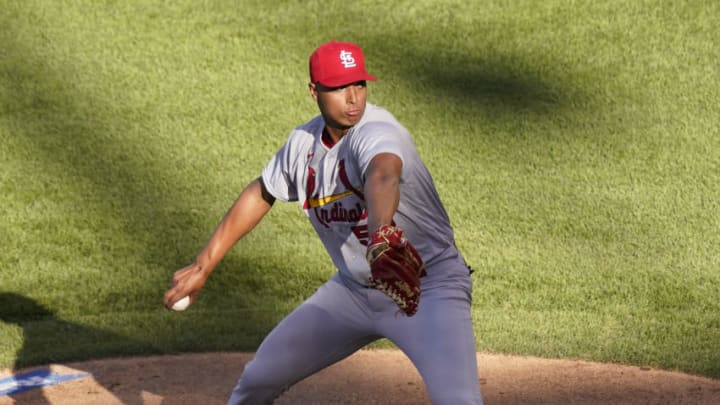 CHICAGO, ILLINOIS - AUGUST 19: Johan Oviedo #59 of the St Louis Cardinals pitches during the first inning of Game Two of a doubleheader against the Chicago Cubs at Wrigley Field on August 19, 2020 in Chicago, Illinois. (Photo by Nuccio DiNuzzo/Getty Images) /
The St. Louis Cardinals were in need of arms and turned to rookie Johan Oviedo. In his debut, Oviedo impressed against the daunting Cubs.
For the majority of the spring, St. Louis Cardinals fans heard endlessly about how much the organization loved a little known young right, Johan Oviedo.
The 22-year-old Oviedo was signed by the Cardinals back in their huge 2016 international free agency class out of Cuba. When the team signed the righty, he was listed as 6'6" and 220lb as an 18-year-old. Now, he's listed on Baseball Reference as a hefty 6'5″, 245 lb.
If you were just looking at a stat sheet, Oviedo's numbers from 2018 and 2019 don't stand out as anything particularly special. An ERA over 4.00, good strikeout numbers, but way too many walks. However, on Wednesday, fans got to see the team's 13th overall prospect pitch in the big leagues for the first time. Quickly, it was easy to see why the Cardinals were so bullish on him.
More from St Louis Cardinals News
Oviedo has a huge arsenal. Starting with his fastball, it has a really good cutting action to it that gave the Cubs fits. Baseball Savant wasn't picking it up as a cutter, but when you look at the movement and the spin of the ball, it's close to a cutter. The beauty in this pitch is that Oviedo throws it at an average velo of 96 mph and got it up close to 99 mph on Wednesday. After the fastball, Oviedo throws a slider, curve, and changeup too.
Overall, Oviedo showed great movement on all his pitches and was able to strike out four over his five innings of work. We also saw where Oviedo needs to continue to improve. Along with his four strikeouts, he gave up two walks and had seven full counts on the day.
Oviedo reminds me a lot of Alex Reyes; huge stuff with some issues with control.
The tall righty also showed off his reflexes on the mound.
This ball was hit at just below 109 mph and we are lucky Oviedo's reflexes are as good as they are. It was a scary situation, but Oviedo came out of it fine and with the out.
In all, there's not much more we could've asked for from a 22-year-old rookie in his debut against the best team in the division. Pitching five out of seven innings and giving up just two runs on one single, Oviedo gave the Cardinals every chance to win the game.
Alas, the Cardinals couldn't wake their bats up enough and lost the second game of the doubleheader 4-2. However, Oviedo may have performed well enough to get another shot in a starting job.
Until the Cardinals get back all of their players stuck on the COVID-19 IL, they need as much help as they can get with pitching. Oviedo has been a starter his entire MiLB career, no reason to flip him to the bullpen if he proves he can be productive as he did on Wednesday.