St. Louis Cardinals: Is Paul Goldschmidt back? He's back…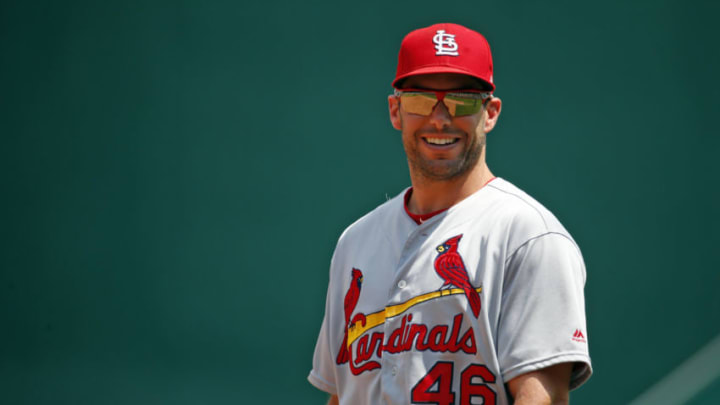 PITTSBURGH, PA - JULY 25: Paul Goldschmidt #46 of the St. Louis Cardinals looks on against the Pittsburgh Pirates at PNC Park on July 25, 2019 in Pittsburgh, Pennsylvania. (Photo by Justin K. Aller/Getty Images) /
The St. Louis Cardinals have needed their first baseman to hit his career numbers in the second half. Since the start of July, he's been hotter than hot.
Paul Goldschmidt was the biggest bat moved this winter. The St. Louis Cardinals knew this when they traded for him then signed him to a five year/$130M extension to keep him around longterm.
Unfortunately for the Cardinals, the Goldy they got for the first half of the 2019 season was akin to the Goldy from the first month of 2018. Even though he hit 16 homers in the first half, his .254 batting average and .769 OPS was nowhere near what the team expected from the six-time All-Star.
That OPS is that of a hitter that is right around the league average, not the guy you brought in to anchor the offense. There were multiple times in the first half where Goldy would get hot for a couple of days and look like he was turning the corner, then he'd go cold again. It was a very frustrating first half, and without a clear explanation of why, it was hard to watch.
I held off on writing this article for a while, but given the last month, I think it's finally time to say one thing:
Paul Goldschmidt is back.
What could make you happier as a Cardinals fan to hear? Looking at all of his offensive stats, they all agree. Over the past 28 days, Goldy is hitting for a .288/.341/.725 slash line all good for an OPS of 1.066. When you look at the last 14 days and then even sooner to the last week, the numbers get better and better. Over his past eight games, Goldy has hit seven homers leading him to be last week's NL player of the week.
If this was out of the blue, I would still be hesitant to write this article. After the month Goldy has had, in which he has hit 11 homers along with hitting for a high average and gap power, I feel confident in saying that he's fully back to the Goldy we have all hoped we would see.
As for the basis of his success, Mike Petriello noticed something that stood out.
For the majority of the year, Goldy has still been hitting the ball hard and was striking out at his normal career norms, it just seems his launch angle was off. Now that he has gotten his swing path corrected, it is paying dividends. He has been on his career pace for homers, but his doubles have been way down which was worrisome during the first half. This could be another product of his launch angle.
Goldschmidt won't hit anywhere near his career norm for doubles as he currently sits at 12 with his career average being 37, but progress is progress.
More from St Louis Cardinals News
This was the first year Goldschmidt has been on a different team other than the one that drafted and developed him. I can't blame him for struggling some and I don't regret the extension the Cardinals gave him. You shouldn't either.
In my head, if Goldschmidt hits at or above his career norms the rest of the second half, I will be more than happy. If that will make the general public happy is the question, but I would think so. There was an obvious adjustment period, but Goldy has stepped up recently and been the hero the Cardinals needed multiple times.
Another thing is becoming true that most knew all along: when Paul Goldschmidt is hitting like Paul Goldschmidt, everyone around him hits better. For the player before him, the pitcher is going to give him more strikes in an effort to get him out. For the player behind Goldy, there will be more runners on base. It's a symbiotic relationship between Goldschmidt and the rest of the lineup and the Cardinals improved offense in July has been the proof.
If you check out this chart from Fangraphs.com, you can see that Goldy has been about 20%+ better than average over the last 20 games and it keeps tracking better and better. It's just backing up what we have seen as we watch the games, but it's great to see. Over his career, Goldy has hit for a wRC+ of 142, a mark he has been at or beat over the last week which is great to see.
Looking at his career OPS of .919, his July OPS of 1.067 again corroborates that he is back. Every player is going to go on streaks, but if Goldy can put up MVP-esque numbers the rest of 2019 (which he has done this month) we should expect to see a much better offense overall. The team is going to need it if they are gonna stand a chance at making the playoffs in a Wildcard spot, or even better, holding off the Cubs for the NL Central lead.
Overall, it's great to see Goldy playing the way Cardinals fans were promised. We haven't seen it for a prolonged period yet, but Goldy seems comfortable finally and is hitting the ball as he did for so many years in Arizona. Many people questioned the deal the Cardinals gave Goldy during the first half of the season but if he is able to keep this up the second half, it'll look a whooooole lot better longterm.