St. Louis Cardinals: What's wrong with Paul Goldschmidt?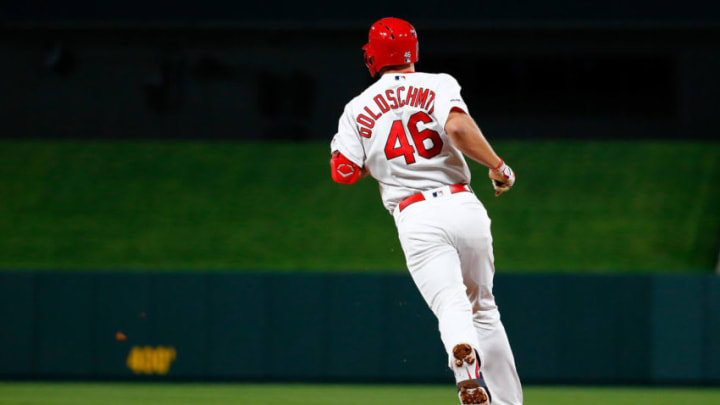 ST. LOUIS, MO - APRIL 9: Paul Goldschmidt #46 of the St. Louis Cardinals rounds first base after hitting a home run against the Los Angeles Dodgers in the fifth inning at Busch Stadium on April 9, 2019 in St. Louis, Missouri. (Photo by Dilip Vishwanat/Getty Images) /
The St. Louis Cardinals' first baseman has been off to a slow start despite a power surge. What is the root of the issues with the slugger?
Fans and players of the St. Louis Cardinals are all ecstatic to have Paul Goldschmidt manning first base day in and out for the foreseeable future. After trading for the first baseman this winter, the team signed Goldschmidt to a 5 year/$130M extension before he set foot on the field for Opening Day.
There were very little bad things said about this deal as there shouldn't have been. Goldschmidt has been one of the best players in the league for his career and locking him up in this deal helps fans and frankly himself not have to worry about his impending free agency.
While we are all happy to have him here, Goldschmidt's tenure in St. Louis has not quite started the way that we would all have hoped.
Through his first 55 at-bats, Goldy is hitting just .200 with a .300 OBP. While he does have six homers, half of those came in one day. His .840 OPS is not bad at all but as I'm sure he would say too, he expects a higher batting average for himself.
Looking back to last year, there is really no cause for panic. At the end of May last year, Goldschmidt was batting just .209 with a .695 OPS and just seven homers. From then on out, he just hit .330 with 26 homers which brought his numbers right to where you would expect from the superstar.
In an article with mlb.com, Andrew Simon attempted to figure out what caused the slump and subsequent turnaround. The basic thought he came to was that Goldschmidt was not being as aggressive early in the count and was striking out too much. There was no true stat that clearly explained the slump but after coming out of it, Goldschmidt himself said, "I guarantee we tried everything, and finally something just really clicked."
More from St Louis Cardinals News
So what is happening with Goldschmidt this year so far? The title may be a little misleading as there is not really something wrong with him per se as Goldy's current 'slump' is mostly just his batting average not being where we want it to be. With his wRC+ of 116, he is currently an above average hitter so I am in no way calling him a bust or failure or anything like that.
This is more of a dive into why he isn't hitting for a higher batting average, and there are things in his batting profile that point to what the problem is.
Let's start with the good parts of where Goldschmidt is sitting with his batted ball numbers. Per Fangraphs, his walk rate is at 14.5% which is right where we want to see him and is actually a tad bit over his career rate. He is also hitting the ball hard still. While Statcast disagrees to an extent, Fangraphs has his hard-hit percentage at 59.0% and Statcast has him as the 15th best hitter in the NL by barrel percentage. So why isn't he seeing results?
I believe it's a mix of a couple of different things. The first one is plain luck.
For the league, a BABIP (batting average on balls in play) of .300 is about average. If a player hits a ball hard a lot and their BABIP is above .300 it doesn't mean they are overly lucky as hitting the ball hard, in general, is always going to lend yourself to getting more hits. If a player isn't hitting the ball consistently hard and there is a high BABIP, they are getting lucky.
Paul Goldschmidt's BABIP is an anemic .182 at the moment. Now he's not exactly doing a ton to help himself get results as he is hitting the ball to center field more than he has in his entire career, so he needs to work on spraying the ball around the field more, but he is also hitting everything in the air. With a fly ball percentage of 53.8% and a line drive percentage of just 10.3%, the .182 BABIP starts to make more sense.
While it's interesting that with all these fly balls, he has not hit any pop-ups on the infield. On the broadcasts of the games, you can frequently see Goldschmidt talking to hitting coach, Jeff Albert, after at-bats which leads me to believe it has something to do with Goldschmidt's swing path. The homer output makes sense as if he's hitting the ball hard and in the air often, it makes sense that he is going to hit some more homers, but for the type of hitter he is, Goldschmidt needs to figure out how to bring his line drive percentage back up to his career 22.5%.
The other thing that Goldschmidt is doing is striking out more. Right now, his K rate sits at 29% which is way above his 22.6% on his career. That was a problem last year during his slump and will come down eventually.
Another underlying basis that I believe is causing this slump is that he is trying too hard. This may be wrong as it's impossible to prove but think about it. Goldschmidt is playing for a new team for the first time in his career. He comes in and signs his extension before even playing in St. Louis, and is now expected to gell and be 'the guy' immediately. It's a lot of pressure and through the first 2+ weeks of the season, it makes sense.
Again, it's early in the season. There is not necessarily anything 'wrong' with Goldy but there are things that are keeping him from batting near his career numbers so far and I just wanted to shed some light on those.
Goldschmidt is no doubt a fan favorite already and will undoubtedly get back to where his career numbers are. This article may be premature by a few weeks, but this is what I'm seeing right now. This slump to start the season is already not as bad as last year, so there's no cause for worry.