St. Louis Cardinals: Winners and Losers of 2019's first Busch series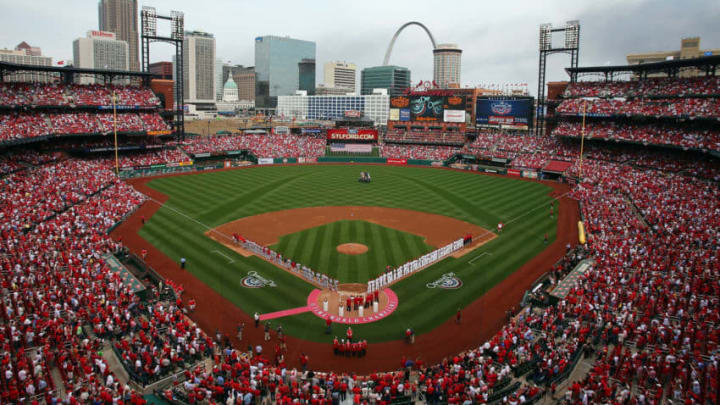 ST. LOUIS, MO - APRIL 08: General view of the St. Louis Cardinals and the Cincinnati Reds line up for the national anthem before the Opening Day on April 8, 2013 at Busch Stadium in St. Louis, Missouri. (Photo by Elsa/Getty Images) /
It wasn't the victorious home opener every St. Louis Cardinals fan was looking for against the San Diego Padres, but there were some clear cut winners and losers to highlight from the weekend series.
Another series has come and gone and the home opener at Busch Stadium had some mixed results after winning both games against the Pirates. The starting pitchers did their job efficiently, and Adam Wainwright looked like his old self in the series closer. Meanwhile, the St. Louis Cardinals bullpen is looking like they are not ready for the season to start.
Manager Mike Shildt hasn't looked like the same manager that had a magical second-half run in the 2018 season. Poor in-game decisions have cost the team from winning the first two games. It is still very early to count this team out of the division or the playoffs. Many teams are still trying to find themselves but the Cardinal fan base is starting to get anxious and skeptical with the decisions both Shildt and President of Baseball Operations John Mozeliak are making.
Here is a look at some of the winners and losers of the series:
Newly acquired reliever Andrew Miller has gotten off to a terrible start to the 2019 season. There's no other way to put it but this: he stinks, and it doesn't look like he's gonna get back to prime Andrew Miller form.
We're starting to see a Brett Cecil-esque kind of reliever, who has no confidence in his pitches or delivery and costing the team from winning games late. Giving up 4 runs in the 8th inning, including 2 bombs to Austin Hedges and Manny Machado pretty much locked up the game for the Padres.
Carp has gotten off to a lackluster start once again. His OBP is at .333 and his career average is .376. He's simply just not getting on base enough for Goldy to do any damage. I suggest moving Carp down the lineup and giving Kolten Wong a chance to lead off.
More from St Louis Cardinals News
Wong is 13th in the league in OBP, 6th in batting average, 8th in OPS and 4th in Slugging. Carp is not sniffing those numbers at all. This is also coming off of the second half of 2018 where Wong slashed a solid .317/.384/.439.
The one positive is that the Dodgers come to town, and Carpenter usually does well against them.
This is the second straight series where the All-Star first baseman has struggled. He has 2 strikeouts and has left a total of 8 guys on base. He had a chance on Saturday's game in the 8th to do some damage but grounded out softly. I do believe Goldy will get going and start putting up his normal numbers, but it won't happen till he moves out of the 2nd spot.
Wacha was close to making the loser's list but was able to survive his career high 8 walks on Saturday's game. He could only go 5 ⅓ innings and threw 119 pitches but he did enough to get the win. However, the St. Louis Cardinals need their starters to try and get through at least 7 innings due to the struggles of the bullpen costing the team from closing out games.
Jack was much better in his 2nd start against the Padres. He looked more settled in and in command of his pitches. He didn't allow any runs and struck out 6 batters in 5 innings of work, but again, he had the same problem as Wacha not going deeper into the game and taking off the pressure on the bullpen. Look to Flaherty as someone who is gonna continue to thrive as the season goes along.
Winner 3: Adam Wainwright
It would be wrong of me to leave Waino off as a winner this week, simply due to the fact that he was outstanding in shutting down the Padre hitters. He went 6 innings, allowed only 5 hits and 1 run and struck out 9 and didn't allow a walk. I still remain skeptical of Waino remaining in top form all season long but if he can contribute in the early goings not allowing the games to get out of hand then he deserves to keep starting.
Ozuna was one of my losers last week that struggled mightily on both offense and defense. Although his throwing arm continues to look like a young kid still learning how to throw a baseball, patience at the plate is starting to improve. He had two hits that were game-changing hits that gave the Cardinals the lead on Saturday's game and tied the game on Friday's game. He might benefit more from a change in the lineup since he's still having some struggles at the plate.
This was not the outcome fans were looking for at the Home Opener at Busch Stadium against the Padres but hopefully, the team, including the bullpen will have found something from Sunday's series finale. The team welcomes one the NL's hottest teams, the Los Angeles Dodgers who will bring out Hyun-Jin Ryu (2-0, 2.08 ERA) against Miles Mikolas (0-1, 7.20). The Cardinals will need to bring it all against this hot Dodgers lineup if they want to win the series in 4 games.