St. Louis Cardinals: Checking in on players in the AFL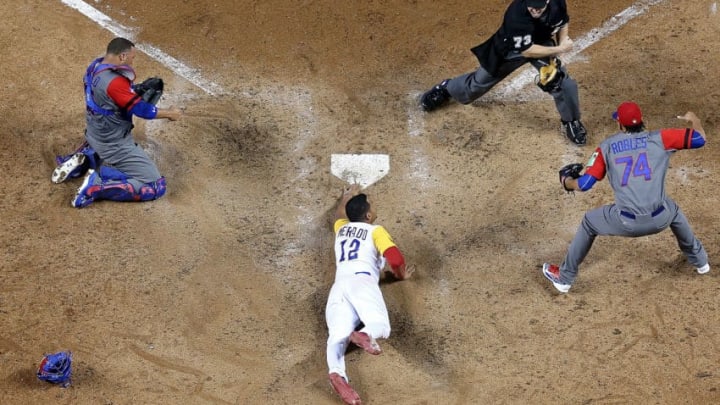 MIAMI, FL - MARCH 12: Welington Castillo /
With the Arizona Fall League in full swing, prospects of the St. Louis Cardinals are excelling overall.
This is good news for a very strong St. Louis Cardinals farm system, as it shows promise of good things to come for the organization. The success at the triple-A level is well-known by the Redbird faithful, but the players in the AFL are from lower levels than that, showing talent throughout the organization.
In total, the Cardinals have eight players participating in the AFL. It is split evenly with four pitchers and four hitters. However, it seems as though all of them are finding success in one way or another.
Oscar Mercado
During this past season in the 22-year-old speedster played a full season in double-A. He hit .287 and swiped thirty-eight bases. Oscar Mercado also slugged thirteen homers, adding another dimension to his game. However, he displayed solid gap-to-gap power, shown by his twenty doubles and four triples on the year.
In the AFL, Mercado is doing much of the same. Through eight games he boasts a .310 batting average. To this point his legs have not shown up all that much. However, it looks as if his strikeout numbers are down.
Edmundo Sosa
The young shortstop is the lowest performing St. Louis Cardinals player in the AFL. Through six games he is hitting a lowly .238. He emerged as a one trick pony in this prospect league. Edmundo Sosa combines his .308 batting average against righties with a .125 against lefties, which doesn't average out well.
He was successful during the season though. Across three separate leagues, he posted a batting average of .332. Sosa emerged as high as Springfield for a brief four at-bat stint. He did not get a hit, however, he hit over .300 in both of the lower leagues in 2017.
John Nogowski
This is the batting average leader of the team. However, to be fair he has only played in two games. However, his three hits in seven at-bats give him a solid average to show for it thus far. As you can imagine, with such limited time, there is not a whole lot to show for the off-season so far.
He spent 2017 with Springfield and swung the bat for a solid .295 average. Despite John Nogowski's fairly large 6'2″, 210 pound frame, he does not show off too much power. He knocked only two homers and 12 doubles. But, he gets the bat on the ball as evident by only striking out twenty-five times.
More from Redbird Rants
Andrew Knizner
The final St. Louis Cardinals hitter is a catcher who hit over .300 in fifty-one double-A games.
If he continues to play well, it adds to an exciting future for Redbird backstops. Andrew Knizner has emerged as a solid for any position, not just catcher.
His AFL playing time is on pace through this point in the season. In seven games, Knizner is hitting .393. However, he has struck out seven times. Regardless, he is hitting well still and is showing a bright future.
Jordan Hicks
Jordan Hicks has tossed 6.2 innings in the AFL to the tune of a 9.45 ERA. He is not having a good time as evidenced by his .407 batting average against.
There is more to say about his 2017 season. He threw well for both Peoria and Palm Beach, which is how he got the invite to the AFL. He threw a combined 2.74 ERA across both levels. The 21-year-old is doing well for himself in the early stages of his career.
Josh Lucas
Josh Lucas posted eight wins pitching for Memphis in 2017. He added to the pool of talent on the team with his 3.15 ERA on the year. All of these stats came out of relief, as he also collected seventeen saves. It is a good thing to see an arm like this in relief considering the 2017 bullpen struggles for the St. Louis Cardinals.
So far in the AFL , however, things are not going too well. Through five innings he shows a 5.40 ERA. But, his five strikeouts show a live arm, averaging a strikeout per inning. Lucas has also picked up a save in the prospect league.
Sandy Alcantara
To be completely honest, Sandy Alcantara is just flat-out struggling. He is walking two for every one strikeout he gets, putting his WHIP at 1.71. This is a surprise due to how well he has shown out in other leagues. But through seven AFL innings, he is not looking too good. That is bound to change though.
Playing for Springfield in 2017, Alcantara showed a lot better control. He only walked fifty-four batters while striking out 106. He still posted an ERA above four, however his WHIP was significantly lower.
 Arturo Reyes
Arturo Reyes is not pitching to the form of his fellow St. Louis Cardinals. Through six innings in the AFL, he has not given up an earned run. He has been dominant so far with hitters hitting a lowly .160 off of him so far.
Next: Cardinals bring back Oquendo
After spending a large portion of 2017 with Memphis, Reyes did not find the success that others did. He had an ERA over four. But, he was dominant at other levels and is showing that prowess again in the AFL.