The St. Louis Cardinals should not pursue Adam Eaton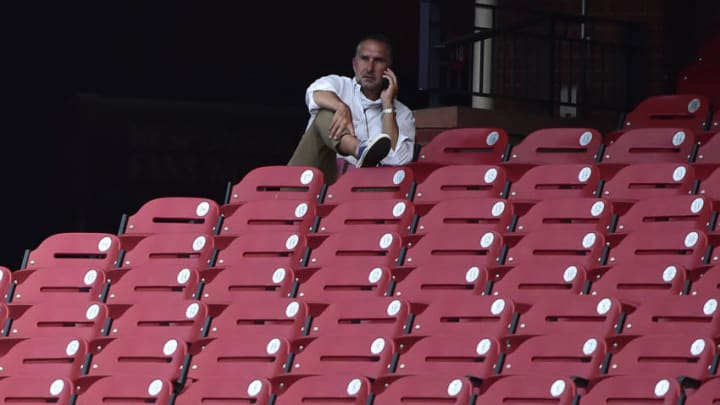 John Mozeliak looks on from the seats during workouts at Busch Stadium. Mandatory Credit: Jeff Curry-USA TODAY Sports /
The St Louis Cardinals could use a fourth outfielder, but should stay away from the recently released Adam Eaton.
In 2016, when the Chicago White Sox were looking to trade outfielder Adam Eaton, the St. Louis Cardinals were heavily connected. The White Sox sought a young catcher as they looked to continue with their rebuild and the Cardinals possessed Carson Kelly, a talented young catcher, in their farm system.
The White Sox, of course, traded Eaton to the Washington Nationals for Lucas Giolito. Eaton has since struggled, playing for the White Sox and Los Angeles Angels, and was recently released by the Angels. So, now that he's a free agent, should the Cardinals be interested?
On the surface, the answer seems like a clear no. Eaton, 32, is hitting .201/.282/.327 with six home runs and 30 RBI in 254 at-bats. He has looked like a shell of his former self and while some baseball people thought getting out of Chicago would save his career, he was actually worse statistically with the Angels and was released once Jo Adell and Brandon Marsh were called up.
Now, there can be an argument made that the Cardinals should consider Eaton. They need a fourth outfielder, especially after trading Lane Thomas, and Eaton does offer some upside considering 1) he will make the veterans minimum the rest of the season and 2) he hit .279/.365/.428 with 15 home runs and 49 RBI in 2019 with the Nationals. Having someone with that past on the bench could be an appealing option for a Cardinals offense in need of a spark.
The odds, however, are strongly against the Cardinals pursuing Eaton. He has arguably not been good enough to be in MLB, let alone on a team's bench that hopes to contend. Perhaps the Cardinals look at other outfielders should they become available, but Eaton shouldn't be on their radar.