Cardinals Rumors: Why St. Louis might consider buying at trade deadline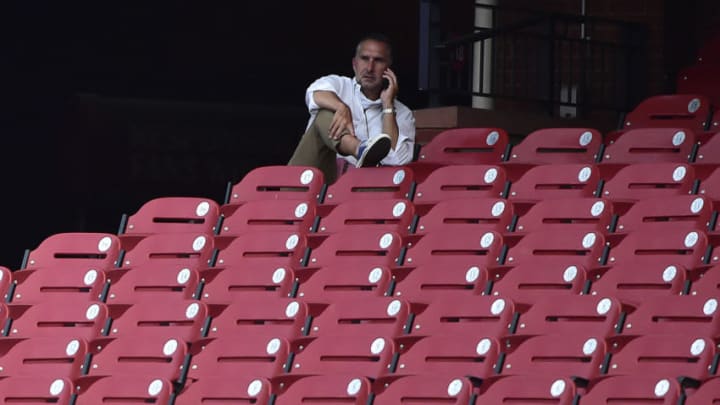 John Mozeliak looks on from the seats during workouts at Busch Stadium. Mandatory Credit: Jeff Curry-USA TODAY Sports /
The St. Louis Cardinals aren't close to leading the division, but adding at the deadline is still on the table because of a belief in what the team has.
Not long ago, the St. Louis Cardinals were in fourth place and fading fast in the National League Central. But after a 7-3 stretch, and with Jack Flaherty and Miles Mikolas getting closer to returning, the narrative has started to shift.
Which begs the question: Should the Cardinals actually buy ahead of the July 30 trade deadline?
That answer is complicated. For weeks, it has been widely assumed that the Cardinals would stand pat, perhaps gradually buy, instead of being aggressive buyers. The thought that a Max Scherzer trade was a possibility quickly vanished. But with the Cincinnati Reds, who are only one game ahead of the Cardinals in the division, aggressively buying, perhaps the argument could be made that president of baseball operations John Mozeliak follows suit.
More from St Louis Cardinals News
After all, the Cardinals clearly need another starting pitcher, this year and going forward. Perhaps they become more open to the possibility of adding a controllable starter such as Kyle Gibson. It is highly unlikely that they seriously consider Twins ace Jose Berrios, who is signed for multiple seasons, with rival executives reporting that it will take a premium haul to get the right-hander out of Minnesota.
The Cardinals could also look to add another offensive bat, though it remains unclear which position they would target. Center field appeared to be the prime possibility, but Harrison Bader has been on fire in recent weeks, and is now hitting over .300 on the season, which all but eliminates Twins outfielder Byron Buxton from the potential options.
The odds remain in favor that the Cardinals stand pat and make marginal upgrades that impact the team this season and beyond. But it could be tempting for Mozeliak and the front office to see what all is out there and strike on a deal that didn't appear to be an option only a week ago.