St Louis Cardinals: Keep an eye on Cleveland reliever Bryan Shaw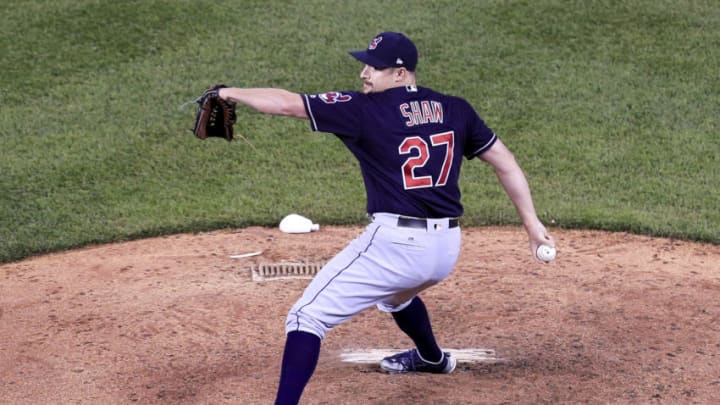 KANSAS CITY, MO - MAY 5: Carlos Santana #41 of the Cleveland Indians plays the ball off the wall on a double hit by Alcides Escobar #2 of the Kansas City Royals (not pictured) during the seventh inning at Kauffman Stadium on May 5, 2017 in Kansas City, Missouri. (Photo by Brian Davidson/Getty Images) Bryan Shaw /
The St Louis Cardinals are heavily in need of additions on the pitching side of the ball. As Cleveland comes to St. Louis, keep an eye on Bryan Shaw.
Coming into the year, pitching was supposed to be the strength of the St Louis Cardinals. Not only was it supposed to be the strength, but it was also supposed to be in the running for one of the best pitching staff in baseball.
Oh, how things change.
Injuries, lack of performance, and who knows what else have left the Cardinals at a point where their pitching needs help desperately. While they could wait for health, president of baseball operations John Mozeliak is already searching for outside help to fill in and eat some innings.
On the bullpen side, one player that could help might be playing at Busch Stadium this week as the Cleveland Indians come into town for a two-game series on Tuesday. While Cleveland boasts an exciting and stellar young rotation, one name in the bullpen the Cardinals could be looking at is Bryan Shaw.
Shaw, 33, is having the best year of his career to this point and is doing it in Cleveland for the second time of his career. From 2013 to 2017, Shaw was borderline elite with the Indians in a high-volume role out of the bullpen. He appeared in at least 70 games each of those five seasons and led the MLB with 80 appearances in 2014. Through all these appearances, he held a 3.11 ERA and 1.188 WHIP.
At 33, Shaw is not the same reliever he was then, but he does look like a guy who would fit in and the Cardinals could use if the price is right.
Basically, Shaw has been the reliever version of John Gant this year. He is walking way too many batters (6.8 per nine makes him a perfect fit!), but is striking out 11.0 batters per nine and has not let the walks hurt him. His 3.8 hits per nine add to the fact that the only trouble Shaw has gotten into this year on the mound has been because of his own doing.
More from St Louis Cardinals News
His 1.90 ERA is deceptively good as the walks and his 4.07 FIP would argue, but Shaw's stat line right now is so volatile that it has to even out to something in the middle of all this eventually. The most interesting part of Shaw's line is that his sample size isn't super small like some may suggest after seeing a line like this. He's appeared in 25 games already which is third on the team.
Shaw was brought in on a base salary of just $1M, though he has bonuses that could push that up to $2.4M if he reaches 75 appearances on the year. He isn't cheap, and while he's due for some regression, he's got the history of being an innings-eater out of the bullpen and on the Cardinals he wouldn't have to be a key guy, just a reliable one.
The relationship is already there between the Cardinals and the Indians as they have made plenty of trades in recent history. As a 33-year-old impending free agent Shaw is expendable on a team who is destined for the bottom of the AL Central. If the Cleveland front office can turn a minor league free agent a prospect, it'd be hard to imagine they wouldn't jump at the chance.
As one of Cleveland's top relievers, odds are Shaw finds his way into one of the two games this week at Busch. If he does, he's one player to keep an eye on as a potential target.