Weekend woes turn into case of Mondays for St. Louis Cardinals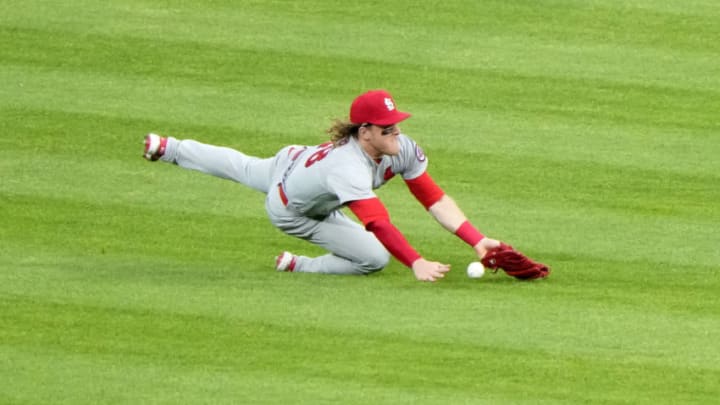 Harrison Bader (48) attempts to make a diving catch against the Chicago White Sox during the third inning at Guaranteed Rate Field. Mandatory Credit: Mike Dinovo-USA TODAY Sports /
The St. Louis Cardinals have been chugging along in May and seemed to hit a solid bump in the track to success.
The St. Louis Cardinals lost their first series with the Cubs of the year and it just seemed to exacerbate the team's recent struggles. And then they head to Chicago to play the White Sox, led by the team's former manager Tony LaRussa along with former pitcher Lance Lynn starting for the team of youngsters.
The Cardinals seemed to have run into the same results that are driving fans crazy as of late. The walks, the injuries, and the streaky hitting – the Cardinals had it all. On Monday, they lost to the White Sox 5-1, after losing to the Cubs Sunday evening 2-1. At least they took one game from the Cubs on Saturday.
Injuries remain an issue for this team and were dealt a bad one Monday evening. Attempting to catch a drive off the bat of Nick Madrigal in the bottom of the third, Harrison Bader dove for the ball and missed the catch. As Bader dove, the ball appeared to bounce underneath him at the rib cage, breaking the fall and causing him to bend over in pain for a few minutes. Bader did leave the game with a right-side rib injury.
Initial imaging on Harrison Bader came back clean, Mike Shildt said, so the Cardinals are hopeful he avoided a rib fracture or any serious injury. Scheduled to get more tests. Landing on the ball is what nicked him.
It is great to see this may not be a significant injury as Bader already missed the first month of the season with a right forearm strain.
Dylan Carlson moved from right field to center after Bader exited the game, a spot he played while Bader was out in April. Carlson was out of action Saturday and Sunday with back tightness and was receiving treatment for the issue. With the possible issue for Bader, the team obviously can not be without him for too long. Carlson's presence in the second slot of the lineup has provided a spark to get things going for the heart of the order. It was noticeable when he left the lineup and though he didn't get on base, he did get a couple of loud flyouts.
The team also seems to be struggling with the absence of Tyler O'Neill. The left fielder was picking it up at the plate and still providing defense in left field before he was hurt. Thomas played in left field while Williams played right on Monday after Bader exited the game. The pair have had their opportunities this season but certainly have had struggled big time.
O'Neill has been healing and checking the strength of his hand since the injury and hopefully he can return soon. In 108 plate appearances, he has eight home runs and is hitting .250/.290/.530 with a 123 wRC+.  Here's hoping he continues on that upward trend.
Paul DeJong has traveled with the team and is getting in some work while in Chicago. He reportedly will travel back to St. Louis to be re-evaluated when the team heads to Arizona later this week. There doesn't seem to be a clear timeframe for when DeJong will return from his rib fracture, but the team has found a pretty great replacement in Edmundo Sosa. He has made some nifty plays in the field and gotten some consequential hits since getting the nod at short. In 42 plate appearances, he's hitting .382/.500/.500 and a 182 wRC+.
Additionally, Sosa is just plain fun to watch and has so much enthusiasm. Looking forward to DeJong's return but so excited to see Sosa getting this opportunity in DeJong's absence.
The pitching woes
Kwang Hyun Kim is still struggling to make it through six innings, only going 5.2 on Monday. He struck out five on 104 pitches, giving up five hits and three earned runs, including a home run to Andrew Vaughn.
Over the weekend, Miles Mikolas exited his first game back since the 2019 season due to right forearm tightness. The team noted no structural issues but was seeking a second opinion. He is scheduled to meet with Dr. James Andrews today. Mikolas had surgery for his right flexor tendon last season and started this season on the injured list with shoulder issues. The team really needs Mikolas out there eating innings.
Don't forget about the walks
As of Monday, Alex Reyes is second only to John Gant on the team in giving up walks. Gant has 28 while Reyes has 22. Giving up a lot of walks is not good especially from the team's closer. After giving up the game-winning home run to Javier Baez in the tenth inning of Sunday evening's game, Reyes walked Ian Happ and David Bote before striking out Nico Hoerner and Craig Kimbrell.
The game was tied at zero and per the newer extra innings rule, the inning began with a runner on second. The new rule hurting the team was aggravating in itself, but that Reyes, who had been pitching well, gave up the winning homer and walked batters before striking out was frustrating.
More from St Louis Cardinals News
Reyes is still perfect in saves, but Sunday's loss hurt. After Adam Wainwright pitched brilliantly for eight innings, you just want a better result.
A better result would require hitting and this remains an issue for the team. They just cannot get consistent hitting. Again, it's baseball and it happens. But, it would have been a great time for a breakout performance.
A lot of bad things piled up all at once this weekend and lingered into Monday. It's never a good time for it. Hopefully over this next road trip, the Cardinals will heal and get some relief. We are limping our way to the finish line of May. Jack Flaherty takes the mound on Tuesday for the Cards against his high school buddy, Lucas Giolito. Here's hoping for a gem from Flaherty and some hitting and runs from the Cardinals lineup.
Here's also hoping for some good health as we head into the heat of summer.