St. Louis Cardinals: Alex Reyes is a force in the back of the bullpen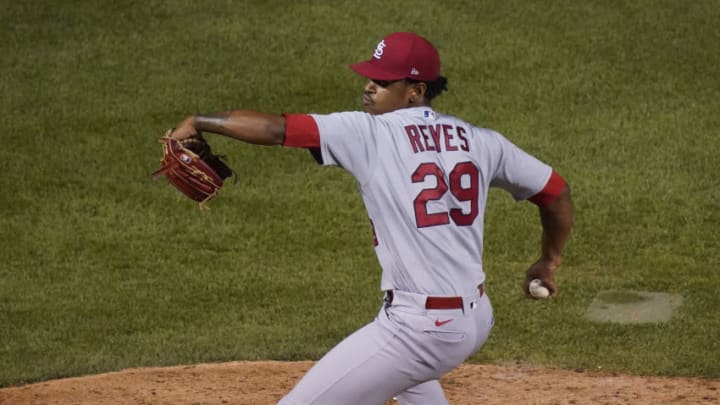 Alex Reyes #29 of the St. Louis Cardinals throws a pitch during the seventh inning of a game against the Chicago Cubs at Wrigley Field on September 06, 2020 in Chicago, Illinois. (Photo by Nuccio DiNuzzo/Getty Images) /
It's early in the season but Alex Reyes has been incredible in the closer role for the St. Louis Cardinals.
Alex Reyes had been the St. Louis Cardinals' top prospect for what seemed like a decade. The talent is undeniable, but injuries kept setting him back on the road to baseball stardom. Now healthy, he is showing that he is indeed the pitcher the prospect rankings deemed him to be. But for the 2020 season and so far in the 2021 season, Reyes is pitching in a prominent role out of the team's bullpen.
While Alex Reyes was being developed as a starting pitcher, he has found success as a relief pitcher. Yet, there are many who still want to see him step into the starting rotation possibly as soon as next season. My question is, why?
Reyes unfortunately has a rather long history of injuries. He has been able to stay healthy and have success pitching out of the bullpen. Removing him from that role and stretching him out to be a starting pitcher could put extra pressure and a bigger workload on his arm, thus could potentially bring up injury issues again. I think he could transition to a starter's workload but for someone who has had a hard time staying healthy, is it a chance worth taking? Not to mention, Reyes out of the bullpen has been an absolute force.
The St. Louis Cardinals bullpen is a strength of the team and I think it has the potential to be borderline elite. Reyes is a big reason why. The Cardinals already weakened the bullpen by taking John Gant out and putting him in the starting rotation. Reyes in combination with a group that includes Giovanny Gallegos, Jordan Hicks, and Andrew Miller among other great pitchers have all the makings of a top-notch bullpen.
More from St Louis Cardinals News
In four appearances so far in the 2021 season, Reyes has three saves already. He has not allowed a run and has already accumulated a 0.3 WAR. While the expectation is that Jordan Hicks will be eased back into the closer role at some point, Reyes is going to make that an interesting conversation. Regardless, those two at the back of the bullpen make a great duo.
Alex Reyes has only started seven games in his career and five of them were in 2016. He has had success in that role. Reyes is still just 26 years of age so it's not out of the question for him to find his way into the starting rotation long-term. But the fact that, to date, his MLB experience has largely been in relief pitching and that he is having great success in his current role in the St. Louis Cardinals bullpen, I don't think it makes sense to pivot again and put him in the rotation.
Reyes is healthy and contributing in a big way out of the bullpen. Why mess with that? Keeping Reyes in the bullpen helps the team watch his innings, too. Alex Reyes has earned his place as an important piece of the St. Louis Cardinals bullpen. Don't change that.