St. Louis Cardinals: Ali Sanchez for back-up catcher?
Most expect Andrew Knizner to be the St. Louis Cardinals back-up catcher in 2021. Don't overlook Ali Sanchez as a candidate for that role, however.
When the St. Louis Cardinals made a minor trade with the New York Mets for catcher Ali Sanchez on February 12, it was easy to overlook it. After all, with Yadier Molina back for the 2021 season, there's not a lot of impact that the back-up catcher role can provide for the Cardinals.
Beyond that, Andrew Knizner seems the likely choice to fill that spot. He's proven all he needs to prove in the minors and is ready for the big leagues. But what if sitting on the bench in St. Louis stunts his development? Would it be better for him to play every day in Memphis with the Cardinals' AAA team to keep sharp?
That is why I think Sanchez is a player to keep an eye on as spring training games are set to get underway. Another benefit for Sanchez is the fact that he is on the team's 40 man roster. They could seamlessly add him to the MLB roster and keep Knizner in the minor leagues to play every day.
Another wild card here is Tyler Heineman, whom the St. Louis Cardinals signed to a minor league deal. Because he's not on the 40 man roster, I think he's likely to serve as organizational depth unless he has an incredible spring training. While I don't want to discount him, his odds of making the team right now appear slim.
I could see a positional battle between Knizner and Sanchez for the back-up catcher role, though. It would possibly come down to whether the Cardinals want Knizner to get every day at-bats. If so, Ali Sanchez might be the major league back-up.
Sanchez is a glove-first catcher, something that would certainly be a positive. Teams don't necessarily need a back-up catcher who can put up big offensive numbers but rather someone solid behind the plate who can call a good game.
He did appear in five games for the Mets in 2020. While the role of the back-up catcher doesn't get a lot of hype, especially with a legend like Yadier Molina entrenched as the starter, it's important. In the event of injury or something that could derail Molina for a significant amount of time, it's surely Knizner who would get the playing time. But in the current capacity as back-up, where one start a week is not a guarantee, someone like Sanchez is the ideal back-up.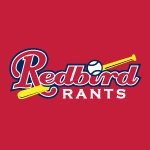 Want your voice heard? Join the Redbird Rants team!
Write for us!
As spring training gets underway, I'm keeping an eye on Ali Sanchez to see if he can play his way into a roster spot with the St. Louis Cardinals.