The St. Louis Cardinals have opted for youth in the outfield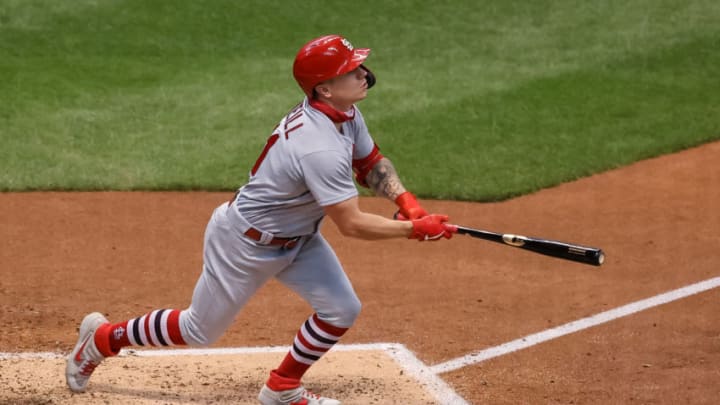 MILWAUKEE, WISCONSIN - SEPTEMBER 16: Tyler O'Neill #41 of the St. Louis Cardinals hits a sacrifice fly in the fourth inning against the Milwaukee Brewers during game one of a doubleheader at Miller Park on September 16, 2020 in Milwaukee, Wisconsin. (Photo by Dylan Buell/Getty Images) /
With the trade of Dexter Fowler to the Angels, the St. Louis Cardinals are opting in on their young group of outfielders.
Late Thursday night, John Mozeliak made another deal that came out of nowhere to shock the St. Louis Cardinals' fanbase. In what was essentially a salary dump, Dexter Fowler was traded to the Angels.
Fowler, 34, will turn 35 this season and was entering the final year of his five-year, $82.5M deal that he signed in 2017. In his last year of the deal, it seems as though this move was at least mutual. Fowler has a no-trade clause and had to approve the deal.
This trade ends Fowler's time here as one of the most polarizing players to the fanbase. On the field, Fowler was always a professional and always had his smile. Despite some struggles, Fowler finishes his time in St. Louis with a 98 OPS+ over his four seasons despite his 59 OPS+ in 2018. Take that out and he was above average overall in the remaining three years.
Heading into 2021, Fowler was expected to begin the year as the right fielder, but there was going to be a lot of competition for playing time with all of the young players.
The excitement around the Cardinals has been palpable in the past week after trading for Nolan Arenado, but the club was motivated to get Fowler a better spot where he could play more. For Fowler, he's closer to home (Las Vegas) now and reunited with former Chicago Cubs manager Joe Maddon.
We wish Fowler the best in Los Angeles and thank him for the memories he gave us here.
In the wake of Fowler leaving, the Cardinals are starting to look like a different team.
The Opening Day outfield now looks to be Tyler O'Neill in left field, Harrison Bader in center field, and Dylan Carlson in right field. If Fowler had struggled out of the gate, this likely would've been the outfield. Now, this is where the team starts. As much as I loved Dex, it'd be tough to argue that this outfield is better with Fowler in right field.
Just below these three in the depth chart, the Cardinals will then have Austin Dean, Lane Thomas, and Justin Williams. The starting trio doesn't sound like the most potent offensive force based on past history, but man, should they be able to play defense.
Tyler O'Neill is coming off of a Gold Glove year in left, Harrison Bader is elite in center, and Carlson (in a short time in 2020) looked stellar in the field. Excluding letting Wong go, the Cardinals have doubled down on run prevention and defense by going young. The oldest starting outfielder will be perhaps the best defender in Bader at just 26 years old.
At the plate, there is more to like here than what 2020 could tell us. Carlson will look to improve on his first taste at the majors at the plate and could start the year as the two-hole hitter. Harrison Bader hasn't been able to show he can do it for a full season, but his 113 wRC+ in 2020 was a step in the right direction. For Tyler O'Neill, he made strides at the plate in 2020, dropping his strikeout rate and increasing his walk rate.
More from St Louis Cardinals News
I have a lot of confidence based on what we saw last year that Carlson will take a step forward, Bader will be within 5% of average offensively, and O'Neill will finally put together a consistent season.
If they don't, this could be a lot of these players' last chance to prove what kind of player they are. Potential doesn't matter if you can't convert it into anything. This excludes Carlson of course, but do you remember when 2021 was supposed to be a re-tooling year? This isn't supposed to be the "going for it" year. The team still has stuff to figure out.
The Cardinals can decide whether or not they want to keep this outfield group together after this year, using it as a final test to weed out who stays and who goes or is relegated to lesser roles. Bringing in Nolan Arenado helps offset the weight that the outfield has to carry hopefully ending in a lower pressure environment where this group can thrive.
At the end of the day, this offseason has been full of everything that the Cardinals mentioned could happen a the end of the 2020 season, it just happened later than usual. The team said they needed more consistency and that something needed to change, so change they have.
It's not hard to make the case now that the Cardinals have the best defense in the National League and maybe the MLB. Even with Edman being swapped in for Kolten Wong, the team's run prevention will be the strength.