Examining proposed trade between Yankees and the St. Louis Cardinals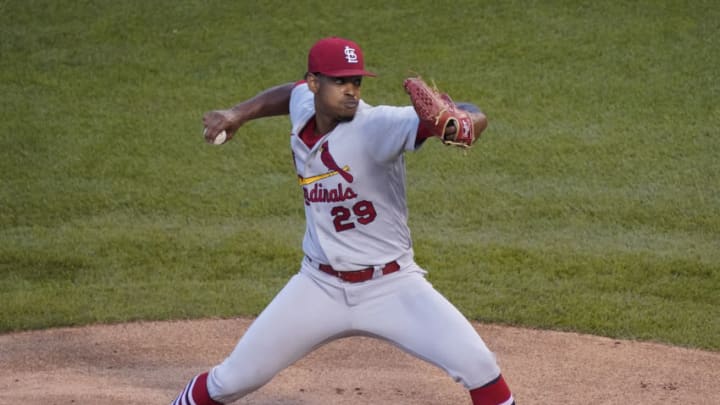 Alex Reyes #29 of the St. Louis Cardinals throws a pitch during the first inning of Game Two of a doubleheader against the Chicago Cubs at Wrigley Field on August 17, 2020 in Chicago, Illinois. (Photo by Nuccio DiNuzzo/Getty Images) /
A proposed trade would send Alex Reyes from the St. Louis Cardinals to the New York Yankees. What do we think about this?
It's a common occurrence in the offseason for fans to dream up their own trade proposals. We St. Louis Cardinals fans here at Redbird Rants try to do our best to come up with realistic options and so does every other site in FanSided's MLB divison.
If another site gets to make its own trade proposal, we get to critique it and give our thoughts.
When looking at the Cardinals and their position-player needs this winter, an outfielder and maybe someone who can play second or third base are the easiest places to add offense that the team desperately needs.
Other teams see that and know that which has led the Yankees site to propose a swap of two young players as headliners.
I have dared to suggest a proposal of my own in the past about a trade for Aaron Judge and suffered a huge backlash from it from Yankees fans. Here, I don't believe any backlash is warranted.
The proposed swap that was proposed was Alex Reyes for Miguel Andujar and one of the Yankees' top-10 pitching prospects. At first glance, this seems reasonable at worst. Let's look deeper.
For starters, both players are heading into their age-26 season, but they are heading in different directions. For Reyes, 2020 was the first truly healthy year he has had since he debuted in 2016. He finally showed some consistency and flashed the huge potential the entire baseball world saw in the minor leagues.
While the Cardinals have said they intend to stretch Reyes out as a starter in 2021, he is already in the first year of arbitration and has just two years of control left. As Redbird Rants contributor Brett Ramsey has pointed out, now could be the best time for the Cardinals to turn cash out their stake in Reyes' oft-injured arm.
In return for Reyes, the Cardinals would be making a bet on Miguel Andujar staying healthy too. For the past two seasons, the third baseman has played in just 33 games and lost his role with the Yankees. Not arbitration-eligible until next season, the Cards would get four years of control of Andujar who may want out of New York after recent developments.
What the team would be betting on is that when he is healthy, he is the player he was in 2018. In that year, Andujar played in 149 games, putting up a slash line of .297/.328/.527. His .316 BABIP and 89.2 mph average exit velocity doesn't suggest that was a fluke year, either. He cracked 27 homers and had a wRC+ of 130 while finishing second in Rookie of the Year voting.
The biggest issue was his defense at third base. For the Cardinals, this is the only big aspect where Andujar doesn't seem like a fit. With Matt Carpenter at third base, the Cardinals did not get good defense in 2020, but he has proven he can be solid in a full season there. However, he is 35 now.
In 2018, Andujar wasn't just bad at third base, he was statistically the worst third baseman in baseball. With the DH still up in the air for 2021 and the Cardinals' identity as a run prevention team, that doesn't sound like a great match. However, if Andujar is healthy, the question is whether the defensive pitfalls are worth the offense.
The Cardinals would be getting back (in this hypothetical) another young arm too which is sure to please, but I really don't think this deal is too far off what the Cardinals would be interested in. As much praise as Reyes deserves for getting a healthy season under his belt, he didn't hit 20 innings on the year. The sample is still super small.
More from St Louis Cardinals News
If a 19.2-inning sample is enough to jump his trade value back up, I'd be surprised if the Cardinals didn't at least consider moving him. The Cardinals tendered Reyes, but have yet to agree on a contract for the 2021 season. Projections put him between $1.0M and $1.2M, but the team could save half of that with Andujar who is still making the minimum. If the Cardinals were to trade Reyes, they have a ton of other arms that are in the fold to contribute this year, so that isn't a huge worry.
This trade has plenty of risk on both sides. The Cardinals could be giving up two more years of Reyes where he could turn into the front-of-the-rotation arm everyone believed he'd be. The Yankees are risking Andujar turning into an offensive threat for years. Both teams would be risking either player underperforming expectations or continuing to have health issues.
It's impossible to estimate how much third base defense is worth to the Cardinals, but they do have Jose Oquendo who could still try to work some magic with Andujar. With how bad this offense has been, I don't think they have the choice to be so picky anymore.
I didn't love this trade at first, but the more I dug in, the potential is there for a good trade. Andujar and Reyes both have the chance to be stars or to bust. Reyes' value is higher than Andujar's, so an arm in return with Andujar sweetens the deal.