Why the St. Louis Cardinals should sell high on Harrison Bader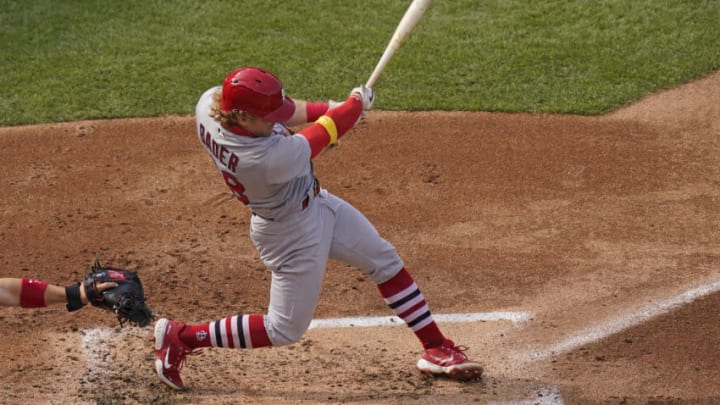 Harrison Bader #48 of the St. Louis Cardinals hits a double during the third inning of a game against the Chicago Cubs at Wrigley Field on September 07, 2020 in Chicago, Illinois. (Photo by Nuccio DiNuzzo/Getty Images) /
After a good offensive year for the St. Louis Cardinals in 2020, the team should sell high and trade Harrison Bader this winter.
If there is one thing we saw a lot of in 2020, it is the beautiful statistical outcomes of a small sample size. Unlike any other sport, a normal season of MLB baseball gets a wildly large amount of pure data for all of us nerds to analyze. In a pandemic shortened season, that sample was cut into a third of normal. The St. Louis Cardinals should try and benefit from that by trading Harrison Bader now.
In a normal season, players and their trade value can be looked at a lot like big stocks trading on the New York Stock Exchange. Barring any catastrophic event, the stock price of Apple won't change much day-to-day. Sure, there are more expensive stocks and cheaper ones, but there is less volatility. This is what a large sample size creates in terms of player value in trade.
However, when you cut that sample by a third, volatility is re-entered into the equation. All of the sudden, each player becomes more like a penny stock that day traders play with all the time. Each game counted for much more of the 2020 sample we received and changed the value of players at a higher percentage.
Don't believe me? How many fans now believe that Randy Arozarena is a perennial All-Star? How many fans, if not out loud, have worried about Jack Flaherty not being an ace?
I am not saying that these things can't be true, but in a larger sample size, these things tend to even themselves out. Whether you are trading large companies or penny stocks, the underlying goal is the same: buy low, sell high.
With this smaller sample size in mind, let's turn our attention to Harrison Bader. Since Bader came up and made his defensive skill clear, the argument has always been that Bader is worth playing every day if his offense is within 10% of average. In his first few years, he hasn't hit that bar. In 2020 however, Bader did.
Even though his wRC+ was 98 (2% below average) going into the final weekend of the year, a hot three games left him with a .779 OPS and a 113 wRC+. Over an entire season, that is an extremely valuable player when paired with Gold-Glove-caliber defense. Looking at it just from that view, Bader has earned his spot back in center for 2021.
However, Bader didn't keep that up for an entire season. In fact, he didn't even keep that up for an entire shortened season. That final weekend of games, three days, may have done so much for Bader's trade value that we don't even know. Now, the Cardinals can and should sell to other teams that they have a Gold-Glove center fielder who is above average offensively up for trade.
For a long time, it has seemed that Bader has been one of the Cardinals' 'guys.' You know, the guys who get way more of a leash than anyone else, guys they are destined to hold onto while better players are traded away or rot on the bench. This isn't good for the odds that the Cardinals do look to move on, but there were rumors that the team declined surprisingly high-value trade targets in return for Bader in the past.
Also, John Mozeliak made a point in his end-of-season presser to site the outfield as a spot where more production is absolutely necessary. Most of the time, Mo saying something so clearly means there will be action.
More from St Louis Cardinals News
The simple truth is that Bader's value has never been higher than it is right now. In a year where most teams are looking to cut salary, Bader offers a low price point in his first year of arbitration with three years left of control. I really have no idea what they could get for Bader, but if the St. Louis Cardinals want to get something worthwhile for him, now is the time to pull the trigger.
The free-agent marketplace is flush with outfield options who, while more expensive than Bader, present a notable offensive upgrade while still being relatively affordable. Would you rather see another year of Bader, or would you rather see Joc Pederson, Michael Brantley, or even Nelson Cruz out there instead?
I love the effort and swag that Bader plays with, and if he sees this, I hope it is motivation. Odds are that the team is going to hang onto Bader anyway, but if I were looking for places to offensively upgrade, the outfield and Bader specifically offer a place where that is possible.
The Cardinals have an immediate replacement in Dylan Carlson and have plenty of other outfield options on the team too.
Bader did have a good year in 2020, that much is for sure. He slugged better than he has before but questions are there about whether or not he can sustain a 113 wRC+ for an entire 162-game season. Bader's stock is up and now would be the best time for the Cardinals to pull the trigger on a trade.