St. Louis Cardinals Report Card: Grading the 2020 bullpen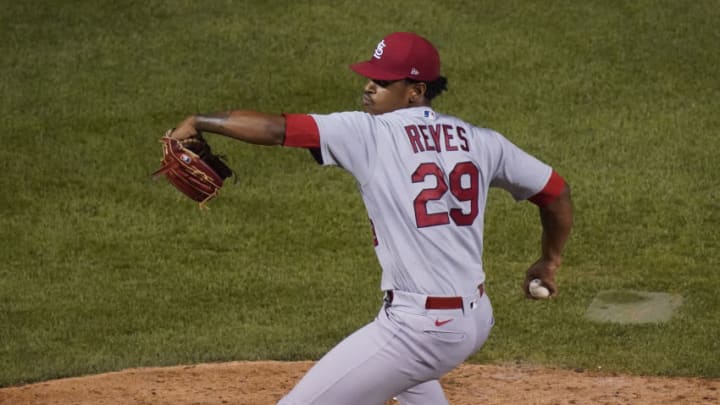 Alex Reyes #29 of the St. Louis Cardinals throws a pitch during the seventh inning of a game against the Chicago Cubs at Wrigley Field on September 06, 2020 in Chicago, Illinois. (Photo by Nuccio DiNuzzo/Getty Images) /
The bullpen was a strength for the St. Louis Cardinals in 2020 when it needed to be. Despite a large cast of characters, what grade can we give the group?
Much like the starting pitching for the St. Louis Cardinals, the schedule the Cardinals had to trudge through took its toll in 2020.
53 games in 44 days might've been hardest on the team's bullpen more than any other group, but they found a way to get through it.
After starting the season well in the team's first five games, the bullpen got hit hard during the team's COVID-19 outbreak. Adding to the adversity was that they were without Jordan Hicks and John Brebbia and had to fill an expanded roster out there.
The biggest outcome from all of this was that a lot of rookies got to see their first taste of MLB action out of the bullpen this year.
Strictly by fWAR, the group ranked 18th in the MLB. That being said, they were 10th in ERA and 18th again in xFIP. Just like the starting pitching, the bullpen benefitted greatly from the team's defense, but that isn't something to fault the bullpen guys for.
Andrew Miller had a fantastic bounce-back season where he had a 2.77 ERA in 16 games. Genesis Cabrera put together a 2.42 ERA in 19 appearances, and Tyler Webb led the team in appearances (21) and ERA (2.08). The left side of the bullpen was then solidified by Austin Gomber and his 1.86 ERA in 10 relief appearances.
More from St Louis Cardinals News
By the numbers, the Cardinals might've had the best left side of a bullpen in baseball. On the right side, Giovanny Gallegos had a solid year, even if he did have a few memorable blow-ups. His 3.60 ERA was a jump from last year, but he did throw just 15.0 innings. John Gant proved himself as a reliable option, even if his experience was also limited to just 15.0 innings.
Outside of these main contributors, Alex Reyes put together a consistent healthy season for the first time in his career, throwing 19.2 innings with a 3.20 ERA. Ryan Helsley gave up seven earned runs in 12.0 innings but looked really good at times too.
Seth Elledge was one of the many relievers to make his debut and also looked like a potentially valuable piece moving forward.
Overall Grade: A
Overall, there were a lot of stellar individual performances for this group. They may not have accumulated a ton of fWAR all put together, but the bullpen also threw the 3rd-lowest amount of innings in 2020 because of the frequent seven-inning doubleheaders and the fact that the Cardinals played two-fewer games than anyone else.
When the highest ERA of your five most-used relievers is 3.60, that signals a good group. Some of the debuts didn't go well and the Cardinals had nine relievers with under 10 innings pitched. The ERAs of that group aren't' great (sorry Roel Ramirez), but the main players for the Cardinals put in work and got stuff done.
Given the adversity faced and the core group of relievers' performance, I think an A is warranted here. Some may think I am being too nice, but I believe this group is only going to get better when Brebbia and Hicks come back next season.