St. Louis Cardinals Trade Debate: Outfielder Tyler O'Neill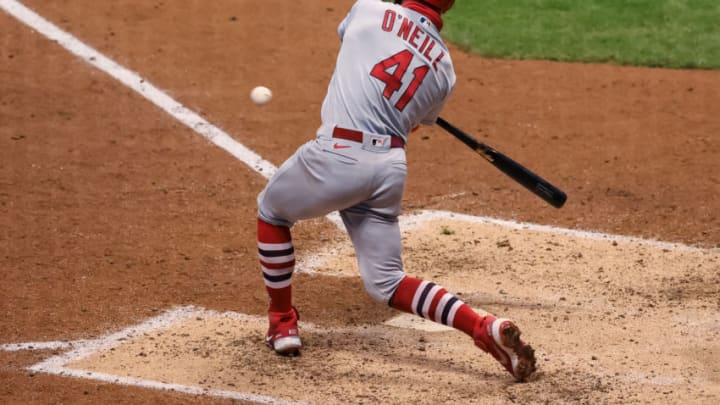 MILWAUKEE, WISCONSIN - SEPTEMBER 14: Tyler O'Neill #41 of the St. Louis Cardinals hits a single in the fifth inning against the Milwaukee Brewers during game two of a doubleheader at Miller Park on September 14, 2020 in Milwaukee, Wisconsin. (Photo by Dylan Buell/Getty Images) /
Is Tyler O'Neill is a St. Louis Cardinals trade candidate this winter?
Tyler O'Neill is a bit of an enigma for the St. Louis Cardinals. After he was acquired in 2017 for lefty Marco Gonzalez, he showed huge potential at AAA. He is fast, he has a ton of power, and he can play defense. The problem is, he hasn't been able to put it all together yet. Because of this, O'Neill is going to be the subject of trade debates this winter.
In 2020, the Cardinals' outfield ranked 25th in the Majors in wRC+ and it is clear that something needs to change heading into 2021. Right now, the only name I'd say you can count on being out there on opening day is Dylan Carlson. Outside of him, any of the other two spots could be subject to change.
I really want Tyler O'Neill to succeed, probably more than I've wanted any other player to succeed before. I think he's right on the cusp, regardless of his poor 2020. This could be completely wrong, but if you look past his .173/.261/.360 slash line, you'll see that O'Neill completely changed his plate approach in 2020.
After striking out 35.1% of the time and walking just 6.6% of the time in 2019, O'Neill struck out in 27.4% of his at-bats and walked in 9.6%. His 33.9% whiff percentage may have put him in the 11th percentile among major leaguers, but it did constitute a drop from the 46.1% it was at in 2018 and the 41.4% it was at in 2019.
O'Neill also dropped his chase rate more than 10 percentage points from 35.7% in 2019 to 25.2% in 2020. Also, when O'Neill did chase, he made contact more than ever before as well, jumping his chase contact percentage from 37.7% in 2019 to 51.8%. These are not small changes
Sadly, the change in focus at the plate took its toll on O'Neill's offensive output.
O'Neill was in just the 36th percentile offensively and by all descriptive expected numbers, he wasn't getting unlucky. The focus he was putting into his approach could've caused him to not hit the pitches he should've hit as hard. O'Neill may be on the verge of a breakout.
More from St Louis Cardinals News
But will it be on another team?
Some would say that it doesn't matter the gains you make in plate discipline if you still bat under .180. They would be right, but if I am John Mozeliak and I have decided I want to shop Tyler O'Neill, these are the things I'm pointing to as I sell O'Neill to other teams to get more value from him.
Even with these plate discipline changes, I would get it if the Cardinals want to move on from O'Neill. He has now had three seasons of limited time at the MLB level, owning just a .713 career OPS.
Of the team's outfielders (excluding Carlson), O'Neill might have the most value to other teams. He's still just 25, he's an elite defender and baserunner, and he has completely changed his plate approach. I'm not saying he'll be the headliner in any deal, but if there is one player that the Cardinals could trade this winter that I would worry about blowing up somewhere else, it is easily Tyler O'Neill.
If I were close to Mo, I'd be begging him to keep O'Neill around. Carlson can play anywhere else in the outfield and I'm sure he wants to avoid yet another player becoming a star in another uniform. If I am the Cardinals, I'm not trading O'Neill unless they are trading up to get a big bat. O'Neill isn't the guy you trade for a low-level prospect.