St. Louis Cardinals: It's too early to judge the Arozarena trade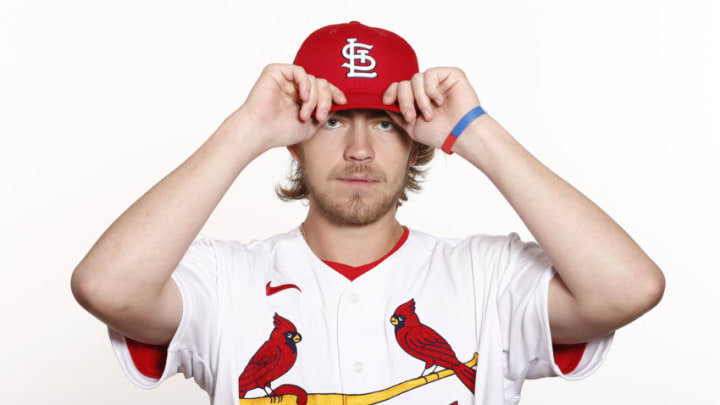 JUPITER, FLORIDA - FEBRUARY 19: Matt Liberatore #66 of the St. Louis Cardinals poses for a photo on Photo Day at Roger Dean Chevrolet Stadium on February 19, 2020 in Jupiter, Florida. (Photo by Michael Reaves/Getty Images) /
The St. Louis Cardinals have made some recent trades that don't look too great. As hard as it is, we should hold off on our judgment of one of them.
The recent struggles of the St. Louis Cardinals offense are well-documented. They ranked as a bottom-five team in the MLB in home runs, OPS, and SLG. Only the Pirates and Rangers scored less runs on the year, while the league-leading Dodgers scored over 100 more. It was a tough year for the lineup, and changes need to be made.
To make matters worse, multiple former Cardinals have absolutely raked. From players released years ago like Donovan Solano to recent trades like Luke Voit, it is quite impressive how great former Cardinal batters have been this season. Even more impressive is how many remain in the playoffs, with one batter on almost every team.
The batter that stands out the most, however, is Randy Arozarena. Because of injuries, it was a slow start to the year for Randy A. Once he got going, however, he really got going. During the month of September, he batted .288 with an OPS of 1.055 and seven home runs. It was quite the finish to the regular season.
Since the playoffs began, Randy somehow got better. The Rays are one win away from the World Series, and Arozarena has hit third and anchored their lineup. In 11 games this October, he's batting .442 with an OPS of 1.396 and five home runs. Simply put, there's no one hotter right now.
When the Cardinals first traded Arozarena to the Rays, the biggest piece they thought they gave up was Jose Martinez. Martinez just didn't fit into the complicated outfield situation that the Cardinals were dealing with.
This was before the installation of the DH, as well. Along with trading Arozarena, the Cardinals had made room for other outfield prospects while acquiring top prospect Matthew Liberatore and a catching prospect (Edgardo Rodriguez). Here's what we wrote about the deal back when it was completed:
"If Liberatore stays, the Cardinals just added to their farm system in a big way while clearing out some of their outfield glut. No matter which outfielder is going back to Tampa Bay, this is a great move. Hard to see Jose Martinez and Randy Arozarena go, but for Liberatore and what he may do or get for the Cardinals, transferring outfield depth to him and a catching prospect is a huge win."
Martinez has struggled mightily since leaving the Cardinals. He was released by Tampa Bay this season, then sent to the alternate site after signing with the Chicago Cubs. It appears that only the Rays front office knew what the real prize of the trade was.
Clearly, the Cardinals picked the wrong outfielder to deal. However, there are two big reasons why it is way too early to decide who won the trade. First off, Arozarena will slow down. He's been absolutely incredible over the last few weeks. Even if he remains one of the top outfielders in the league, there is no chance that he can keep up this pace over the course of 162 games. It's easy to get caught up in the moment, but we have to remember that at some point he'll fall back a little bit.
More importantly, Matthew Liberatore still has something to say here. Yes, you could argue that this Cardinals team needs hitting more than pitching. But Liberatore isn't just any old pitcher– he has a chance to be really, really good.
More from St Louis Cardinals News
Liberatore is the number three prospect in the Cardinals organization and the number six left-handed pitching prospect in all of baseball. Only 20 years old, Liberatore was still at the low levels of the minor leagues before this season. Despite this, he stood out both at spring training and the summer alternative site.
According to a recent article on MLB.com, "The 20-year-old southpaw continued to make strides over the summer at the Cardinals' alternate site–  so much so that club officials pegged him as the most improved and exciting player in camp."
The Matt Carpenter-Yadier Molina-Adam Wainwright-Kolten Wong era is coming to a close, and Liberatore is one of the players the Cardinals are counting on to lead the next wave. A five-tool outfielder would have been a great piece, but so too is a left-handed ace. If Liberatore keeps developing, the Cardinals will have a pretty strong core to build around.
Two things we can all agree on: The St. Louis Cardinals desperately need to improve their offense, and they will always regret trading away Arozarena when it looks like the outfielders they chose to keep aren't as good. These truths hurt, and there is no getting around that. This is not a defense of the front office– they gave up the wrong player. As difficult as it is, however, we need to remember that this trade could still work out well in the long run.
No one ever gets out of a deal with the Rays unscathed– just ask the Pirates how Chris Archer is doing compared to Tyler Glasnow and Austin Meadows. That being said, the Cardinals need to keep being aggressive as we move into 2021. Let's just look to deal with teams outside the state of Florida.