Behind Enemy Lines: Friars on Base weighs in on the St. Louis Cardinals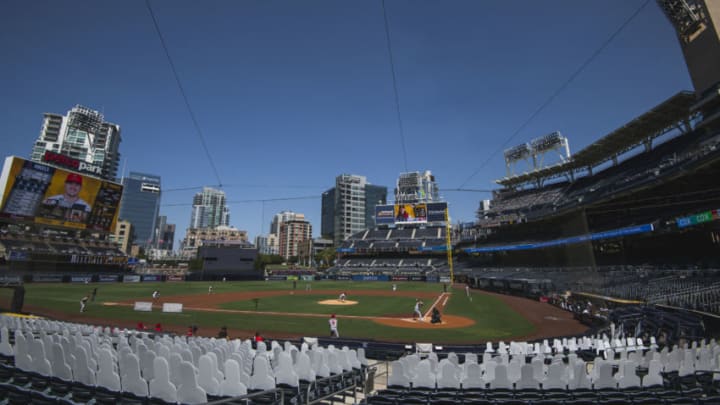 SAN DIEGO, CA - SEPTEMBER 23: Mike Clevinger #52 of the San Diego Padres delivers a pitch to Mike Trout #27 of the Los Angeles Angels in the top of the first inning at PETCO Park on September 23, 2020 in San Diego, California. (Photo by Matt Thomas/San Diego Padres/Getty Images) /
Before the St. Louis Cardinals face off against the San Diego Padres, we talked with Friars on Base about their views on the series.
The St. Louis Cardinals are taking on the San Diego Padres in a 4th vs 5th seed matchup in the Wild Card round of the 2020 playoffs. This three-game series starts Wednesday at 4:08 P.M. CT and it is going to be interesting to see how the two teams match up.
It is easy for us here in our own little Cardinals bubble to feel certain ways about the team. As much as we may try to be unbiased, it is next to impossible to completely detach from our own bubble and analyze the team. I'm not trying to say that outside of St. Louis anyone thinks we have a great offense or are much more than average, but it's important to get other views.
As the Cardinals get ready for the series against the Padres, what better viewpoint to get than that of our sister-site, Friars on Base. FoB covers the Padres for FanSided and we got together this week to ask each other about how we saw this series going. For my answers to their questions, you can check out their article here. However, let's dig into what they had to say.
Question 1: What is one weakness of the powerful San Diego offense?
FoB: The bottom of our order can be very hit or miss. Mainly comprising of Jurickson Profar, Tommy Pham, and either Austin Nola or Jason Castro, its boom or bust. The eighth spot, in particular, has generated a lousy .182 batting average.
More from St Louis Cardinals News
Question 2: What is the health situation in regards to your starting pitchers? Mike Clevenger and Dinelson Lamet have had health concerns lately.
FoB: Clevinger is reportedly scheduled to return in round three of the playoffs with the hope that he can pitch sooner. He's likely out for the Padres-Cardinals matchup. And Lamet left with the same bicep tightness. The Padres opted not to get an MRI for him as it wasn't deemed significant. That said, it's a major concern among the fans, as Chris Paddack [Game 1 starter] hasn't been the pitched we expected this year, and there have been a lot of bullpen days.
Question 3: What (if anything) scares you about the Cardinals?
FoB: Honestly, it's your pitching. We struggled against teams with a winning record this year, especially the Dodgers' pitchers, yielding a .224 average in 10 games. And while they weren't above .500, the Angels' Griffin Canning made us look silly. Against the likes of Waino and Flaherty, I fear our offense will go silent.
Question 4: What is your prediction for the series?
FoB: Assuming Lamet is healthy, I can see the Padres taking this one in 3 games. While there are no fans, they are playing at home and sleeping in their own beds. Eric Hosmer has had a nice year and I think he has a couple of timely hits in this one. It should be a great series regardless, and we wish the Cardinals nothing but the best
We both predicted that the series would go three games but that the Padres will end up taking the series in the end. No matter how things go, it's sure to be a fun series. Thank you again to Friars on Base for talking with me.