St. Louis Cardinals News: Yadier Molina reaches 2,000 hits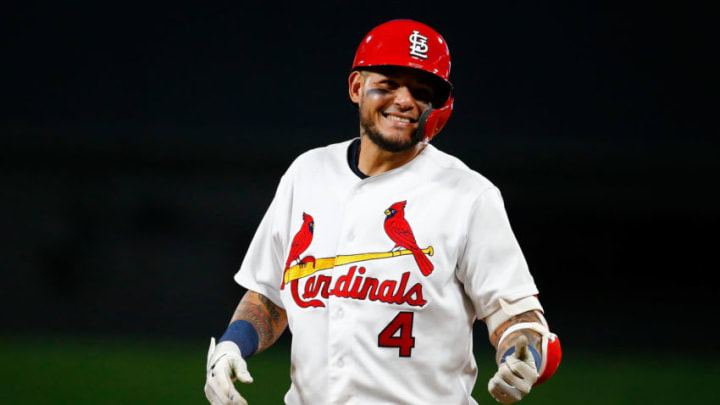 Yadier Molina #4 of the St. Louis Cardinals acknowledges teammates in the dugout after hitting an RBI single against the Milwaukee Brewers in the seventh inning at Busch Stadium on April 22, 2019 in St. Louis, Missouri. (Photo by Dilip Vishwanat/Getty Images) /
Amidst an intense playoff run, St. Louis Cardinals legend Yadier Molina reached a big career milestone Thursday evening.
Yadier Molina is already one of the greatest St. Louis Cardinals of all-time.
Now, he has reached a milestone that further cements his legendary status. On Thursday night against the Brewers, Yadier Molina hit his 2,000 Major League hit.
In classic Yadi fashion, it was a two-strike shot the other way.
Yadi debuted in 2004 after an injury to starting catcher Mike Matheny. Once he took the role, he never looked back. Here's a look at Yadier's first MLB hit, a single to left off of current Cleveland Indians reliever Oliver Perez.
Yadi has played at least 100 games in every season since 2005. From 2009-2015, he was an All-Star every season. He ranks 23rd all-time in total WAR among catchers and fourth all-time among catchers in defensive WAR. Yadi finished in the top-five in MVP voting twice, has won nine gold gloves, and one silver slugger. Now he can add 2,000 hits to that incredible resume.
While recognized more for his otherworldly defense, Cardinal fans know that Yadi delivers at the plate. Yadi is a .281 career hitter, but he stands out the most in big moments. Just this week we wrote about how incredibly clutch Yadi has been. Whether it is pouncing on the first pitch or slapping a single into right field, Yadi has been able to play in this league for so long because of his ability to get on base. As we celebrate his 2,000 hits, here are two of the more memorable at-bats from Yadier's career.
This season has been quite an interesting one for the Cardinal backstop. Early in the year, Yadi was placed on the IL after a positive COVID-19 test. He came back to the team quickly, but has struggled to find consistency at the plate– Molina's batting average, on-base percentage, and slugging percentages are all lower than his career marks.
Nevertheless, Yadi has fought through and found ways to help the team. Even a bruised wrist didn't stop him from hitting a game-winning home run last weekend. Like every year since he has been in St. Louis, the Cardinals just wouldn't be where they are without Yadier Molina.
More from St Louis Cardinals News
Yadi's legacy throughout the major leagues is a little more complicated. While beloved by Cardinals fans, he might be one of the most hated players in Cincinnati, Chicago, and Milwaukee. In fact, it seems he's booed at almost every away game. He's often overlooked as the best catcher of his generation, and there are still a surprising number of people out there who doubt his Hall of Fame case.
Hopefully reaching this milestone will prove to the doubters how great Yadier Molina is. It takes a lot to be the starting catcher on one team for 17 years– it takes even more to succeed at such an incredibly high level.
It's nice to see Yadier Molina getting recognized on the national level as a legitimate star. We may not know Yadi's future status as a Cardinal, but I for one am enjoying every minute that we get to see him play. Congratulations on 2,000 hits to one of the greatest catchers in baseball history.
This weekend might be the last time we see Yadier Molina behind the plate catching a start from Adam Wainwright. As someone who can barely remember a time before this battery, I know I'll be watching every moment. Who knows? Maybe they have a little bit of playoff magic left in the tank.