St. Louis Cardinals: Dylan Carlson flashes potential; Gomber shines in win
On Tuesday, St. Louis Cardinals fans got to see not only a great outing from Austin Gomber but also Dylan Carlson's best night yet.
Here in the final week of the 2020 MLB season, every game for the St. Louis Cardinals could end up being the difference in whether or not they make the postseason. After losing the first game of the series against the Royals, the pressure was on in the second game Tuesday night.
On Tuesday, I wrote about how important this start was for Austin Gomber as a chance to step into the hole in the rotation left when Dakota Hudson got hurt. Gomber had success this year in a long relief/spot starter role but hadn't gotten any real chance in a nine-inning game yet.
Gomber didn't disappoint.
Over six innings, Gomber allowed just four hits and zero earned runs. He struck out three and didn't walk a single Royal.
This may seem like a relatively solid stat line, but Gomber hadn't thrown more than 63 pitches in any previous outing this season. It took him just 76 pitches to get through six, suggesting he could've gone another inning or two if he would've been fully stretched out.
Gomber's night wasn't without hard-hit balls, but he was attacking the zone and worked out of some sticky situations. It was certainly a good enough start to warrant him getting another chance.
Gomber got support from Dylan Carlson on the other side of the ball.
Carlson has looked like a completely different hitter since returning from the Minors. On Tuesday, he had his best night yet.
Finishing the game 3-4 with 2 RBI, Carlson was a homer away from the cycle. In his final at-bat of the night, he hit the ball 365 ft to the track the other way. Oh so close…
Carlson was not only getting hits off of a bright young star in Brady Singer, he drove offspeed pitches and hit the ball the other way.
This is definitely overanalyzing one good game from Carlson, but it wasn't just one good game. Since his return on September 18th, he has hit .333 with four extra-base hits. He has raised his season batting average 36 points and his OPS almost 120 points.
His season numbers don't look good still, but it's fair to say that things are turning around, and they are doing it at the perfect time.
There will come a time very soon where the discussion to move Carlson up in the lineup from the bottom three needs to be had, but for now, we can just enjoy Carlson's best night yet.
The St. Louis Cardinals are back to two games above .500 and will try for the sixth time this season to finally move to three games above .500 on Wednesday against Danny Duffy.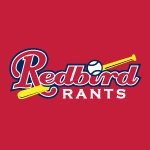 Want your voice heard? Join the Redbird Rants team!
Write for us!
Gomber won't be needed in the rotation for the first round of the playoffs, but beyond that we have no clue. No matter where he has been used, he's succeeded this year. For Carlson, the 10-day mental reset has been just what the doctor ordered. For this offense, they could use a sparkplug.