St. Louis Cardinals: What's the deal with Tyler O'Neill?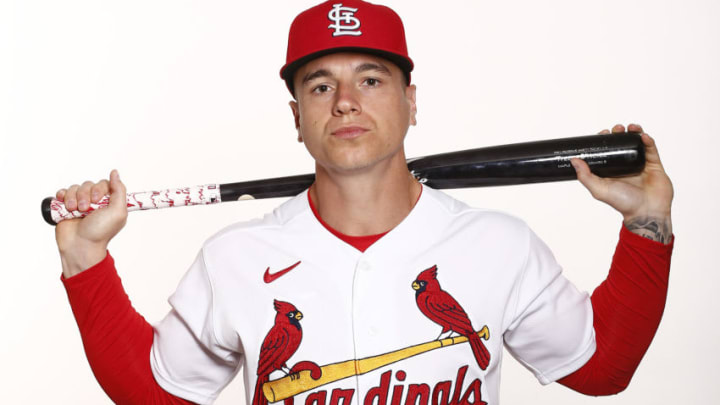 JUPITER, FLORIDA - FEBRUARY 19: Tyler O'Neill #41 of the St. Louis Cardinals poses for a photo on Photo Day at Roger Dean Chevrolet Stadium on February 19, 2020 in Jupiter, Florida. (Photo by Michael Reaves/Getty Images) /
St. Louis Cardinals outfielder Tyler O'Neill is not faring well this season. Let's break down what's going on.
St. Louis Cardinals outfielder Tyler O'Neill looked to have figured things out earlier in the season. It appeared he had finally adjusted to the breaking ball and learned to lay off some bad pitches. But then everything unraveled.
So what happened? According to Statcast, pitchers have figured out O'Neill's improvements with the breaking ball, so they've gone back to the fastball. And O'Neill hasn't been able to adjust. His high watermark was Aug. 16, where he was hitting .270. That's almost exactly the point where he started seeing fastballs more often than breaking balls.
In July, 39.3% of pitches he saw were fastballs. In August, that increased to 46.9%. And now, in early September, O'Neill has so far seen 61.4% fastballs. He is hitting .118 against them on the season, with an expected batting average of .193.
Some players can make up for being subpar hitters with other skills. Harrison Bader, for example, is an elite fielder. O'Neill, meanwhile, doesn't pass the eye test on defense. Despite his speed, he often looks awkward in the field despite his 85th-percentile outfielder jump and 97th percentile Outs Above Average.
And about that speed: O'Neill is one of the fastest players in the game, with a sprint speed in the 99th percentile. But he rarely utilizes that speed on the bases. He has stolen three bases in his career on three attempts. He either isn't confident in his base-stealing instincts or is rarely sent. He ran occasionally in the minors, swiping 16 bags in 2015, 12 in 2016 and 14 in 2017. I don't know what the deal is here.
More from St Louis Cardinals News
So because O'Neill can't adapt to more than one type of pitch, doesn't pass the eye test in the field, and doesn't utilize his speed, what's left? It's hard to say, and unless O'Neill can figure something out, he's not going to be a major league-caliber player.
So is it time to give up on O'Neill? With him potentially at his nadir, it's unlikely he would net much in return in a trade. And with the Cardinals' putrid offensive outfield, he might as well keep getting shots with the lack of better options available in the hope that something will click.
On the other hand, the Cardinals are on the fringe of playoff contention in a year where it's easier to get into the playoffs than ever before. O'Neill is proving to be dead weight in a lineup that needs to squeeze as much out of its offensive players as possible.
It's a hard decision, and I don't like giving up quickly on players. O'Neill could be one adjustment away from being a solid player, but it could take a different team's coach to unlock that. Here's hoping O'Neill can find his footing in the game in a season where the Cardinals desperately need outfield production.