St. Louis Cardinals promote Dylan Carlson, set roster for return
The last two weeks have been trying times for the St. Louis Cardinals. Ready to resume play Saturday, the team announced roster moves including calling up Dylan Carlson.
It's been a long time since they took the field, but the St. Louis Cardinals are in the midst of a baseball season.
There are still many important questions about player safety and whether or not the team will be ready to resume competition in Chicago this weekend, but one of the most exciting aspects about the Cardinals moving towards a return to play is the debut of number one prospect Dylan Carlson.
Two outfielders– Austin Dean and Lane Thomas– were among the Cardinals to test positive for COVID-19. While Dexter Fowler, Harrison Bader, and Tyler O'Neill remain healthy and on the active roster, there was a clear need for the Cardinals to call up another outfielder from the alternative site in Springfield.
Justin Williams is the only remaining outfielder on the 40-man roster, and it's a surprise to not see him joining the team.
By moving Miles Mikolas to the 60-day IL, the Cardinals have officially made room for a player to be added to the 40-man roster. If you're in a fantasy baseball league, it's time to go pick him up. As reported by Derrick Goold of the St. Louis Post Dispatch, Carlson is on his way.
As exciting as this is, we should all try to tamper our expectations. Dylan Carlson is not Mike Trout. He will not single-handedly revitalize the Cardinals struggling offense. He might not even start everyday. Right now we're all holding on tight to any piece of good news that we can, but it would be unfair to place these burdens on Mike Shildt, John Mozeliak, or Carlson himself. He is a 21 year old rookie with less than a full season in AAA. There will be an adjustment period.
That being said, we can prepare ourselves for some big things. Since he was drafted as the 33rd overall pick in 2016, Carlson has moved quickly through the minor leagues. A switch-hitter who boasts power from both sides, Carlson was the first Cardinal minor leaguer since 2006 (Terry Evans and Tyler Greene) to have 20 home runs and 20 stolen bases in a season. After being promoted to AAA-Memphis last August, he hit five home runs in 18 games, with an on-base percentage of .418 and an OPS of 1.098.
Defensively, Carlson is able to play each outfield position. In his 381 career minor league games, Carlson has an impressive 33 outfield assists, including 22 from right field. The versatility and ability from around the outfield will make it even easier to keep Carlson in the lineup.
Just for fun, here's a breakdown on Carlson from the Cardinals last August. Here's one minute of Dylan Carlson doing awesome baseball things. And here's what we had to say about him a whole year ago. The Dylan Carlson hype-train left the station a long time ago, and while there might be some bumps along the way, I am most definitely on board.
In addition to Carlson, the Cardinals have called up a few other players from the alternative site in Springfield:
Mozeliak doesn't expect any of the other players who had tested positive to join the team in Chicago, so along with the loss of Austin Gomber, the Cardinals will look very different when they return. Here's a quick run-down of the four newest St. Louis Cardinals:
Rob Kaminsky was the Cardinals' 3rd ranked prospect before being traded to Cleveland for Brandon Moss in 2015. He has yet to make the majors, however, and returned to the Cardinals this past offseason to provide depth as a left-handed arm.
Seth Elledge, drafted in 2017, is ranked as the Cardinals' 28th best prospect according to MLB.com, while Ricardo Sanchez is 30th. The strength of the rest of the Cardinal bullpen will take pressure off of them, and allow both young righties to continue to develop. Sanchez has been named the 29th man for the doubleheader, as well, so he might not be with the club for too long.
John Nogowski is a rare 27-year-old rookie. With a strong Spring Training back in March, I thought he had the potential to be a surprise standout for the Cardinals in 2020. A very talented defensive first baseman, Nogowski also slugged 15 home runs for Memphis last season. This is an addition that people will really want to pay attention to.
None of these four will be counted on as key contributors for the St. Louis Cardinals in 2020. However, each one has a unique opportunity to provide a spark and make a name for themselves while we wait for the return of the regulars who are out sick. You never know which Cardinal is going to surprise you, and I'm excited for all of these players to get their chance in the big leagues.
The key addition, of course, is Carlson. The St. Louis Cardinals aren't going to call up their top prospect to sit around.
As reported above, Carlson is going to have plenty of at-bats. With his defensive skill set, Carlson will most likely get a chance to start in the field as well. Through the first five games, Tyler O'Neill is the only outfielder who has established himself as a regular. Moving Dexter Fowler to DH and taking out Harrison Bader against right-handed pitchers will likely be the two ways that Mike Shildt gets Carlson into the game.
The last two weeks have been disappointing, scary, and frustrating. The Cardinals want to play baseball, and Cardinal Nation desperately wants to watch. Now that the team is healthy enough to play and the spread of the virus has been contained, it is time to inject some new energy into this season. We can't expect him to lead the team right away, but the debut of Dylan Carlson is an exciting moment that Cardinal fans have been waiting for all summer.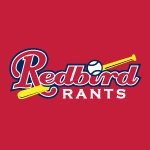 Want your voice heard? Join the Redbird Rants team!
Write for us!
Of course, the health and safety of every player and staff member on the team is the most important thing right now. Hopefully they are all on the road to recovery and can rejoin the team soon. In the meantime, we are ready to cheer on the newest members of the St. Louis Cardinals and support these five rookies. For those looking to 2022, Nolan Gorman is the new number one prospect in the organization. Welcome to St. Louis, Dylan– now let's go play some baseball.