Possible next men up for the St. Louis Cardinals amid COVID-19 outbreak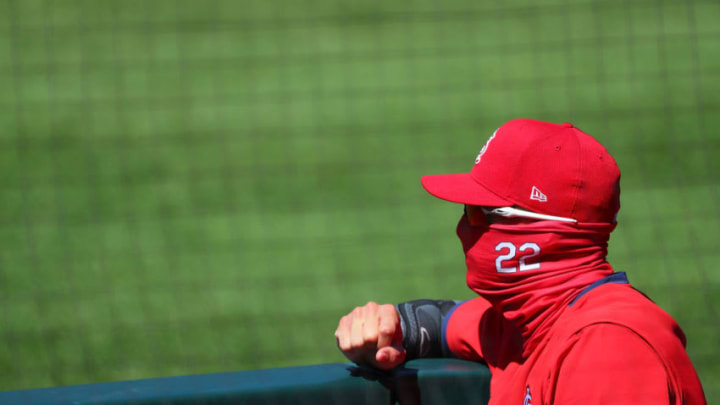 ST LOUIS, MO - JULY 25: Jack Flaherty #22 of the St. Louis Cardinals watches his teammates play against the Pittsburgh Pirates seventh inning at Busch Stadium on July 25, 2020 in St Louis, Missouri. The 2020 season had been postponed since March due to the COVID-19 pandemic. (Photo by Dilip Vishwanat/Getty Images) /
MINNEAPOLIS, MINNESOTA – JULY 28: Mangers Mike Shildt #8 of the St. Louis Cardinals and Rocco Baldelli #5 of the Minnesota Twins greet each other at home plate before the home opener game at Target Field on July 28, 2020 in Minneapolis, Minnesota. The Twins defeated the Cardinals 6-3. (Photo by Hannah Foslien/Getty Images) /
When the St. Louis Cardinals do eventually return to play, they will have to replace a fair amount of players on their roster. Who are the next men up?
The St. Louis Cardinals are in the middle of an awful situation. As of Monday, the team has 13 total positive COVID-19 tests and they haven't played since last Wednesday. The weekend series against the Milwaukee Brewers was already scrubbed and now the four-game series that was supposed to start on Tuesday against the Tigers is gone.
The team had their first of two necessary days with no positives on Tuesday. Wednesday night, John Mozeliak announced the team was cleared to travel Wednesday. They will have a workout on Thursday and then play on Friday against the Cubs.
The players are still finding ways to have fun, but with seven players and six staffers positive, there is still a dark cloud over the entire team.
There is another interesting wrinkle here as rosters shrink from 30 to 28 players on Thursday. In a change on Tuesday, it was announced that the MLB is looking at keeping rosters at 28 for the rest of the season rather shrinking more to 26. The traveling taxi squad will also grow to five players from three. Because the roster is shrinking, that cuts the replacements to five, then with Brad Miller coming back, the team only needs four players.
Not listed among the names of the Cardinals going to the IL is Rangel Ravelo, who was confirmed as one of the positives. According to Jeff Jones, sending Ravelo to the IL would've dropped the team below the roster minimum, so a corresponding move will be made once more call-ups happen.
Either way, we are going to act like the Cardinals have four guys they need to replace for now. With 28 men on the roster, there's no point in carrying three catchers. For this reason, the duo of Matt Wieters and Andrew Knizner will handle catching duties. Given that Miller is one man coming back, it's reasonable to expect that the team will pull up either three pitchers and one position player or two of each. It all depends on how the big team wants the bullpen.
Here is my pool of players I believe the Cardinals will be picking from for their replacements.