St. Louis Cardinals: Postponing until Tuesday may just be the start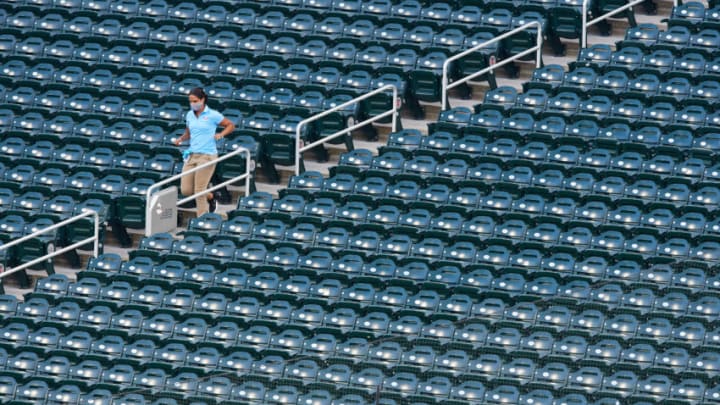 MINNEAPOLIS, MINNESOTA - JULY 29: A worker runs down the stairs to retrieve a foul ball during the game between the Minnesota Twins and the St. Louis Cardinals at Target Field on July 29, 2020 in Minneapolis, Minnesota. The Twins defeated the Cardinals 3-0. (Photo by Hannah Foslien/Getty Images) /
With multiple tests still up in the air for the St. Louis Cardinals, pausing everything until Tuesday is a good plan for now.
While the St. Louis Cardinals should've been playing the Brewers over the weekend, they ended up trapped in their hotel rooms in Milwaukee.
After two positive tests on Friday halted the opener to the series, more positives on Saturday and unconfirmed reports of more on Sunday washed all the weekend's games away.
While the Cardinals will be able to make up these games against the Brewers at some point, their immediate future is in jeopardy. On Friday, the team was supposed to start a stretch of 26 games in 27 days. There's never a good time to be struck with a pandemic.
Thankfully for the Cardinals, all of the current positives that they have are asymptomatic. That doesn't mean that they can't pass it on to others who may not be asymptomatic though.
The St. Louis Cardinals were supposed to be starting a home/away four-game series with the Tigers on Monday. Instead, Monday's game has been canceled and Wednesday has been turned into a doubleheader.
While we wait for an exact count of just how many players have tested positive, the league has postponed the team's games until Tuesday. Theoretically, that should be enough time for the team to at least figure out how many positives there are.
Assuming the total number of positives is within a reasonable amount, the team should be able to still play. The whole reason why there is a taxi squad and player pool is for things like this. If you have to call up five to seven players, then so be it. The players who are infected can continue to quarantine and then return when they get their two negative tests.
While there still could be some more positives that come out on Monday or Tuesday, the team is going to have to adjust on the fly. The worst thing that could happen though is an outbreak as widespread as the Marlins had.
More from St Louis Cardinals News
From everything that we have heard from the team and media, there is not going to be 15+ positives that come out. However, that doesn't mean that this highly infectious disease won't spread. If there is a large number of confirmed positives, the team will have to take a break as the Marlins did.
Presently, the Marlins are scheduled to play Tuesday against the Orioles, with no new positives coming out in the past few days. It was a poorly handled situation, but the Marlins missed just over a week and are now cleared to get back in action. If the Cardinals' outbreak is less widespread, playing Tuesday after five days of isolating players would make sense.
Monday is going to be a big day in determining if the team will play Tuesday.
These are all just my best guesses and my read of the situation. If 2020 has taught us anything, it is that you shouldn't expect anything to happen until it starts. For now, the plan to pause until Tuesday seems like a great way forward. At the latest, I would expect the team to be playing again this weekend but player health and safety is obviously the top priority.