St. Louis Cardinals: It is a fun week of Cards' programming ahead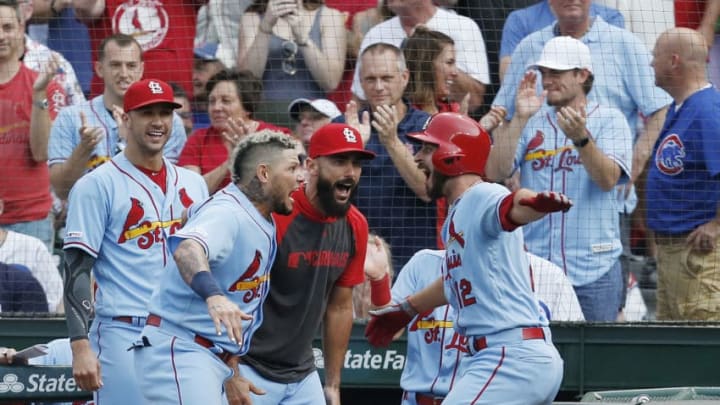 CHICAGO, ILLINOIS - SEPTEMBER 21: Paul DeJong #12 of the St. Louis Cardinals is congratulated by his teammates following his home run during the ninth inning of a game against the Chicago Cubs at Wrigley Field on September 21, 2019 in Chicago, Illinois. (Photo by Nuccio DiNuzzo/Getty Images) /
There may not be live St. Louis Cardinals baseball yet, but this week there are four games from 2019 that are worth watching again as well as the HOF announcement.
During the continued break from St. Louis Cardinals baseball, Fox Sports Midwest has made a great effort to continue to play Cardinals games from the past to keep fans interested as much as possible.
It may not be live baseball, but it's better than nothing.
This week, FSMW will have a great slate of programming that includes the best series the 2019 Cardinals had.
Starting on Monday, FSMW will show the first game of the "Wrigley Field Massacre," a series where the Cardinals put the final nail in the coffin of the Cubs' 2019 playoff hopes.
The series began on Thursday, September 19, and finished on Sunday the 23rd. Along the way, the Cardinals had arguably the best game of 2019. In the third game, it was capped off by the legendary back-to-back homers by Yadier Molina and Paul DeJong off Craig Kimbrel to tie and then take the lead.
Winning each game by just one run, all four of these games were hotly contested and if there was one series from the 2019 regular season to watch again, this is the series to watch.
That is not where the fun ends though. On Friday, the Cardinals will announce which players will make up the 2020 HOF class. The voting went on for the entire month of March and was extended until May 1 and the top two players will get inducted.
More from St Louis Cardinals News
That means that just two out of the list of Steve Carlton, Keith Hernandez, Tom Herr, Matt Morris, Edgar Renteria, Lee Smith, and John Tudor.
The announcement will take place at 6:30 PM on Friday, with the induction ceremony supposed to be taking place in August, the Cardinals will surely figure out a way to honor the two inductees at some point.
That's not it though, as on Saturday and Sunday, FSMW is replaying 1985 NLCS Game 5 and 6 at 6:00 PM and noon, respectively. If you'll remember, this series was against the Dodgers and were the final two games of the series.
The rest of the 1985 postseason may not have gone great, but these final two games of the series were hotly contested games that ended with the Cardinals going to the World Series.
It may not be live baseball, but this week holds a ton of games that were a ton of fun to watch. You can only look back so much, but there's nothing wrong with remembering the best series of 2019, especially when it was a four-game sweep at Wrigley Field.