St. Louis Cardinals Draft Preview: Shortstop Nick Loftin
As the MLB Draft nears, the St. Louis Cardinals have a lot of players on their draft radar. Why is Baylor shortstop Nick Loftin a name to watch?
There are plenty of mock drafts out there who have the St. Louis Cardinals taking many different players, but one name I haven't heard mentioned much is Nick Loftin.
Loftin is currently a Junior at Baylor and is widely regarded as the second-best college shortstop in the draft behind Nick Gonzales. There are two other first-round worthy prep shortstops (Casey Martin and Ed Howard), but Loftin is a player who fits the profile of what the Cardinals like to draft.
Things have changed slightly under Randy Flores, with him showing more of a willingness to draft high school bats earlier than the Cardinals normally did before. With Nolan Gorman (1st round, 2019) and Trejyn Fletcher (second round) being the two most recent examples, it wouldn't be a surprise to see them go to one of either Howard or Martin.
However, if they want one of the most well-rounded, polished collegiate bats, Loftin is the way to go.
Since joining Baylor as a freshman, Loftin has steadily seen his hitting improve while adding power as he went. After batting .306 his freshman year, Loftin batted .323 then .321 in 2019 and the shortened 2021 season. With this increase in average also came an increase in power. Loftin's three-year slugging went from .441 to .502 to .585 in the shortened 2020 collegiate season.
He was on pace to set a career-high in homers, although the uptick in power came with an uptick in strikeouts as well. His minuscule 7.23% strikeout rate in 2019 jumped up to 20.75% in 2020. It was just in 53 at-bats though. Loftin still kept his OBP at .362 regardless of his strikeout rate.
Loftin also played for the USA Baseball Collegiate National Team last summer where he both pitched and played in the field, batting .292 with one homer, one triple, and two doubles starting in six of 14 games.
It really was his power explosion in 2020 that shot him up draft boards. Raising a player based off of 13 games could be dangerous.
However, moving past the stats, Lofton has a very smooth and easy swing from the right side. He has a very upright stance and doesn't look like he's trying too hard to hit the ball out of the ballpark. A small toe tap starts his load to swing and it doesn't get in the way of anything.
The 21-year-old is relatively average in size but generates a lot of power with his swing.
This second video is from 2020 when he gained more power.
Now, it could be my amateur analysis, but it looks like Loftin added just a little bit more of his body weight to that load, which could have brought out more power.
Either way, Loftin's increase in power each year of college is a good thing to see.
On the basepaths, Loftin's speed isn't anything special, but his glove is looked at as above average. There are no questions about him sticking at shortstop.
Loftin doesn't have any one tool that is amazing but as a well-rounded hitter and fielder, the Cardinals might be the best place for him to come. When you look at guys like Tommy Edman and Paul DeJong, the Cardinals took them from sixth-round and fourth-round picks and turned them into average (at worst) major league contributors.
Imagine what they could do with a talent already projected for the first round.
Loftin, in a system like the Cardinals' that is known for helping middle infielders reach their potential, could blossom into a star.
Right now, Loftin seems like he has the ceiling of a slightly above average major league contributor from the power standpoint and one that is above-average with the glove. For any pick, that's often more than most teams get every year and would be considered a success.
There are players that are riskier and could end up being better, but for what the Cardinals excel with, Loftin would be a great pick for the Cardinals at 21.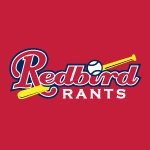 Want your voice heard? Join the Redbird Rants team!
Write for us!
Some would view this pick as a major reach, I get that, but as far as fitting a player the Cardinals could turn into a stud, Loftin fits the bill. He may be available still at the Cardinals' second pick (55), but that may not be a risk the Cards' are willing to take. If the Cardinals go elsewhere at pick 21 and Loftin is still there at 55, even better.