St. Louis Cardinals: 10 years of number one prospects 2001-2010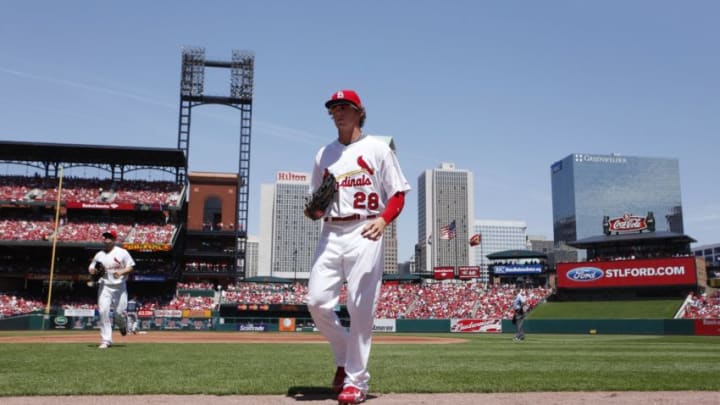 ST. LOUIS, MO - APRIL 29: Colby Rasmus #28 of the St. Louis Cardinals comes off the field in between innings against the Atlanta Braves at Busch Stadium on April 29, 2010 in St. Louis, Missouri. The Cardinals defeated the Braves 10-4. (Photo by Joe Robbins/Getty Images) /
Starting in the 2000s, the St. Louis Cardinals have been on a run as one of the best farm systems. Let's look back at the top prospects of the 2000s and where they are now.
No team can make the playoffs as much as the St. Louis Cardinals did between 2000 and 2016 without a strong farm system. Many teams go out and spend all this money on the hottest free agents or trade all their prospects away to go "all-in" on any particular season. As you all know, that is not how the Cardinals operate.
By consistently being above average, focusing on building young talent, the Cardinals have remained competitive.
Along the way, the team has had some misses on former first-round talents, so let's go back to just after the turn of the century and look at the careers and what became of the team's number one prospect from each year.
If you're like me, you were two years old when Bud Smith was ranked as Baseball America's #39 overall prospect and #1 Cardinals prospect. For those of you who don't know Smith, he was a six-foot left-handed pitcher who sadly can only be described as a flash in the pan.
In 2000, Smith won Baseball Weekly's Minor League Pitcher of the Year after having a 2.26 ERA over 163.0 innings.
After being ranked the #39 prospect in baseball, Smith broke into the league in 2001 at the age of 21 where he started 14 games with a 3.83 ERA. His career highlight had to be during his start on Sept. 3, 2001 when he threw a 134-pitch no-hitter against the San Diego Padres. This was the last no-hitter thrown by a Cardinals pitcher.
Unfortunately, his 4.38 FIP in 2001 signaled what was coming and he had a 6.94 ERA over his first 11 games in 2002. That performance led him to be traded to the Phillies in the famous Scott Rolen trade at the trade deadline in 2002. From there, he never made another MLB appearance. It's a sad ending to a player who played a big part in the history of the early-2000s Cardinals teams.
Another pitcher, Jimmy Journell entered the 2002 season as the 44th-best prospect in baseball. He earned the Cardinals top-prospect honors after throwing an ERA of 1.97 and 2.39 in his first two seasons in the Cardinals' minor league system.
Sadly though, Journell's MLB career was shorter than Bud Smith's. He debuted in 2003, throwing just 9.0 innings (giving up 6 earned runs) before injuring his shoulder. This shoulder injury took away Journell's 2003 and the vast majority of his 2004. In 2005 when he returned to action, he threw just 4.1 innings before being sent back down. The source of his issues: a career 10.8 walks per nine in the MLB.
Now we are getting into more recognizable names! Dan Haren wasn't ranked in Baseball America's Top 100 prospects, but he was on top of the Cardinals list. Haren was a quick riser, making it into the league just two years after being drafted in the second round of the 2001 MLB Draft.
Between 2003 and 2004, Haren made 19 starts with the Cardinals (appearing in 28 games) with a 4.85 ERA in 118.2 innings. Not sold on his performance, the Cardinals included the then-24-year-old Haren in a package to the Oakland A's for Mark Mulder. From there, Haren went on to have a very solid MLB career, making four All-Star games, finishing within the top 10 of Cy Young voting twice, and pitching for eight different teams over his 13-year career.
The Cardinals may have been better if they had kept Haren, but he was brought up by the Cardinals development team.
Hawksworth was ranked as the 47th-best prospect in baseball before the 2004 season, but then injury limited him to just nine appearances between 2004 and 2005. Returning to play in 2005, the right-handed pitcher regained his form with a sub-3.00 ERA. Continued performance issues led to Hawksworth debuting in 2009 where he was a great reliever, throwing in 30 games with a 2.03 ERA.
In 2010 however, his ERA never got back below 4.00 and he was traded to the Dodgers that winter for the lovable Ryan Theriot who played a big part in the Cards World Series win in 2011.
Anthony Reyes got as high as 41 on Baseball America's top 100 list, but despite being the Cards #1 prospect for multiple seasons, his tenure wasn't very long.
Breaking into the league in 2005, Reyes got a good first look, throwing 13.1 innings with just a 2.70 ERA. That led to big expectations in 2006 that Reyes sadly didn't live up to. Spending parts of the next three seasons with the big club, Reyes never had another ERA under 4.90 whether he appeared out of the bullpen or as a starter.
The Cardinals eventually gave up on Reyes and shipped him to Cleveland in 2008 for Luis Perdomo. Over the final stretch in Cleveland, Reyes looked like a steal with a sub-2.00 ERA, but in 2009 he returned to his struggling state and made his final MLB appearances before bouncing around the minors for a few years.
Believe it or not, but there were multiple seasons where Colby Rasmus was ranked much higher than the Cardinals' current #1 prospect, Dylan Carlson. After being ranked as the #26 overall prospect in 2007, Rasmus was ranked #5 and #3 before 2008 and 2009, respectively.
The jump in 2008 came from Rasmus' 2007 season at AA where he batted .275 with a .932 OPS, smacking 29 homers. A worse season in 2008 didn't deter his rise to #3 but did predict his performance when he did get to the MLB.
Playing 147 games in 2009, Rasmus hit just .251 with a .714 OPS, hitting 16 homers. It was a disappointing year, but he was a rookie, so what? In 2010 however, Rasmus jumped up to a .276 average, an .859 OPS and 23 homers. He was finally beginning to look like the player the Cardinals expected him to be.
Sadly though, his off-field side would cause a divide between himself and then-manager Tony La Russa. In what apparently began in 2010, there were rumblings that Rasmus frequently listened to his own father (his childhood coach) rather than his manager. Rasmus' dad even said that his later career struggles stemmed from Tony La Russa and his time with the Cardinals.
No matter what happened, the rift ended when John Mozeliak somewhat famously traded the 24-year-old Rasmus in a package to the Blue Jays for Octavio Dotel, Edwin Jackson, Marc Rzepczynski, and Corey Patterson.
Rasmus went on to have a 10-year career, but it was an ugly end in St. Louis.
It seemed like it was just yesterday when we watched Shelby Miller one-hit the Colorado Rockies, but sadly it was seven years ago. The team's #1 prospect from 2010-2012, Miller got as high as #8 on the overall MLB top 100 prospects list before he debuted.
Miller was right at the beginning of the golden years of the 2010s and the Cardinals' pitching factory, even if things didn't end up the way everyone thought they would for Miller.
More from St Louis Cardinals History
Pitching in just six games in 2012, the 21-year-old Miller allowed just two earned runs before he made the rotation in 2013. In that 2013 season, Miller had an ERA of just above 3.00 over 31 starts. He finished third in Rookie of the Year voting and the future looked very very bright.
Miller had another solid season in 2014, but after the tragic death of outfielder Oscar Taveras occurred at the beginning of the offseason, the Cardinals were forced to fill a glaring hole in right field. In a huge trade, the Cards sent Miller and minor leaguer Tyrell Jenkins to the Braves for young stud Jason Heyward.
We know how Heyward's time here went, but for Shelby Miller, his year spent with the Braves during their tanking netted him a league-leading 17 losses despite his 3.02 ERA. After that he was traded to Arizona for top-prospect Dansby Swanson in what looked like a highway robbery at the time, but Swanson has yet to fully pan out.
From there, Miller has bounced around a lot, dealing with a lot of injuries. He currently is on the Brewers as a non-roster invite and had a good enough spring to crack their bullpen most likely. Miller is still just 29 but he hasn't been quite the player everyone expected due to those injuries.
So there it is. 10 years of top prospects of your St. Louis Cardinals. What should this tell you? Tamper expectations. The miss rate on the top 10 prospects in baseball is higher than people think. Remember this list the next time you cringe at a team trading prospects for a proven talent. Sometimes it's the best possible move.