St. Louis Cardinals: What are the most valuable Cardinals baseball cards?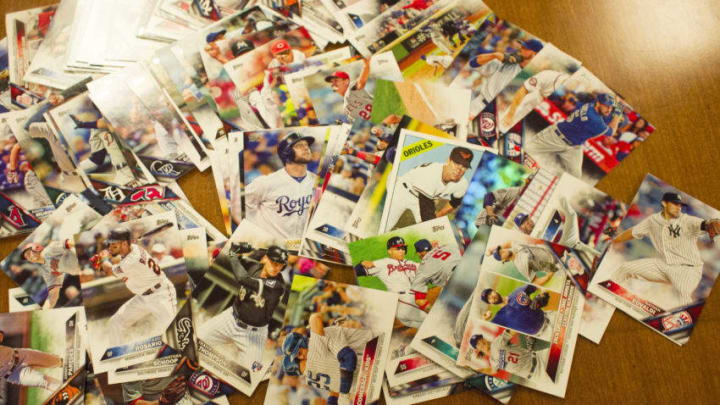 NEW YORK, NY - FEBRUARY 10: Topps' baseball cards from the 2016 season are on display during the "Open Topps Baseball Series 1 Cards " event at the Topps' offices on February 10, 2016 in New York City. (Kris Connor/Getty Images) /
For some people, collecting baseball cards is one of the most exciting hobbies out there and finding a rare card can be exhilarating. Which St. Louis Cardinals baseball cards are the most sought after?
If you had a good childhood, buying, opening, and collecting St. Louis Cardinals baseball cards had to play at least some part in it.
Baseball cards were invented in the 1860s but started to really become popular not long after the turn of the century as tobacco companies decided to put these cards into packs of their tobacco to boost their sales. Some players, such as Honus Wagner, were against putting their faces inside tobacco packs because he did not want children having to buy tobacco packs just to get his card.  For this reason, his card is the most valuable baseball card of all time.
An illustration of American baseball player George Herman (Babe) Ruth (1895 – 1948) on a bubble gum card, 1933. (Photo by Blank Archives/Getty Images) /
While the most expensive St. Louis Cardinals card may not be the most expensive in the world, there are some very valuable cards out there. So, without further delay, what are the most expensive Cardinals player baseball cards?
*All values/prices listed are found at the PSAcard Price Guide where they list the prices the cards were sold on either eBay.com or other various auction houses.
1948 Bowman #36 Stan Musial Rookie Card
Goudey was producing cards up until 1941 and there was a lull in the production of cards up until the year of 1948. In comes Bowman. Bowman came onto the scene in the baseball card production field in 1948 where they produced their first set of 48 cards.
As you may know, Stan Musial debuted for the St. Louis Cardinals in 1941. However, he did not receive his first official baseball card until the year of 1948 and that is the reason this is called his "rookie card." This card, along with the Yogi Berra card from this collection, is widely sought after by a plethora of card collectors and is considered one of the rarest and valuable cards in all of baseball card history.
Unlike his other rookie card by Leaf, this card is in all black and white and is just a headshot of Stan showing a stern look. According to PSAcard.com, there is only one card known to be in mint condition in the world.
Most recent 10/10 gem mint condition auction price:  $360,000 (May, 2017)
1948 Leaf #4 Stan Musial Rookie Card
Although this card is not as valuable or sought after as much as the Bowman counterpart, this baseball card is more appealing to the eyes as it is a colored painting of a young Stan Musial in mid-swing. This is also considered a "rookie card" as this was the first year that Leaf produced a Stan Musial card.
This debut collection from Leaf also includes the likes of Joe DiMaggio, Babe Ruth, Honus Wagner, Jackie Robinson, Ralph Kiner, Bob Feller, and the most valuable card of the collection is Leroy "Satchel" Paige. This Satchel Paige card, in 8/10 condition, is valued at $432,000. But, in the eyes of most collectors, the second most valuable card in the collection is the Stan Musial card.
There are no 10/10 mint condition 1948 Leaf Stan Musial cards known to exist but there are three cards with 9/10 condition known to exist.
Most recent 9/10 mint condition auction price:  $264,000 (Nov, 2018)
1959 Topps Bob Gibson Rookie Card #514
While Topps is probably the most popular name in baseball cards today, it was not always that way. Topps broke into the baseball card scene in 1951 and never looked back. They even bought out Bowman in 1956 to dominate the up and coming business that was trading cards.
Topps produced a great looking card in 1959 where the players' faces were inside of a circle where their names were printed on the top of the card and a copy of their signature was printed over their picture.
Bob Gibson's rookie card is one of the most valuable cards of this star-studded set as it features many Hall of Famers such as Killebrew, Schoendienst, Clemente, and the most sought after card of the set is the Mickey Mantle card.
Most recent 10/10 gem mint condition auction price: $53,759 (May, 2012)
2001 Bowman Chrome Albert Pujols Rookie Card #301 (Refractor-Autograph)
To most Cardinals fans out there, this is the one player that hits closest to home. Albert Pujols was much more than a Cardinals first baseman, he embodied St. Louis. For quite sometime Albert was in the tops of almost every offensive category while also always making time for fans.
It may be hard to remember, but Albert Pujols debuted in 2001 where he, McGwire, and Edmonds anchored the lineup and led the Cardinals to 93 wins where they were beat out by the eventual World Series Champion Arizona Diamondbacks.
This rookie card by Albert Pujols was numbered to 500 and actually was a redemption reward and it expired long ago. So for all those out there still ripping open 2001 Bowman chrome packs, do not expect to be searching for this card. It was only one of three cards from this collection that were autographed and is one of the most sought after rookie cards of all the modern-day baseball cards.
Most recent 10/10 gem mint condition auction price: $40,590 (Oct, 2019)
More from St Louis Cardinals History
Rogers Hornsby is regarded by some as the greatest right-handed hitter of all time. It is only fitting that at some point he has a baseball card that is quite valuable. This card is part of the legendary 1933 Goudey set that was the first-ever complete set of baseball cards for all teams.
Because Hornsby was a player-manager at the time, they decided to give him a card as a player and a card as a manager. The manager card, which is number #188, is also quite valuable.
The year 1933 is actually quite a memorable year as this was the year Hornsby was traded from the Chicago Cubs to the St. Louis Browns so technically this card is not even a card for the St. Louis Cardinals but I had to make an exception due to the fact that Hornsby was an all-time great Cardinal and deserved some recognition.
Most recent 9/10 mint condition auction price: $33,600 (Sept, 2017)
While none of the cards listed above are anything close to the value of some cards like the Honus Wagner T-206 or the 1952 Topps Mantle card, there are still so many cards from Cardinals players that are highly regarded and still can cost collectors quite the pretty penny.  So crack open those old binders and boxes of baseball cards to search for these gems.