St. Louis Cardinals: A lesson in gratitude for baseball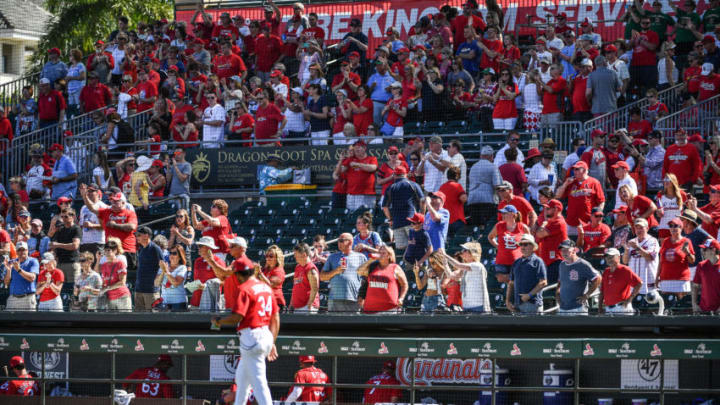 JUPITER, FLORIDA - MARCH 12: St. Louis Cardinals fans cheer after the spring training game against the Miami Marlins at Roger Dean Chevrolet Stadium on March 12, 2020 in Jupiter, Florida. Major League Baseball is suspending Spring Training and the first two weeks of the regular season due to the ongoing threat of the Coronavirus (COVID-19) outbreak. (Photo by Mark Brown/Getty Images) /
The St. Louis Cardinals are going to be delayed more than fans have seen in some time. In their absence, take this as a time to learn gratitude for when they are playing.
Two days. That's it. Two days should be all that fans would've had to wait until the St. Louis Cardinals started their 2020 regular season in Cincinnati. Instead, the future of the entire season is in question. With each passing day under the current world of social distancing that we are living in, the question of when the MLB season will start moves closer and closer to if. 
I don't mean to stir the fear pot more than necessary, but the initial two-week delay has already been pushed to eight weeks, meaning a June 1st start to the season may be optimistic. The future is very uncertain, and for now, we can't worry too much about how the MLB will deal with a shortened season. For now, we need to focus on how we can grow through this.
The recommended (or mandated) shelter in place orders aren't all bad. For better or worse, families are spending more time together, everyone is being socially responsible, and there is plenty of time to sit and reflect. This is all a new challenge that presents a finite obstacle to normal life. All you can do is focus on how you can not only maintain some sort of semblance of normal life but grow through it.
More from St Louis Cardinals News
Now, to dig this out of a self-help book pit, missing baseball in the offseason is one thing, but this is something all new together. In the winter, I wrote it was important to make sure you remember how empty and boring everything was without baseball.
There's one line of what I wrote that I want to bring back up, "Just remember how you feel right now the next time you are pissed off at 2 pm when the lineup comes out… at least there's Cardinals baseball to watch."
This idea is clean-cut gratitude, something that can bring even the poorest man happiness. Just as we were beginning to climb out of that cold and dark hole and the games were beginning, it was all taken away by this global pandemic we are working through. If you got to enjoy spring training, realize how lucky you were to see the players we all love in person and in the warm Florida weather.
Baseball has a better chance to have a normalized baseball season than the NHL and NBA, so for the time being, don't sweat the future. I would expect that the delays to the season will actually add to attendance when baseball resumes. It's simple supply and demand.
Grab your kettlebells, enjoy your family, take a walk outside, and take a step back…reflect, and realize just how much baseball means to all of us. That way, when baseball does return, you don't take it for granted. Learning gratitude doesn't need a lesson this harsh, but we would all be worse off if we didn't take a moment to learn from the world we are currently living in.