St. Louis Cardinals: It's the Fans against the Front Office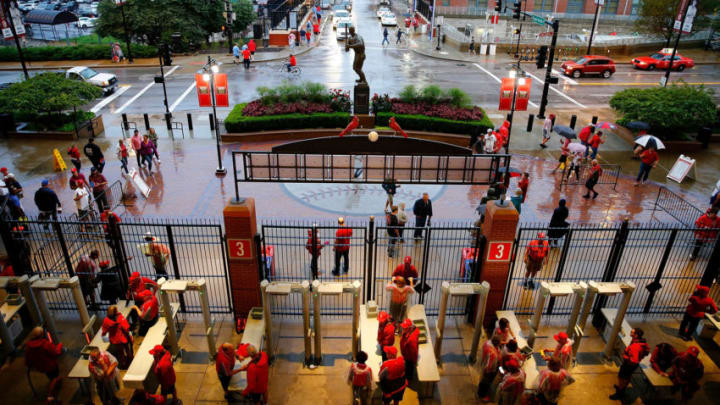 ST LOUIS, MO - AUGUST 30: Fans leave game Busch Stadium after a game between the St. Louis Cardinals and the Cincinnati Reds was cancelled due heavy rainfall at on August 30, 2019 in St Louis, Missouri. (Photo by Dilip Vishwanat/Getty Images) /
The 2020 Spring Training season has started! It should be a time of excitement and anxiousness for St. Louis Cardinals fans. Yet it appears the front office is losing part of the fan base.
When we last saw the St. Louis Cardinals play, the club was swept in four straight games by the Washington Nationals. An offense that focused on destroying the cover off the ball was embarrassed by the Nationals' starting pitching.
If we were to place the NLCS in a vacuum and look at the rest of the season, there was substantial success. This was a team that went from worst to first in fewest errors committed, were one of the top baserunning teams, and a weak bullpen from 2018 became a strength in 2019.
We made the playoffs for the first time since 2015 and beat the 97-win Atlanta Braves with a 10 run outburst in the first inning in game 5. Everything should be fun, right? Right??
Well, not really. Derrick Goold, in his February 10th episode of Best Podcast in Baseball, notes that "there seems to be certain disgruntlement in corners of the fan base and maybe some disenchantment and also disbelief that they're going to content again."  Dan Buffa on KSDK shared this in his opinion piece describing the dissatisfaction at the end of 2019.
"The unfortunate alternate perception is that may not have been enough for a fan base losing touch with a team that once stood for World Series-contending excellence and now promotes itself as a playoff-hopeful team. Like it or not, the Cardinals have looked like a team that merely wants to make it into the dance these past few seasons instead of a team that knows it belongs there."
In Dan McLaughlin's last Mondays with Mo podcast for 2019, Bill DeWitt Jr. was on record as stating this about the fanbase:
"I think the fans realize that we had a really good season. 91 wins. Beat Atlanta in a really exciting series and … you're not going to win every time you get to the NLCS. We had a really good record over the years. We've been there ten times in the last twenty years.We've won four, so, you know, if you can win half of the time there which we didn't quite do, but that's a pretty good record for the post season. I think the fans are enthused. They're excited."
Yet if fans were enthused, wouldn't you want your ballpark to be sold out for a championship series?
Now earlier this month, the same question was asked in a chat with Derrick Goold but with a different answer this time around.
Let me be clear, I am very happy we have John Mozeliak and Bill DeWitt Jr. in charge. Under their leadership, we have never had a losing season. They have been a model of consistency that some small-market teams die for.
More from St Louis Cardinals News
But this is a what-have-you-done lately, business. The Cardinals are not cheap, truth be told, considering their near $170,000,000 payroll for 2020. Yet the two biggest offseason signees were an unproven pitcher from Korea in Kwang-Hyun Kim (who's looked good in spring training so far!!) and a utility infielder in Brad Miller.
And don't get me started on the Cardinals' trade deadline moves the last four years.
Around the league, we've seen how hellbent the Los Angeles Dodgers are at winning a World Series by adding Mookie Betts and David Price in a trade with Boston. The Cincinnati Reds signed multiple free agents such as Wade Miley, Nicholas Castellanos, Mike Moustakas, and Japanese outfielder Shogo Akiyama.
I do not speak for every single fan of the St. Louis Cardinals, but I can share my understanding with those who are frustrated by wanting to do more. Making the playoffs should be the bottom line for this organization. The ultimate goal should be to win that 12th championship.
The question the front office should be asking, and I sure hope they are, is whether this team currently constructed right now is capable of winning #12. Some of the fan base has started to answer that question.