St. Louis Cardinals: Give some love to Paul DeJong's defense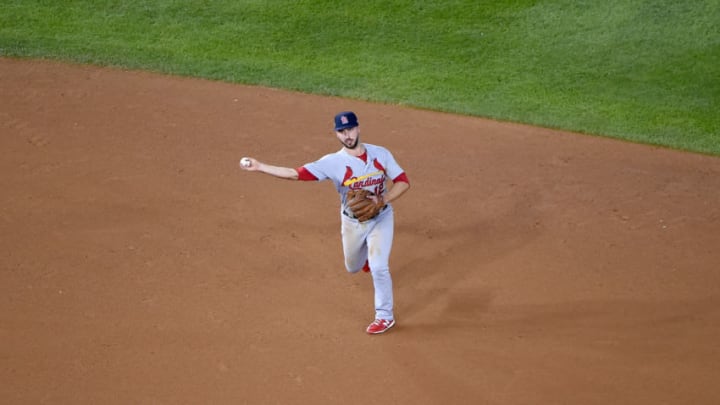 WASHINGTON, DC - OCTOBER 14: Paul DeJong #12 of the St. Louis Cardinals throws to first base against the Washington Nationals during the fifth inning of Game Three of the National League Championship Series at Nationals Park on October 14, 2019 in Washington, DC. (Photo by Will Newton/Getty Images) /
Fans who watched the St. Louis Cardinals regularly saw that Paul DeJong had solid defense but looking deeper, DeJong's talent is truly surprising.
Paul DeJong is one of the most interesting players on the St. Louis Cardinals going into 2020, and I don't think that enough people are talking about him.
DeJong is coming off of a year where he hit 30 homers, hit 31 doubles, and drove in 78, but was still exactly average in terms of offensive value. This came mostly due to a .318 OBP anchored down by a .233 batting average.
Interestingly though, 2019 was arguably DeJong's best season in terms of his approach at the plate. DeJong's strikeout rate continued to drop from the 28% it was in 2017 to the 25.1% it was in 2018 to 22.4% this year. This came with a steady increase in walk rate as well where, over the same time period, he raised his walk rate from 4.7% to 7.3% to 9.3%.
The problem in 2019 was that DeJong's anemic BABIP of .259 was likely due to the below-league-average exit velocity he had of just 87 mph. The maturing of his plate discipline and approach should help in the long run, but the larger leap for DeJong in 2019 came in his defense.
Thanks to updates in advanced statistics, we now can take an even better look at DeJong's defense and just how good it was.
If you watch this video, it's mostly homers and offensive highlights, but there were a few gems in there with the glove. Looking at Baseball Reference and their old Defensive Runs Saved statistic, it has DeJong down for 14 DRS in 2019 after he had another 14 in 2018. Right off the bat, that's really good. For reference, Javier Baez, the guy toted for his glove, had 15 under that system in 2019.
DeJong was not a natural shortstop and when he moved there from third base, there was no guarantee he would stick. In his first season, DeJong was exactly average at shortstop defensively and that would've been fine with his offense.
DeJong deserves a ton of credit for his work. It gets even better though. DRS was recently updated, and DeJong looks a ton better because of it.
DeJong is now rated as equal with Javier Baez in terms of DRS, but nobody would believe you if you told them that. This keeps DeJong right in the top three or four defensive shortstops in the entire MLB.
Going further, Statcast released their own defensive stat this offseason, Outs Above Average, which we have played with some, but the cool thing here is that you can view defensive ratings directionally, not just globally. As with most of these statistics, 0 is average.
Looking at DeJong's past numbers, his global OAA was actually a -5 in 2017 and 2018. In 2019, that jumped up to +13. Singling out the change from 2018 to 2019, DeJong jumped up from -2 to +6 coming in on balls and jumped from -1 to +10 moving towards first base (up the middle).
DeJong has never been good going towards third base as he actually has gotten worse there in the past few years, going from -1 to -4 to -5 in 2019. Going back on balls, DeJong stayed right about where he's been in his career at just about average.
More from St Louis Cardinals News
The cool thing you can do with OAA is you can tailor it (if possible) towards getting players that compliment each other. This is something the Cardinals have done well (purposely or accidentally). With DeJong's weak spot being on the move towards his right, it would make sense to play a third baseman that excels moving towards his left.
This happens to be where Matt Carpenter (also underrated defensively in 2019) is best. Carpenter was average moving towards the third-base bag, but was a +5 defender to his left. Tommy Edman, generally thought of as a better defender than Carpenter, put up a -1 OAA at third base moving to his left in 2019 and (by OAA) was just about average all over the place in 2019.
Newly acquired utility man Brad Miller is just average defensively across the diamond and directionally. This is kinda what you want in a utility man.
OAA is an interesting lens to view defense from and it's a new statistic that I'm sure can get myopic, but it does suggest that Carpenter is a better fit for third base with DeJong at shortstop than Edman if you're looking strictly at statistics.
On the team-friendly deal that DeJong is on, he's still being majorly underpaid. According to FanGraphs' value estimator, DeJong was worth a whopping $32.8M in 2019 and made just $1.67M.
The main point is, DeJong is elite with the glove at shortstop and deserves your attention and praise. His defense was a huge reason why he accumulated a 4.1 bWAR in 2019 while being below average offensively.
If DeJong's maturing plate approach continues to add benefits to his offense and he just remains the same defensively, the Cardinals could have a 5.0 WAR player easily. The output the team has gotten out of DeJong is already more than they could've hoped for from a fourth-round pick, but if his offense improves more in his age-26 season, DeJong should continue to grow his All-Star resume.