St. Louis Cardinals: What impact would resigning Marcell Ozuna have?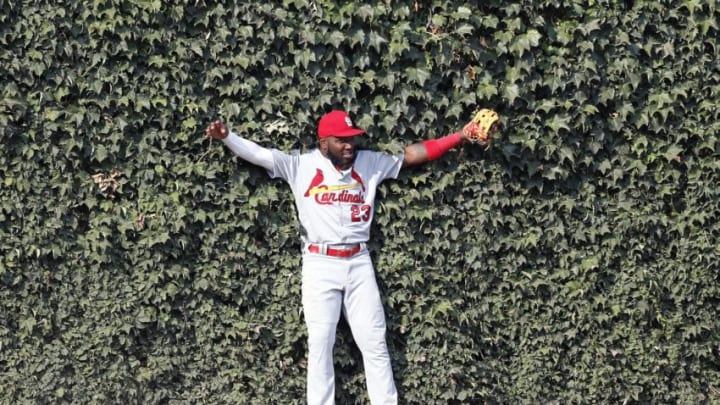 CHICAGO, ILLINOIS - SEPTEMBER 20: Marcell Ozuna #23 of the St. Louis Cardinals reacts after catching the fly out by Kris Bryant #17 of the Chicago Cubs during the seventh inning of a game at Wrigley Field on September 20, 2019 in Chicago, Illinois. (Photo by Nuccio DiNuzzo/Getty Images) /
Marcell Ozuna's market has been dwindling since the beginning of free agency. Now, it seems as real as ever that he could be back with the St. Louis Cardinals for 2020, and maybe beyond.
I have complicated feelings toward the incumbent left fielder of the St. Louis Cardinals. On one hand, he brings the pop at the plate that the team has really lacked in recent years. He hits the ball hard, rarely takes days off (when healthy), and seems like he generally has fun playing the game, which is always a bonus.
On the other hand, Marcell Ozuna just has a frustrating aspect to him. He was coming off a monster 2017 season in Miami when the Cardinals acquired him the following offseason, but he's never come close to replicating that success in St. Louis. He always seems to be dealing with that nagging shoulder that affects every area of his game, both in the field and at the plate.
A lot of Ozuna's perceived value has come from his projections, weirdly enough. He consistently puts up fantastic "Statcast Stats," things like Exit Velocity, Hard Hit %, xSLG (expected Slugging), etc. For one full season, those projections and hypothetical predictions came to life in 2017 and he looked like a bonafide slugger.
Overall, I neither like nor dislike him as a player. I think he's an above-average Major League hitter with crazy upside that he's still trying to fully utilize, but has become a liability in the field.
Plus, although funny, this still… happened…
https://twitter.com/SportsCenter/status/1115988590805364738?s=20
Heading into the offseason, I would've said Ozuna was as good as gone. I didn't see any way this front office was going to hand out a multi-year deal to an oft-injured outfielder with younger, major league ready players chomping at the bit to get their shot in the bigs.
But here we are, approaching the second week of January and Ozuna is one of the top free agents remaining with a far smaller market than originally believed. He, along with former Cub, Nicholas Castellanos, are fighting for suitors at the moment as they both play the corner outfield spot.
So the question remains: if the Cardinals do bring back Ozuna, how does that impact the upcoming season? What about beyond 2020?
1. Ozuna puts Mike Shildt in a serious bind
The Cardinals are filled to the brim with major league ready outfielders. In no order, these are all names that deserve, or will likely earn MLB plate appearances this season: Harrison Bader, Lane Thomas, Randy Arozarena, Tyler O'Neill, Justin Williams, and Dylan Carlson.
All of those players are either fighting for a spot on the 25-man roster, or have outgrown AAA pitching (except Carlson, but expectations are sky high for him this year). These young players are ready to take the next step and there currently is a wide-open spot in the St. Louis for these young players to get their shot.
Signing Ozuna closes that spot.
Ozuna would likely not be on the chopping block for young players, but his corner outfield mate and another well-paid outfielder, Dexter Fowler, would have these players gunning for his spot.
This front office has not been one to swallow their pride, admit their mistake, and do what is best for the team in recent memory. All you need to know is that Brett Cecil is still with the team. With the money tied to Fowler, this leaves Shildt to balance the wishes of the front office and the needs of the team. This puts the manager in a tough spot to weigh all of these factors.
Having young talent is great but it does nothing if they are never given the opportunity to flourish.
2. Money, money, money
It's no secret that the front office of the Cardinals is not often a big spender in free agency. They've said they would like to stay at their current salary – around $160 million for the season.
It's also no secret that fans get antsy when nothing happens other than a minor addition here or there. Money is everything for fans.
Obviously it depends on the length, but I would be hard-pressed to see Ozuna accepting just a one year deal. So assuming he will take at least a two, maybe three-year deal puts the team in an even tighter position going forward than they already are. It wouldn't get any easier by giving more money to Ozuna.
All of the players that would replace him in left field would be making a fraction of the money Ozuna would, for potentially better results.
3. Better success this season (probably)
Both of the impacts have been negative so far, but there is an upside to bringing him back. With Ozuna, you know what he's capable of. He's going to be a good hitter of the baseball. Although not a guaranteed superstar, he still has that upside to be a monster like he was in 2017.
Regardless of which Ozuna you get, the wide variance of outcomes of young players is not something some ball clubs want to deal with. They'd rather know what they are getting and stick to it.
More from St Louis Cardinals News
If last season showed anything for those young players, Tyler O'Neill can be a freaking stud at times. For a span of a week immediately following the All-Star break, he quite literally carried the Cardinals offense on his shoulders, hitting .500 with four HR in just six games, showing just how much upside he possesses.
He then followed that up by posting a .422 OPS from July 19th through the end of the season (he did miss almost all of August with injury), proving just how volatile young players can be.
Ozuna would likely post better season-long stats than anybody that would replace him full time. Growing pains are part of baseball, but are a lot harder to deal with when the team is trying to contend and let younger players get their feet wet.
This is a tough situation for the front office to deal with, especially for a player that would be returning to the club, not just signing a free agent.
Tyler O'Neill couples his immense raw power with (many fans don't know, but) elite speed and good defense on the corner. His upside is too good to pass up to spend the spot on Ozuna. Again, this whole situation would be different if the front office was willing to put a young player in for Fowler, but I just don't see that happening.
The only chance Fowler isn't the starter (or replaced as the starter) is injury, or a very certain 21-year-old outfielder continues to tear up the minor leagues.
My personal take is simple. We've seen what Ozuna can do over the last two years and I'd rather take the chance of playing the young players. Although I am a big proponent of On-Base Percentage, and Tyler O'Neill definitely does not excel in that area, I am all for giving him a shot Opening Day 2020 in left field.