St. Louis Cardinals: Bill Doak deserves a spot in the Cardinals' pantheon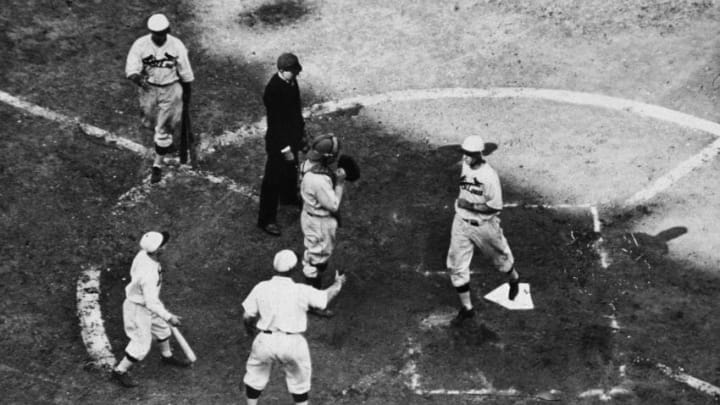 American baseball player infielder Andy High (1897 - 1981) of the St. Louis Cardinals (third from left) raises a hand to greet teammate outfielder George Watkins (1900 - 1970) as he comes across home plate after hitting a home run during game seven of the 1931 World Series against the Philadelphia Athletics, Sportsman's Park IV, St. Louis, October 10, 1931. The Cardinals won the game 4-2 to take the series. (Photo by Hulton Archive/Getty Images) /
A century ago, Bill Doak designed a glove with a pocket that revolutionized the game. And he was a darn good pitcher for the St. Louis Cardinals too.
One hundred years ago, a largely forgotten St. Louis Cardinals pitcher sketched an idea for a new kind of glove, presented it to the Rawlings Sporting Goods Company of St. Louis, and forever changed the way baseball is played.
Spittin' Bill Doak should be remembered and exalted. It's a crime that the slender right-hander, who pitched for the Redbirds from 1913 to 1924 and again in 1929, is not in the St. Louis Cardinals Hall of Fame.
A winner of 169 games and two NL ERA crowns, Doak made an even greater impact by designing and patenting the first popular baseball glove that featured webbing between the thumb and index finger.
Previously, players had to catch balls in the palm of the glove, which restricted a fielder's range and stung the hand. The Bill Doak glove, as it came to be known, allowed players to snag balls in the webbing, or pocket, allowing for more range, better fielding, and a lot less pain in the palm.
Today, a baseball glove without a pocket sounds as absurd as a donut without a hole. "If you look at Web Gems, almost every play is made with the web of the glove," official MLB historian John Thorn said in 2011. "So Bill Doak and his innovation is a landmark."
More from St Louis Cardinals History
As stated in Baseball: The Biographical Encyclopedia (2000), Doak and his glove "may have been responsible for causing more batters to be retired than any other pitcher in the history of baseball." Rawlings sold a series of ever-improving Doak gloves from 1920 to 1949, and the former hurler was still earning up to $25,000 a year in royalties when he died in 1954 at age 63.
In 1945, Roger Bresnahan's catching-gear innovations got him into the Hall of Fame. A solid hitter (.279 average, 1,252 hits), Bresnahan is credited with introducing shin guards and making improvements to the catcher's mask. Impressive, but non-catchers fill the other eight other positions on a baseball field, and they all owe a debt to Doak.
So does Rawlings. With the help of the Doak glove, the sports equipment company overtook Spalding as the leader in baseball-glove sales. Today, nearly 50 percent of professional players use Rawling gloves.
It's no wonder The Sporting News in 2016 ranked Doak as one of the 40 most important people in baseball history.
Without his revolutionary glove design, Doak would still be a worthy candidate for the St. Louis Cardinals Hall of Fame. Only Bob Gibson, with 56, threw more shutouts as a Cardinal than Doak's 30. Despite playing for mostly miserable teams, Doak's 144 Cardinals wins place him sixth all-time. He won more games for St. Louis than Dizzy Dean, Harry Brecheen, Mort Cooper, and Chris Carpenter, four of the 43 current members of the Cardinals Hall of Fame.
Doak is also notable for being one of the last legal spitballers. The wet pitch was outlawed after the 1919 season, with active spitballers initially given just one more year to throw it. Doak spearheaded a successful drive to allow himself and 16 others to throw spitters for the rest of their careers.
Seems like Doak was a pretty good dude as well. He taught a Sunday school class during his career and The Sporting News once called him "the only strictly moral man on the Cards." Which makes you wonder what kind of rascals he played with.
So why isn't Doak a Cardinals Hall of Famer? Maybe he started too early. Rogers Hornsby, who debuted in 1915, is the most ancient inductee in the Redbirds museum, and he was still around, as player-manager, when the team won its first World Series in 1927. Doak's Cardinals career began in 1913, a year in which the Birds posted the worst record in the majors. None of his 13 Cardinals teams finished higher than third.
The Cardinals Hall of Fame skews toward winners. Thirty of the 36 players in the pantheon won World Series rings with St. Louis. But why penalize Doak for the failures of his teammates? Why pretend Cardinal baseball began with Branch Rickey's arrival in 1919? Or their first World Series in 1926?
All of that on-the-field stuff, the wins, the losses, the 2.98 career ERA, shouldn't even matter. All that matters is "Spittin' Bill" is one of the 40 most important people in baseball history, according to The Sporting News. And all modern gloves can be traced to Doak's 1919 design that debuted in 1920.
Every year, a Red Ribbon panel chooses one old-timer for the Cardinals' Hall. Past selections — SS Marty Marion, CF Curt Flood, CF Terry Moore, OF/3B Pepper Martin, and P Harry Brecheen — all were worthy. But this year, an oversight should be redressed. Pitcher-innovator Bill Doak should finally take his proper place in the St. Louis Cardinals Hall of Fame.