3 Halloween-scary trades that the St. Louis Cardinals should actually do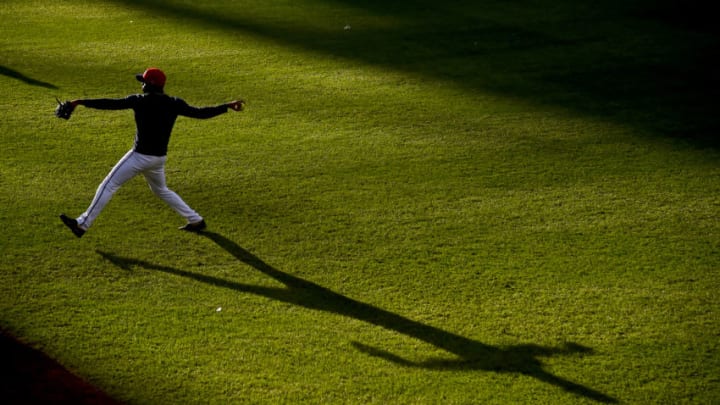 WASHINGTON, DC - OCTOBER 15: Victor Robles #16 of the Washington Nationals warms up prior to playing against the St. Louis Cardinals in Game Four of the National League Championship Series at Nationals Park on October 15, 2019 in Washington, DC. (Photo by Will Newton/Getty Images) /
WASHINGTON, DC – OCTOBER 27: Gerrit Cole #45 of the Houston Astros walks off the field after retiring the side against the Washington Nationals during the sixth inning in Game Five of the 2019 World Series at Nationals Park on October 27, 2019 in Washington, DC. (Photo by Will Newton/Getty Images) /
The Washington Nationals seem to be a pretty good team to emulate right about now. They did not seem to hesitate to say goodbye to Bryce Harper and his MVP offense, especially if it gave them the freedom financially to pursue other goals.
They put their faith in a 19-year old, Soto, at a time other teams were stowing their young prospects to retain more control. They did a mini-rebuild around a solid nucleus and it got them a World Series ring.
A key feature of this rebuild was pitching. See, Patrick Corbin: Elite starter. Elite reliever. Elite swing-man. World Series Game 7 winner. Maybe the Cardinals could pick up an arm of that quality in the near-future. Either by trade or new-found financial freedom.
As the old saying goes, you never have enough pitching. Just when you think you've got enough, it slipped through your fingers like water. Yes, the Cardinals had a great 2019 pitching-wise, but why not keep building?
More from St Louis Cardinals News
With the probable departure of Michael Wacha, the question-marks about the role of Carlos Martinez, the injuries to Jordan Hicks, the reversal of Miles Mikolas from leading the league in wins to leading the league in losses, the Cardinals cannot bank on their pitching.
Although offense, you would certainly say, is the crying need for the Cardinals right now, offense can be temporarily bolstered by plugging in a lower-ranking free-agent. Plus you've got to think that Dylan Carlson, Lane Thomas or one of the other many outfield prospects will emerge.
And then there's always the nice dream that either Dexter Fowler or Matt Carpenter will return to their All-Star seasons.
If any of these trade deals are done, they will not be without pain, both production-wise and sentimentality-wise. No fan, nor front-office member, has been known to utter a bad word about Paul Goldschmidt, Paul Dejong or Kolten Wong. But as they say, "No pain, no gain". Have a Happy Halloween as you contemplate these ghastly trades.