3 Halloween-scary trades that the St. Louis Cardinals should actually do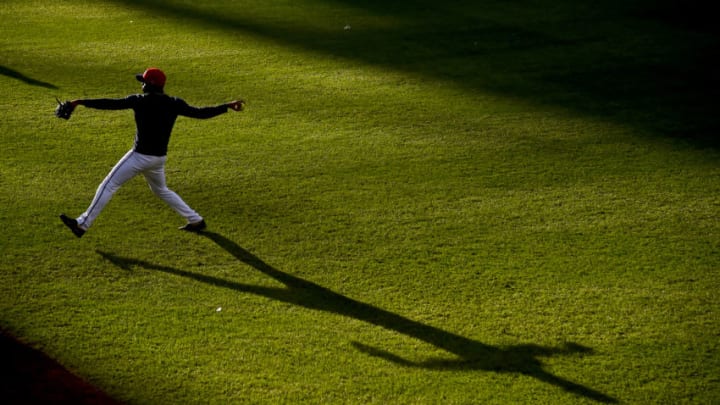 WASHINGTON, DC - OCTOBER 15: Victor Robles #16 of the Washington Nationals warms up prior to playing against the St. Louis Cardinals in Game Four of the National League Championship Series at Nationals Park on October 15, 2019 in Washington, DC. (Photo by Will Newton/Getty Images) /
ST. LOUIS, MO – APRIL 9: Paul Goldschmidt #46 of the St. Louis Cardinals rounds first base after hitting a home run against the Los Angeles Dodgers in the fifth inning at Busch Stadium on April 9, 2019 in St. Louis, Missouri. (Photo by Dilip Vishwanat/Getty Images) /
Trade piece: Paul Goldschmidt
Baseball Trade Values ℠  median value: minus 52.0
What to seek in return: Package of a front-line starting pitcher, corner outfielder with high OPS+ and top-five prospect.
Remember when we rented Lance Berkman for 600 plate appearances and won the World Series in 2011? Remember when we got two seasons out of Carlos Beltran and won the NLCS? Paul Goldschmidt helped us get back into the playoffs after a three-year absence, shored up the Cardinals' defense by pure example and by deed, and took us from most errors in MLB to fewest.
But the Paul Goldschmidt chapter can end right there, an unalloyed success, fondly remembered just like Berkman and Beltran.
Goldschmidt has an eminently fair long-term contract that takes him all the way through age 37 that will be attractive to many teams. Just like he was a game-changer for us, he can be a game-changer for another team.
Yes, his surplus value is hugely negative, and thus the market for taking on that kind of contract will not be a large market. But once we find the right suitor, the return can be a bevy.
When you dangle a Goldschmidt, you can think big. Sort of, "what will you dream today?" A number one or two starter? A surefire backup catcher who can be an heir to Yadier Molina? A corner outfielder with thump?
For the Goldschmidt package, we can expect to get a pitcher who plugs a major hole in the starting staff or bullpen.
Although he did not have a "Paul Goldschmidt" kind of year offensively, and his first career appearance in the NLCS was a personal strikeout-fest that no-doubt depressed him as well as his teammates that looked up to him for leadership, his offense will be missed. This means that an established player with home run power will be required in this trade.
Inasmuch as the stars in baseball seem to keep getting younger and younger (like 21-year old Juan Soto of the Washington Nationals, still living at home with his parents), the Cardinals will want to get a top-five prospect in this trade as well.
But wouldn't our infield defense miss the 6′ 3″ first-baseman? We already have a 6′ 3″ first-baseman. His name is Matt Carpenter whom we signed to a three-year deal so that he could retire as a Cardinal who, as we said above, must play. First-base is the best position for Carpenter and will be the only position he can play if Donaldson is signed and Wong is retained.
With five combined years of players who may be in the midst of age-related decline on the roster, do the Cardinals want to risk another five in Goldschmidt that is showing the same possibility? Or will they trade those years away while they are still tradable (should Goldschmidt approve a trade)?