3 Halloween-scary trades that the St. Louis Cardinals should actually do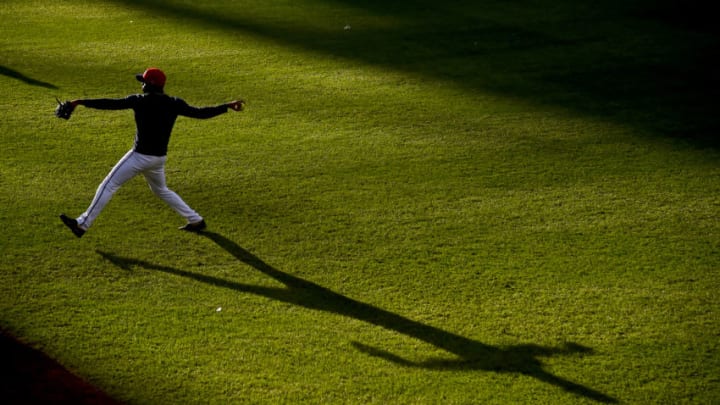 WASHINGTON, DC - OCTOBER 15: Victor Robles #16 of the Washington Nationals warms up prior to playing against the St. Louis Cardinals in Game Four of the National League Championship Series at Nationals Park on October 15, 2019 in Washington, DC. (Photo by Will Newton/Getty Images) /
WASHINGTON, DC – OCTOBER 14: Kolten Wong #16 of the St. Louis Cardinals fields the ball for an out on Trea Turner #7 of the Washington Nationals during the first inning of game three of the National League Championship Series at Nationals Park on October 14, 2019 in Washington, DC. (Photo by Patrick Smith/Getty Images) /
Trade piece: Kolten Wong
Baseball Trade Values ℠  median value: 15.9
What to seek in return: A front-line starting pitcher or 8th-inning guy and temporary closer.
Although he did not hit his career-best numbers because of a late-season injury, in many respects Kolten Wong's year was his best in the big leagues. Especially on defense where he seemed to solidify his talent (except for a couple of untimely post-season errors).
The expected Gold Glove award will just add to his luster, appeal, and reputation around the league. There will be many teams drooling to get a chance to install Wong at second base.
This is exactly why he should be trade bait! With a favorable contract that does not expire for two years, his marketability is high.
The good news is that by subtracting Wong, you don't put a huge crater in your already anemic offense (although it would be a good idea to pick up a left-hander like a Mike Moustakas). And you have at least two players who can step in and play second base: one who is probably an elite defender, too, at the position and the other who is a proven veteran: I am talking about Tommy Edman and Matt Carpenter, respectively.
Depending on whether the Cardinals finally consummate their marriage with soon-to-be 34-year old free-agent Josh Donaldson which has been an on-again-off-again rumor for a few years now, there will be a numbers game in the infield which is not even solved by putting Tommy Edman in the outfield. Because, where will Matt Carpenter play? Someone will have to go and it might as well be the one who has the highest trade value.
Carpenter, by the way, had the best season of his career at second base.  He was only moved off of second to make room for top prospect Wong. Second-base will be less taxing on Carpenter's arm as he ages.
The Cardinals will miss Wong, but the pitching help we get in return will help them soon forget. At least Wong turned into the player they had always hoped, after several years of plaguing doubts, and brought value to the team.