3 Halloween-scary trades that the St. Louis Cardinals should actually do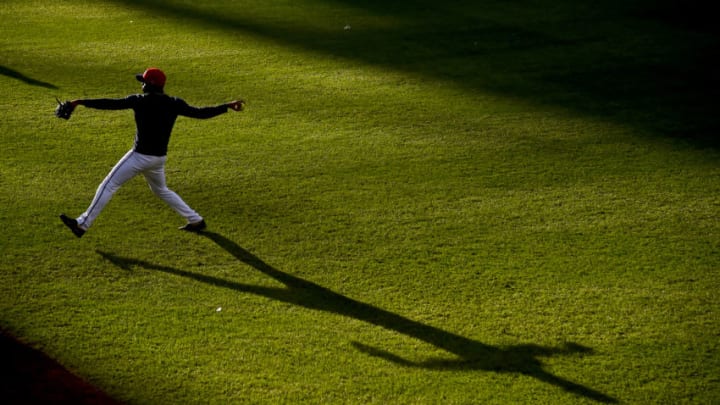 WASHINGTON, DC - OCTOBER 15: Victor Robles #16 of the Washington Nationals warms up prior to playing against the St. Louis Cardinals in Game Four of the National League Championship Series at Nationals Park on October 15, 2019 in Washington, DC. (Photo by Will Newton/Getty Images) /
WASHINGTON, DC – OCTOBER 15: The St. Louis Cardinals bench looks on in the third inning against the Washington Nationals during game four of the National League Championship Series at Nationals Park on October 15, 2019 in Washington, DC. (Photo by Rob Carr/Getty Images) /
To get something you have to give something in return. The St. Louis Cardinals will have to dig deep into the trade bag this Halloween and beyond. Standing at the door and saying, "Boo," will not be enough to be admitted to the perennial elite teams in baseball.
By all accounts the St. Louis Cardinals made great strides in 2019: 91 wins, the Central Division title, an appearance, albeit brief, in the National League championship series, with its fleeting chance of playing through Halloween Eve.
How to build on that success, however, seems to be quite a daunting challenge. Because just as soon as strides are made, gaping holes and question marks appear.
By all accounts, because of payroll and other obligations, the Cardinals will not be participating in the sweepstakes for the top four free agents (that being Gerrit Cole, Anthony Rendon, Stephen Strasburg, and Aroldis Chapman).
This means that in order to move the needle, the Cardinals are going to have to trade. Yet the trade proposals that are bandied about seem to be mainly trading from surplus, and odds-and-ends (such as a bench-piece who can't field, and a swing-man with some upside starter potential). Nothing you can expect your trading partner to get excited about.
When you sell low, you don't get an impact trade. The need for immediate horse-trading by President of Baseball Operations John Mozeliak arises from four main areas:
The investment in Dexter Fowler and Matt Carpenter, which demands sufficient playing time.
The emergence of Tommy Edman as a player who "must play."
Cardinal prospects, inconveniently, not all coming along at the same time.
Holes in the pitching staff due to cycling out and injury.
The pervasive worry about offensive numbers, which especially revealed itself in the playoffs, is a concern. Some holes in both the starting staff and the bullpen have reinforced the old adage "you never have enough pitching."
About Those Contracts. The Cardinals have at least two players they have invested in whom, by track record, must be given every chance to live up to their contracts. And the front office has made clear that by every chance, they mean every chance.
Outfielder Dexter Fowler, fortunately, made great strides in 2019, though fell back pathetically in the postseason run. Matt Carpenter's 2019?… not so much.
But going through the depressing task of trying to shop them for paltry returns, and then getting them to waive no-trade clauses here and there, is just not worth it. Especially when either is likely to pop back up for their next team and be an All-Star again.
Since the Cardinals' roster at present still is not scaring any of our competitors, deals must be considered. And no one outside of Jack Flaherty and Yadier Molina should be off the table.
The website Baseball Trade Values has come up with a formula, and nifty trade proposal widget, that essentially says that a player's trade value is his surplus value:
Field value – salary = surplus
This is just one website's estimation of player value (a very difficult value to quantify), but for the purpose of this article, we are going to run with it for lack of a better way to determine trade value.
The Cardinals have acute needs for more offense, starting pitching and a closer. They are probably not going to go back to the Michael Wacha well. Hall of Fame sportswriter Rick Hummel is predicting that Adam Wainwright will not return.
Dakota Hudson, despite his win total (win totals are deceptive anyway), showed vulnerability in the late-season and postseason and will have to overcome the threat of sophomore jinx/regression as the league catches up to his stuff (and has started to catch up already).
According to team board chairman William O. Dewitt Jr., speaking on the Frank Cusamano radio show on KFNS-AM, Jordan Hicks will not be available in the first half of the season. As to the second half of the season, the best Dewitt could offer is "we will have to see". No shoulds or hopes or "possiblys". Tommy John surgery, though "90% successful" is subject to a wide range of outcomes regarding recovery times, Dewitt said.
The following players we will propose to make available in trades are all great players. They are not without flaws, but we are here to puff their value, not to undercut it. And we still do not know if we are losing free agent outfielder Marcell Ozuna yet.
The following are three alternative ways to move the needle in the off-season. Remember: if you don't sell high sometimes, you don't "win" too many trades.