The St. Louis Cardinals are right to stick with Jeff Albert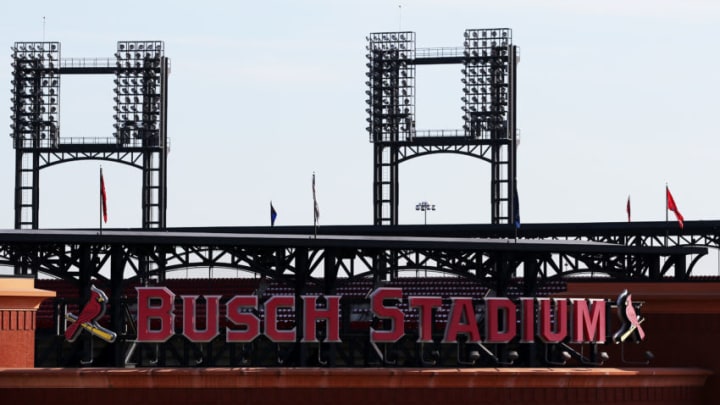 ST LOUIS, MO - OCTOBER 28: A general view Busch Stadium prior to Game Five of the 2013 World Series between the Boston Red Sox and St Louis Cardinals on October 28, 2013 in St Louis, Missouri. (Photo by Ronald Martinez/Getty Images) /
Mark Saxson reported in an article for The Athletic that the St. Louis Cardinals would be retaining hitting coach Jeff Albert, and they are right to do so.
To sum up Saxson's article for those of you who aren't subscribed to The Athletic, General Manager Michael Girsch stated that he expects Albert to be back with the St. Louis Cardinals next season. This is all coming in response to the team's abysmal offensive performance in the NLCS.
He then touched on players like Harrison Bader who haven't taken to Albert's analytical and video-based approach, compared to people like Matt Carpenter, Paul DeJong, and Paul Goldschmidt who all have embraced the change and tried to improve with Albert's teachings.
I'm not going to try to defend the team's performance (or lack thereof) in the NLCS. I'm not going to try to defend the 24-34 stretch the team played from May until the All-Star break. The offense was downright lost for long stretches and at important times this season.
I don't think many people (including myself) understand just how difficult it is to hit a baseball. No, just because you hit well on your high school baseball team doesn't mean you understand.
When a fastball goes right down the middle and everyone screams "I COULD HIT THAT!" or "WHAT ARE YOU WAITING FOR?" No, you couldn't, and I promise there is a reason he didn't swing.
Everyone has heard the stats about how players have just 425-450 milliseconds to react to a 95 MPH fastball, so on and so forth. I'm not going to reiterate those.
Baseball, as many of you know, is still undergoing a major shift in how players are developed and trained in every facet of the game. Former players are getting phased out of coaching/development roles and "analytical nerds" are taking over.
"It's just hitting, they've done it forever. What's so different about Jeff Albert?"
Hitting is such an intricate and complex topic that expecting major results in year one of Albert's tenure would be asking for the world. His approach to hitting is completely changing how some players approach the game they've played their entire life, for thousands upon thousands of hours every single year.
More from St Louis Cardinals News
To some players, a change in hitting approach is like trying to learn a new language. Just because you speak English doesn't mean you're able to pick up speaking Spanish language right away. Even after a full year of attempting to learn a new language, the results still might not be present consistently.
But come year two, success is coming much faster, day after day. The hitting strategy that has been practiced for the last two years has become muscle memory, second nature, sixth sense, whatever metaphor you want to use.
Albert's major success came with the Houston Astros, somewhat revolutionizing their approach to hitting as a whole and helping to create one of the elite teams in baseball, a potential dynasty.
The difference between then and now? Minor league coach vs major league coach.
As the old adage goes: "Old habits die hard." Albert didn't need to break any old habits in Houston.
He was in charge of minor league hitters in the Astros system (until his 2018 promotion to assistant hitting coach). He was able to get in on the ground floor and install his philosophies before they had already developed their own, so adaptation took far less time.
To go back to the language analogy, he was able to teach them Spanish before they learned English. While they were still developing their speech, he had them learn Spanish so it was their primary language.
Just like you shouldn't fire a head coach after one season, the same applies here. Time is required for such a large shift in core principles.
I'm not trying to convince anyone that the Sabermetric, "new-age" approach will be 100% effective next season, but giving Albert another offseason to work with the players is the right thing to do. Trust The Process.