The St. Louis Cardinals' pitchers are lighting up the AFL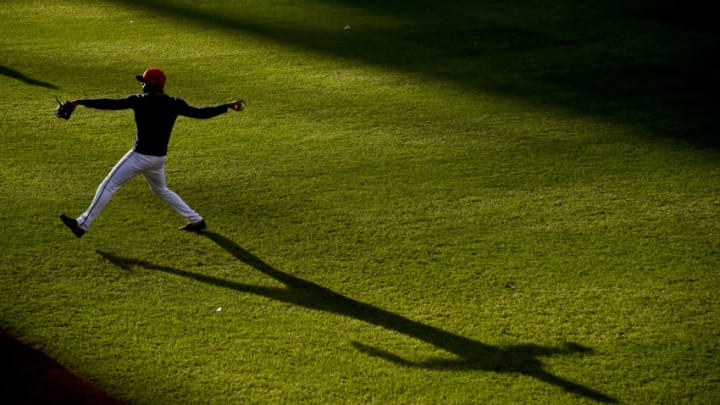 WASHINGTON, DC - OCTOBER 15: Victor Robles #16 of the Washington Nationals warms up prior to playing against the St. Louis Cardinals in Game Four of the National League Championship Series at Nationals Park on October 15, 2019 in Washington, DC. (Photo by Will Newton/Getty Images) /
ST LOUIS, MISSOURI – OCTOBER 12: Atmosphere of Busch Stadium is seen during game two of the National League Championship Series between the Washington Nationals and the St. Louis Cardinals on October 12, 2019 in St Louis, Missouri. (Photo by Jamie Squire/Getty Images) /
Ivan Herrera, C, 19
If you haven't learned Ivan Herrera's name, learn it now. This international signee out of Panama very well could be the successor to Yadier Molina. First, it was Carson Kelly, now it's Andrew Knizner, next it might be Herrera. Molina just keeps playing and the catching prospects the Cardinals have get too old to keep.
Carson Kelly was able to help the team get Paul Goldschmidt and Andrew Knizner (closer to 25 than 24 years old) might be the next catching prospect to be traded while Yadi just keeps chugging on. Herrera allows that.
At just 19, Herrera made it to High-A Palm Beach this year, with a combined .284 batting average and .779 OPS. In the AFL, he is hitting .300 with a .812 OPS while continuing to work on his defense. Herrera might still be a couple of years away, but he is doing fantastic in the AFL and that's great to see from someone so young.
Elehuris Montero, 3B, 21
2019 was a lost year for Montero, as after winning the Midwest League MVP in 2018, injuries and struggles saw his production drop off a cliff in 2019. Montero shot up prospect rankings after 2018 and he looked like he could join Nolan Gorman as a stud third baseman fo the future and he's going to have to find that confidence again.
After posting a combined .562 OPS between High-A Palm Beach and AA Springfield this year, Montero has slightly improved to a .748 OPS in the AFL. It is going to take him some time to return to form as he broke his hand and is working to regain that strength. This is due mostly to his .395 OBP which shows advancing maturity in his hitting approach after his .245 OBP this season.
The huge thing for him is going to be plate discipline and whether he will stick at third base or be forced to move to first base.
He'll have to be added to the Cardinals' 40-man roster this winter if they want to keep him out of the Rule-5 draft and he's one the Cardinals will want to keep.
Kramer Robertson, SS, 25
The former LSU shortstop spent his year between AA and AAA and fans kind of saw what he figures to be in the Majors. His .231 batting average and .724 OPS isn't anything special, but his ability to play any infield position other than first base sets him up as a great utility infielder.
More from St Louis Cardinals Prospects
From what I've seen in videos of Robertson, he's got a bit of swag to his game and he plays at 110%. From what we've seen from other players with this M.O. (Tommy Edman or Tommy Pham first come to mind), they tend to maximize what physical gifts they do have and hit their ceilings or at least get close.
The problem with Robertson is that he's already 25. The AFL trip this year is a big test for him and so far, he's kept up his numbers from the regular season. With a .746 OPS and a .389 OBP, Robertson continues to look like a utility infielder through and through. Not that there's anything wrong with that.
Capel was acquired by the Cardinals in the now-infamous Oscar Mercado trade of last Trade Deadline and is still kind of an unknown. The left-handed corner outfielder is not athletically surprising at 6-1 and 185 lb, and he didn't hit particularly well this year between AA and AAA with a .248 batting average and a .684 OPS.
When you dig a little deeper, you do see that he had a 1.252 OPS in his eight games he did spend at the AAA level and his 11 homers may suggest that there's some power there. The other thing is that he is doing all this at 22 years of age.
Now don't let the fresh wound of the 20-year-old star, Juan Soto, blind you, Capel was 1.7 years younger than his competition at AA and 4.3 years younger at Memphis.
That being said, Capel isn't having a great AFL trip. Thus far, he is hitting just .204 with a .493 OPS. It's not for lack of opportunity as he's had 60 at-bats, something just isn't clicking for the young outfielder. We'll see if he's in the Cardinals' plans this winter.