St. Louis Cardinals: So what about Nolan Gorman?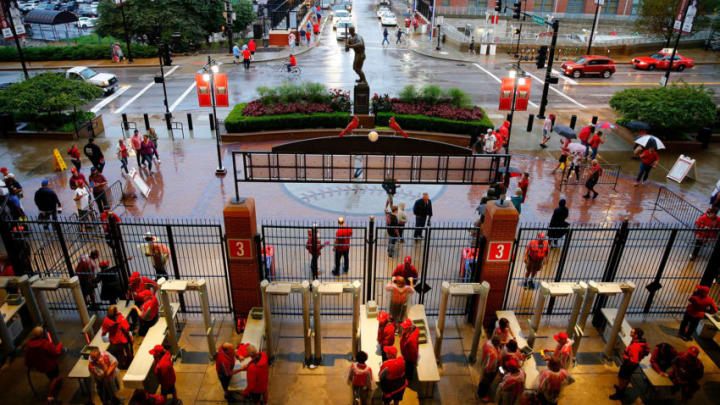 ST LOUIS, MO - AUGUST 30: Fans leave game Busch Stadium after a game between the St. Louis Cardinals and the Cincinnati Reds was cancelled due heavy rainfall at on August 30, 2019 in St Louis, Missouri. (Photo by Dilip Vishwanat/Getty Images) /
The St. Louis Cardinals number two prospect deservedly stole the limelight with a breakout season in 2019. What about the team's number one prospect?
The St. Louis Cardinals' top two prospects are both hitters for the first time in a long time. Nolan Gorman and Dylan Carlson could be flipped #1 or #2 either way, the point is, they are both studs, they both have the chance to be really big players in the MLB.
Currently the #50 prospect in all of baseball, Carlson has had one of the biggest breakout years of any minor leaguer as he jumped to AA to start the year and then finished the year at AAA. En route to winning Texas League player of the year, Carlson hit 26 homers, stole 20 bases and finished with a .292 batting average and a .914 OPS on the year between the two levels.
Carlson's hype this year was 100% warranted as he earned every bit of it and is doing it closer to the Majors still at 20 years old, but by most accounts, he's still the #2 prospect in the system.
Gorman had the hype last year but has been in the dark most of this year. So how'd he do in his age 19 season?
More from St Louis Cardinals News
Gorman is pretty much following the same aggressive promotion schedule that Carlson has been on as last year, Carlson started at Low-A Peoria and ended the season at High-A Palm Beach which is exactly what Gorman did.
Gorman started the year off blazing hot with six homers in April alone and then cooled off in June but was still promoted after the minor league All-Star Break in a bit of a scripted move that wasn't exactly earned.
This was a big test for Gorman who had 10 homers and a .792 OPS at Peoria jumping up a level to a much harder league to hit in, one where fans saw Carlson struggle in at times last year. The Florida State League keeps all hitters bottled up a bit and it's no surprise that Gorman's numbers dropped a little bit.
In just about 50 fewer at-bats than what he had in Peoria, Gorman's numbers fell to just five homers and a .732 OPS. His batting average actually went up with the promotion from .241 to .256 but the concerning thing is that his OBP fell from a very solid .344 to a not-so-stellar .304.
It's not time to freak out about this as Gorman is still a maturing hitter at an advanced league where he is still 3.3 years younger than his average peer. We know that Gorman is going to strikeout a lot as he's sitting at 29% for his minor league career, so his 31% strikeout rate at Palm Beach isn't a worry, he was just putting more balls in play for hits than he was taking walks.
While Carlson was able to keep his OBP rate up at Palm Beach, his OPS at that level was an eerily similar .731 at the same age as Gorman.
Gorman's career will keep growing and winding and expecting him to follow exactly behind Carlson's meteoric rise is unrealistic. He is a top-flight prospect and nothing has changed after this year. He still put up 15 homers on the year which is his token trait. His power will keep him rising and the hope is that next year, whether he starts at High-A or AA, that he will regain his on-base talent he showed at Peoria and during his first year.
There is no reason to rush Gorman through the minors. He was a raw talent when he was drafted and now that he has experienced some difficulty at a level where hitters normally do, it's time to see if he can adjust and keep growing.