St. Louis Cardinals: Early returns on the 2019 Draftees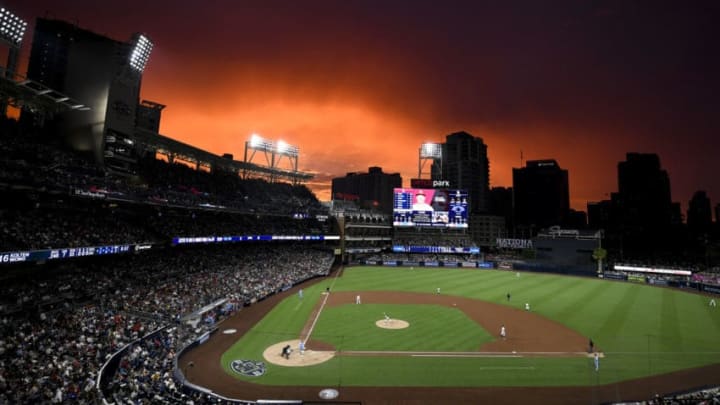 SAN DIEGO, CA - JUNE 29: The sun sets as Chris Paddack #59 of the San Diego Padres pitches to Kolten Wong #16 of the St. Louis Cardinals during the third inning of a baseball game at Petco Park June 29, 2019 in San Diego, California. (Photo by Denis Poroy/Getty Images) /
The St. Louis Cardinals' 2019 MLB Draft picks are already in the lower levels of the minor leagues and are already performing. What are the early returns?
The St. Louis Cardinals, by all accounts, had a great draft in 2019. They drafted in a very familiar position (19th overall) in the first round and took a very familiar archetype of player, a projectable college arm Zack Thompson. Out of Kentucky, the 6′ 2″ lefty is a very high floor player like Dakota Hudson was and was projected to move very quickly through the system.
The "college pitcher" trend would continue throughout the majority of the top ten rounds of the draft more or less except for one big chance in the second round by going with an athletic outfielder out of High School, Trejyn Fletcher. Fletcher was not really supposed to be available in this year's draft as the 18-year-old reclassified to be able to get drafted this year.
This was a very smart pick by the Cardinals as Fletcher is a very risky, high ceiling player who would've been a clear first rounder had he been there in the 2020 MLB Draft. The toughest part of drafting him was getting Fletcher to void his commitment to Vanderbilt.
The Cardinals were obviously able to sign Fletcher and he was assigned to the GCL Cardinals where he has shown well through his first eight games. With a .294 average and a .795 OPS, it is clearly a small sample size, but they are "early" returns and Fletcher is 1.5 years younger than his competition on average. Fletcher could be a player who follows a similar path to Nolan Gorman if he performs well enough which would mean a promotion to Johnson City may be coming soon.
Another guy to watch is the first rounder, Thompson. Given that he is closer to 22-years-old than he is 21, Thompson was assigned to the GCL Cardinals as well but after he threw two scoreless relief outings, Thompson was promoted up two levels to High-A Palm Beach. As Derek Shore of TheCardinalNation.com points out, Thompson is more-or-less following the "Wacha" plan through the Minors.
More from St Louis Cardinals Prospects
Michael Wacha was also drafted at 19th overall but in the 2012 MLB Draft. In his first year of minor league ball, he started at Rookie ball, was promoted to High-A, then finished at AA Springfield all over just 11 outings. Like Thompson, Wacha was coming off a full college season of pitching at Texas A&M and didn't have much left in the tank when he got to the Minors.
After finishing 2012 at AA, Wacha debuted in May of 2013 after starting the year at Memphis and the rest is history.
Having Thompson finish at AA this year would keep him on that track to make it to the Majors as soon as next year. If he has any setbacks it's obviously not the end of the world as he is facing a lot of different talent levels very quickly. Barring setbacks, I would expect Thompson to get ~5 appearances at High-A Johnson City before he is even considered for a call to Springfield.
Wacha's career hasn't turned into the ace we all thought he was going to be, but that was partly due to injury. The left-handed Thompson has a chance to follow in the "Wacha" plan but is going to have to blaze his own path once he makes it to the upper levels of the Minors and then to the MLB. It's all great signs so far, so no reason not to be happy for the Cardinals first rounder.
Also lost in the shuffle of promotions was the promotion of the Cardinals third rounder, Tony Locey, from Rookie Ball to Peoria. Thanks to Kyle Reis for noting that. The 20-year-old out of Georgia is another pitcher that has a chance to be a quick riser.
Randy Flores had another good year manning the helm of the Cardinals Draft. He not only replenished the pitching gap the Cardinals had at the lower levels of the Minors as well as pick up a high-upside outfielder in Fletcher. It's very early in all the 2019 draftee's careers but early returns are overwhelmingly positive.