St. Louis Cardinals: No, it's not good that the Cubs signed Craig Kimbrel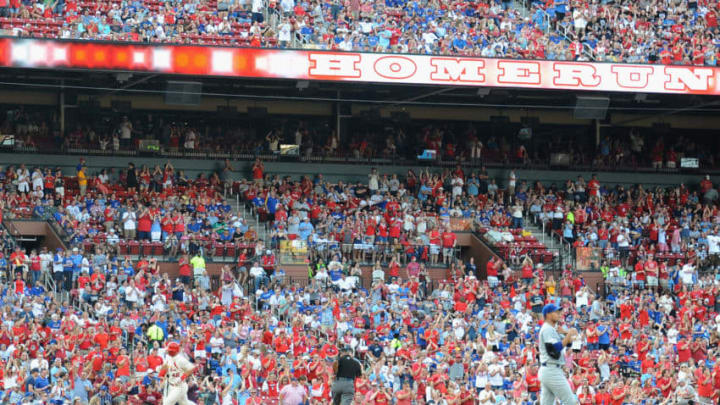 ST. LOUIS, MO - JUNE 1 : Paul Goldschmidt #46 of the St. Louis Cardinals rounds the bases after hitting a solo homerun in the first inning against the Chicago Cubs at Busch Stadium on June 1, 2019 in St. Louis, Missouri. (Photo by Michael B. Thomas /Getty Images) /
One of the top remaining free agents just signed with the Chicago Cubs. For the St. Louis Cardinals, this is very worrisome.
The St. Louis Cardinals just swept the Chicago Cubs at home. It was glorious. The whole town was buzzing from the sweep as well as the Blues being in town, but then the Cubs go out and do this…
Currently sitting with a one-game lead over the Brewers and a 3.5 game lead over the Cardinals, the Cubs were doing alright. So what they got swept in St. Louis? They swept the Cards earlier in May, it just cancels out, right?
While the Cubs have rarely struggled this year, the weakest part of their team by a longshot was their bullpen. After injuries to Brandon Morrow and Pedro Strop, the depth was weakened and Steve Cishek was relegated to closer duties and was not doing fantastic. By Fangraphs' FIP ranking, the Cubs are currently sitting at 14th overall in the MLB (the Cardinals are 13th) but decided that that wasn't good enough. That -MEDIOCRITY- was not good enough…
More from St Louis Cardinals News
So what'd they do? They went out and signed Craig Kimbrel.
I think when the news came out about the Cubs' 3yr/$45M deal with the best closer since Mariano Rivera, there was a collective murmur of cuss words from Cardinals fans everywhere.
The Cubs are actively improving their team and the Cardinals are sitting on their hands. I still have confidence about this year, about this management; but it's getting frustrating to see them being complacent with a team that has holes.
I don't think signing Kimbrel was necessarily something the Cardinals had to do but I feel like now it is imperative that the team makes a move to upgrade where they are deficient by the trade deadline. You didn't have to sign Kimbrel but sitting on your hands at the deadline like you did the last two/three years is not going to fly unless a lot of players turn themselves around.
During the offseason, John Mozeliak said that he is "all in for 2019." The Cubs seem to be and they are putting their money where their mouth is, is it unreasonable to expect Mo to do the same?
I don't want a knee-jerk reaction signing or trade, I want a calculated move that Mo knows is going to help. He has the capability, he's done it before. The market may not have been right to make a big deal the last few trade deadlines, but the Cardinals can't afford to sit idly while the Cubs add a significant piece to their bullpen.