St. Louis Cardinals: Memphis is the best place for Tyler O'Neill right now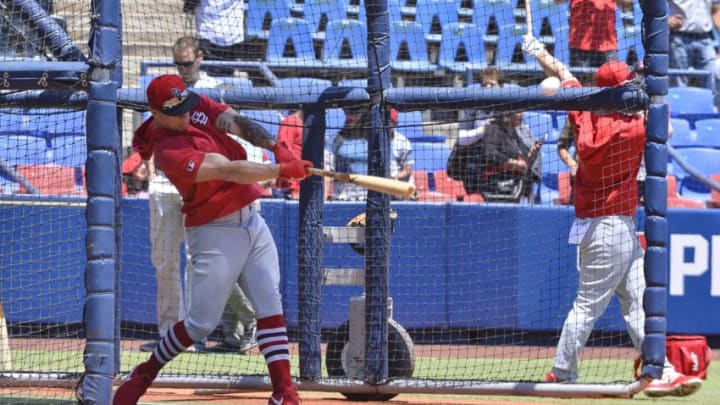 MONTERREY, MEXICO - APRIL 14: Tyler O'Neill #41 of the St. Louis Cardinals warms up prior the second game of the Mexico Series between the Cincinnati Reds and the St. Louis Cardinals at Estadio de Beisbol Monterrey on April 14, 2019 in Monterrey, Nuevo Leon. (Photo by Azael Rodriguez/Getty Images) /
Tyler O'Neill was recently sent down to AAA by the St. Louis Cardinals and while it's mildly disappointing to not have his bat, it's the right place for him for now.
Tyler O'Neill is not a bust for the St. Louis Cardinals. Now, I know the trade of Marco Gonzalez isn't looking great right now, but it is way too early for us to say. Why? Age.
While Marco Gonzalez is having a great year with the Mariners (3.28 ERA over eight starts so far), Gonzalez is 27 years old and has been given a chance to fail, to learn, and to ultimately shine in the Mariners starting rotation over the past two years. Tyler O'Neill, on the other hand, is still 23 and has never had a legitimate chance to start in any outfield spot for an extended period of time.
Last year, he appeared in just 61 games very sporadically and put up solid numbers despite the lack of consistent play. Nine homers, a batting average over .250 and an OPS over .800 is great for a fourth outfielder, but not near what I believe his major league potential is.
More from St Louis Cardinals News
At the start of this year, O'Neill came off a great Spring Training and was firmly penciled in as the fourth outfielder. The problem though was that every outfielder on this team is performing now, and it left O'Neill with even more sporadic playing time than I think he was able to handle. Over the first month, O'Neill garnered 5 starts and while his lone homer and .261 batting average isn't bad, his strikeout rate has been an absolutely horrid 46%.
This season as a pinch hitter O'Neill has had success in his chances. Over 20 AB's as a sub, he does have a .300 batting average, but again, he was kinda being held back too much by lack of playing time.
That is why I believe the move that the Cardinals made on Friday was the best for all parties. A longtime member of the injured list, Luke Gregerson, was activated and O'Neill was sent down to AAA. While I don't expect much of anything from the almost 35-year-old, I do believe that there was no space for O'Neill on the current roster given that the way Mike Shildt has played the lineup recently.
It's a platoon in centerfield between Dexter Fowler and Harrison Bader, then Marcell Ozuna in left and Jose Martinez in right. Again, O'Neill wasn't performing poorly, he just wasn't forcing his way into the lineup so he didn't play. At AAA, he is free to play every day and he can keep showing just what he can do on the field.
I want nothing more in the world for O'Neill to be given the confidence of the manager and the opportunity to play in one of the outfield spots for a large amount of time. The problem is, I don't think it will be this year if he doesn't force himself into a spot or if there's not a trade. The other thing to consider is how many other young outfielders the Cardinals have who have looked good (Lane Thomas, Dylan Carlson) in the majors and minors.
Tyler O'Neill has the potential to be better than we wanted Randal Grichuk to be. He is a first-round talent who has the speed, range and power potential to be an All-Star at the MLB. Some disagree with that statement, but that's what I believe. At some point in the future, he just needs the confidence and opportunity to show it. He needs the manager to say, "Tyler O'Neill is our starting (outfield spot)." Still disagree? See what that did for a player like Kolten Wong…