The State of the St. Louis Cardinals: One month in edition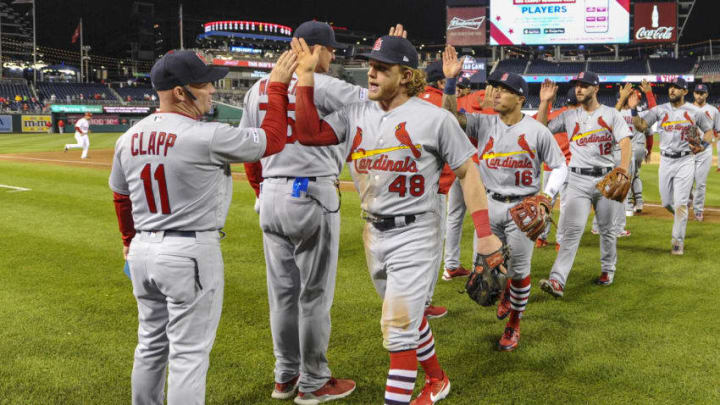 WASHINGTON, DC - APRIL 29: St. Louis Cardinals center fielder Harrison Bader (48) is congratulated by first base coach Stubby Clapp (11) following the game between the St. Louis Cardinals and the Washington Nationals on April 29, 2019, at Nationals Park, in Washington D.C. (Photo by Mark Goldman/Icon Sportswire via Getty Images) /
The St. Louis Cardinals have finished the first month of the season. It has had its ups and downs but what are the highs and the lows?
The St. Louis Cardinals currently sit at 18-10 after the first month of regular season games which puts them as the team in the NL with the best winning percentage. If you expand that out to the entire MLB, their .643 winning percentage is third only to the Rays (.679) and the Twins (.654). While there are small things to nitpick, there's not much to be unhappy about with that record after the first month.
While the Cardinals have yet to play the Chicago Cubs, the first month of the season was full of 10 games against the Brewers, a trip to Mexico and a lot of fun moments.
What I want to do here is look at the first month and acknowledge the good, the bad (and entertaining) and just give a sort of 'State of the Union' for the Cardinals after the first month. So without further delay, let's dig in.
There is no way to frame it poorly, Paul DeJong had an amazing month. First let me loop in one of our other writers as for the best breakdown of the month that DeJong had, our own Jeffrey Bricker just broke it down here. DeJong has been standing up to the other titans of the National League with the bat and has paired with it a fantastic glove.
Over the first month, DeJong is batting .342/.400/.605 with five homers and 13 RBI's while leading the league in doubles (13). While he isn't going to hit .342 the whole year, his hot start makes perfect sense given the new core in the middle of the lineup. It is no surprise that the trio of Paul Goldschmidt, Paul DeJong and Marcell Ozuna are all leading the offense as having those three back-to-back-to-back means better pitches and more opportunities for everyone.
Runner up: Marcell Ozuna
The starting rotation has been stronger as of late, but there has been one man over the course of the month that has put out more fires than any other coming out of the bullpen: John Brebbia. Jordan Hicks has been a stud at closer, so he is a close second, but with 16 innings pitched just one run allowed. That is good for an ERA of 0.55 and an ERA+ of 764. This is not sustainable as his use has been heavy and he's gotten a little lucky, but what a month by Brebbia.
Runner up: Jordan Hicks
If you would've guessed one player that wasn't going to give up many homers this year based off past performance, Hudson would've been a pick by a landslide. Throughout 27 innings last year and all of Spring Training, Hudson did not give up a single homer. Through 24 innings as a starter this year, he has given up eight.
More from St Louis Cardinals News
Hudson entered the year off of a hot Spring where he beat out John Gant for the last spot in the rotation and this was a huge opportunity for Hudson to show what he could do when given an opportunity. While his last two starts (5+ innings and three ER in both) have been better, his season ERA of 5.63 with a 1.917 WHIP is anything but confidence inspiring.
The last couple starts have likely saved his spot in the rotation for now, and even if he does need to be moved to a different role for some time, he is still just 24-years-old and one hiccup in his sophomore year does not signal anything long term. The biggest problem I have seen is that he is nibbling at the zone and not truly trusting his stuff. With more experience, he should gain confidence and hopefully, this turns around for the young stud.
Runner up: Matt Carpenter
Best Moment: Home Sweep of the Brewers
The St. Louis Cardinals have played a lot of fun games given their apparent identity of a team that is resilient and is fine coming from behind. That being said, there was nothing sweeter in this first month than the sweep of the Brewers at home. Coming into that series, the Cardinals had played a four-game series and a three-game series both at Miller Park and had not fared well.
Christian Yelich hit well enough to win an MVP off of just his performances versus St. Louis in the seven games in Milwaukee and fans were kinda dreading playing the Brewers yet again.
Then the team came out and decided they didn't like the Brewers. Holding Yelich hitless on the series, the Cardinals battled and scratched and ended up winning all three of the games behind clutch hits by DeJong, Goldschmidt and Ozuna all series long. It was a punch back in the right direction for a team that needed to prove that they needed to beat the best in the NL Central to be the best.
Runner up: Goldschmidt's three-homer game in Milwaukee
Worst Moment: Ozuna's Wall Climb
This wasn't a horrible moment looking back because of what's changed since then, but at the time Ozuna wasn't performing at the plate and this play against the Dodgers made fans' blood boil. Going back on a ball that Ozuna believed would be a homer, Ozuna scaled the left field wall only to actually look for the ball and realize he had way overplayed it. He then awkwardly fell down and embarrassed himself. Get a look below thanks to the incomparable cardinalsgifs.
Since this moment on April 9th, Ozuna has hit .295/.419/.754 with eight homers and a 1.173 OPS. Whether this is coincidence or if this moment actually fueled Ozuna who knows, but now we can look back and laugh because he has turned it around. Nobody would be laughing had he not performed so well since.
In the grand scheme of things, this play didn't change the game or really how people viewed Ozuna's glove skills, but it did allow him to get on plenty of blooper highlight reels.
Runner up: Yelich's three-homer game against us
Currently sitting with a 3.0 game lead over both the Cubs and the Brewers with the second best run differential in the league, the Cardinals are in a good spot. From here, players are going to regress, underperformers are going to lift their play, and things will change. But if you had told any fan that this is where the Cardinals would sit after the first month, I don't believe anyone would be upset.